To Kill a Mockingbird (SE) /A,A
Universal/1962/130m/WS,1.85
One of the all time great film's if for nothing else it's humanity. Atticus Finch, played impeccably by Gregory Peck, is perhaps the greatest screen father I can recall. The man teaches his children by example, treating them with dignity and understanding. From the great novel by Harper Lee, this tale of growing up in the South of the 1930s is splendidly evocative of place and period.
The brilliant opening credit arrangement sets up the main characters, a sense of place and time and foreshadows the events to come, blending beautifully with the elegant narrative of the grown Scout. From the opening cigar box filled with toys and memories, director Robert Mulligan slides perfectly into the world of Scout and Gem Finch, camera detailing the world of their street and the characters that live there. You know you are in for something special.
The events of To Kill a Mockingbird take place over the course of two summers when the small Southern town is galvanized by the rape trial of a black man. Atticus Finch is appointed by the court to defend Tom Robinson, challenging his integrity by placing him in a difficult and hostile position. While the town simmers with red necks hungry for a lynching, the Finch children learn about life by watching their father and interacting in the neighborhood. There are several confrontations that are worth their weight in movie gold, but To Kill a Mockingbird does not count on melodramatic crescendos to make its points about humanity. Throughout the filmmaking there is a comfortable evenness of style that reassures its audience, just as the dependable Atticus reassures his children.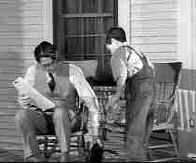 The quintessential screen father. ŠUniversal
The script by Horton Foote captures the wonder and innocence of the Lee novel, maintaining the point of view of childhood. The great collaborative effort helmed by Mulligan includes a magical score by Elmer Bernstein, splendid black and white photography by Russell Harlan.
Peck won the Academy Award as Best Actor in 1962 for his stunning performance as Atticus. An actor who always commanded respect on the screen, his restrained portrait of a small town lawyer is mesmerizing for its core of truth. Robert Duvall has a few startling moments in his screen debut as Boo Radley, the disturbed mystery man-child who lives next door to the Finches. The children, Mary Badham (A bit of trivia. Mary Badham is the younger sister of director John Badham.) and Phillip Ashford are quite wonderful in their screen debuts. Neither went on to an acting career, but they play the Finch kids just like the real thing. Brock Peters as Tom Robinson brings another side of dignity to his role and James Anderson spits out hate and ignorance from every pore as Tom Ewell.
The DVD is the first widescreen video release of To Kill a Mockingbird. The images are as clear as the wisdom of Lee's novel. The 1962 elements are almost in perfect condition save for a a couple of frame length scratches in the early going. The night scenes are alive with the glow of moonlight. Contrast is perfect. Nothing is over-emphasized in the transfer. Watching on component out, there were no annoying NTSC artifacts to disturb the beautiful compositions.
This is a great special edition of To Kill a Mockingbird. Not only is the audio commentary of Robert Mulligan and Producer Alan Pakula included, but a full blown one and half hour documentary about the film and the place in time is included. The commentary by Mulligan and Pakula is chuck full of film wisdom and an obvious love for what is their magnificent contribution to film heritage. Much of it is not scene specific, but includes their cinematic philosophies. The documentary, Fearful Symmetry directed by Charles Kiselyak and narrated by the comforting Southern voice of Mary Williams isn't only about the making of the film, but also about Harper Lee's town and the setting for the film. Intercut with remembrances from cast members and Pakula and Mulligan, town folk remember what Monroeville was like before Macdonald's. Gregory Peck, Horton Foote, Elmer Bernstein, Mary Badham and Phillip Ashford all share their memories of To Kill a Mockingbird for posterity. This is an absolute must-see, must-have DVD. Watch it with your kids. Maybe they can learn something. I hope mine did.
*Memories of Mockingbird's Personal Meaning
It's one of great childhood remembrance films. The summer friendship of the Finch kids and the visiting neighbor Dill is beautifully evocative of the purity of childhood. Atticus Finch (Gregory Peck) is one of the great screen fathers ever depicted. Finch stands taller than most characters ever recorded on celluloid. Peck's poignant sensitive portrayal is one of dignity and power. Everything seems to work in this film. But most of all, its the stirring ode to fatherhood. How can anyone fail to feel a wellspring of emotion in the courtroom scene when the preacher says to young Scout, "Miss Jean-Louise, stand up. Stand up, your father's passing."

I remember thinking back all those years ago when I was a young man in 1962, before I was married, before my kids, that Atticus Finch was an inspiration as a father, an icon worth emulating and striving towards.

Is it really forty years ago that I was so moved by Atticus Finch and Boo Radley and the marvelous relationships of To Kill a Mockingbird? I hope in bringing up my two children (25, 14) that I am worthy for measurement against the Finch standard.


Selections from the Feature Archive include articles on Akira Kurosawa, Blonde Bimbos, Frank Darabont, Steven Culp, John Herzfeld or Vietnam: The Hollywood Pariah, and many more....
Nobody's Perfect




Billy Wilder left movie lovers a legacy of cinematic treasure. From defining Film Noir to outrageous comedy, writer/director Wilder delivered the goods with consummate style.
---

The Movie Poster Archive includes extensive poster images from the films of stars like Susan Hayward, Kirk Douglas, Katharine Hepburn and many more. Our featured star is Gregory Peck
---


Have you visited Home Theater Talk lately? One of the friendliest places on the Net for Home Theater and DVD discussion, you can get help for installation problems or simply share your opinions with other Vidiots.
---


DVD reviews for women from a woman's point of view
---


ISF presenter and industry consultant Jim Burns provides info and HDTV and other areas on his site.
---


Rent the hottest movies at DVDO with no monthly charges, late fees or due dates! Upgrade your free membership anytime to our exclusive Double Feature Club


DVDAnswers offers news, reviews and features. Over the coming months, the site will continue continues to grow as they strive to make DVDAnswers the ultimate DVD website!
---
MRQE
Find reams of movie and DVD reviews at the Movie Review Query Engine, a index of reviews appearing on the Internet.
---


ISF Course Instructors Jim Burns and Kevin Miller are hosting the Digital Film Forum. Join professionals and enthusiasts for lively home theater discussion.
---