Dark Command/B+,B-
Artisan/1940/94/FS 1.33/BW
Dark Command from 1940, a black and white western made with splash and class by director Raoul Walsh features Wayne in his first role after establishing his star with Stagecoach. The setting is in and around Lawrence, Kansas as the Civil War is about to erupt. Cowpoke Bob Seton arrives in town as dentist Doc Grunch's strong right fist. Seton's quick fists provide Doc with plenty of work. Seton quickly establishes himself as a man to reckon with by defending a man in an outnumbered fight. He also catches the eye of the pretty Mary McCloud, daughter of town's leading banker. Will Cantrell, the town's schoolteacher and Mary's would-be suitor, takes on the tutoring Seton to read and write. But pretty soon they part ways as the dissatisfied Cantrell forms an army of border raiders raping the towns along Missouri and Kansas. Seton, the town's Marshal stands in the way of Cantrell's love and ongoing campaign of terror.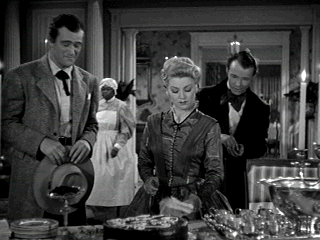 Whose party is it anyway? ©Artisan
Wayne proves his star power as the lanky Seton armed with a quick gun and an easy smile. Claire Trevor, Wayne's co-star in Stagecoach, is excellent as Mary, while Walter Pidgeon, on loan to Republic studios from MGM, provides a measure of class as Cantrell. Roy Rogers, another cowboy legend in the making, plays Mary's younger brother Fletch with the impulsiveness of inexperience in tact.
There are some outstanding action scenes, a couple of sprightly fist fights, humor delivered in small regulated doses by George Gabby Hayes as Doc Grunch and Raymond Walburn as Mayor Buckner. The action scenes are well photographed.
Don't expect more than a thin, reedy sound track from the mono source material. The DVD looks quite good. Perhaps it could have been slightly sharper. There is some dirt and scratches, but they are minor. Light output is good, but contrast ratio might have been snapped up a bit in some darker scenes. It's not totally consistent. It might have something to do with the way it was shot.


The Feature Archive has articles ranging from Akira Kurosawa to Blonde Bimbos.



Click on the image above for a "dream interview" with director John Ford.
---


Searchers, The/ A,B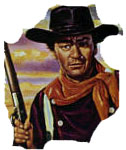 John Wayne invests Ethan Edwards with enormous dignity and determination. A classic western from director John Ford. Mesmerizingly beautiful.
---

.
The Movie Poster Archive includes extensive poster images from the films of stars like Susan Hayward, Kirk Douglas, Katharine Hepburn and many more. Our featured star is John Wayne
---



The National Film Preservation Foundation (NFPF) is the nonprofit organization created by the U.S. Congress to save America's film heritage.
---


Films of the Golden Age is
a showcase for special feature articles on film people and Hollywood history, all illustrated with beautiful photographs and classic movie art.
---