Air Bud/B,B
Disney/1997/98m/FS 1.33
Stories about boys and their dogs have held audience appeal since the inception of motion pictures. Air Bud has a cute gimmick. Josh finds a stray that has the unique ability to put a basketball through the hoop with uncaninely accuracy. Josh is new to the neighborhood and the dog helps the Josh become part of the team. One of the nicest aspects of the movie is how Josh finds out about the past of the school custodian and the knowledge changes both their lives.
The acrimonious nature of the villainous conflict featuring an antic and nasty Michael Jeter as a clown brings the film down a peg. It feels as if this was the easy way to create tension.
Youngster Kevin Zegers does appealing work as Josh and Bill Cobbs shows lots of style as the custodian. Charles Martin Smith directs with a good share of charm and energy.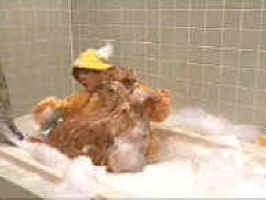 Washin' the dog. ęDisney
Air Bud is presented in 1.33 Full Frame. Compositions do not seem cramped or otherwise compromised, suggesting that the director was careful to protect for 1.33 while composing for 1.85. Color is vivid and detail is consistently sharp. Take a careful look at Josh's white basketball for some MPEG for an example of live MPEG grain. Fortunately, there is not too much incidence of this in the transfer.



Apocalypse Now is Coppola's distorted vision of war now on DVD in gorgeous anamorphic images.
---


Tucker: The Man and His Dream is beautifully filmed with loving attention to detail.
---


Selections from the feature archive include articles on Akira Kurosawa, Frank Darabont, Blonde Bimbos, Hollywood Street Gangs, or Vietnam: The Hollywood Pariah, and many more....
Sturges Emerges


Preston Sturges was Hollywood's resident comic genius for more than a decade. His movies are timeless. Click on his image to read all about it.
---

Why do Al Pacino, Gene Hackman, Pat O'Brien and Goldie Hawn fall into a select group of actors? Find out more by clicking the Hollywood on the Sidelines symbol.
---


Movie Rage: Death in the Aisles
Everyone knows what it feels like to get angry at the movies these days. Here's a humorous but not so delightful view of big screen misery.
---



DVDPlanet is the DVD incarnation of legendary laser retailer Ken Crane's. Deep discounts and serious service.
---


Elegant DVD portal with news, reviews, links and information galore.


Many movie related links in an easy interface. You can even rate the sites.
---


Great site for DVD followers. Lots of information, some speculation, opinion, and reviews all bundled in a sparkling interface.

---