Hollywood on the Sidelines
By Stu Kobak
Click on Thumbnails for Larger Images
Guess who's coaching football in the theaters right now. Little Al Pacino is bullying the big boys in Any Given Sunday, Oliver Stone's forward pass about football. Pacino plays tired Miami coach Tony D'Amato without chewing up too much Astroturf. The movie may do little more than bring MTV sensibilities to the modern gladiatorial arena, but it is sure to make an exciting DVD when it ends its theatrical run. Pacino is convincing with lines like "I need you to lead this team," or "You run the plays I call," Pacino's pacing of Hollywood's gridiron sidelines follows a long tradition with coaches in the movies.
"I am going to tell you something I've kept to myself for years. None of you ever knew George Gipp. He was long before your time, but you all know what a tradition he is at Notre Dame. And the last thing he said to me, 'Rock,' he said, 'some time when the team is up against it and the breaks are beating the boys, tell them to go out there with all they got and just win one for the Gipper. ' That's Pat O'Brien in the title role of famous the famous Notre Dame coach in Knute Rockne, All American. Some claim the Rockne speech even inspired former President Ronald Regan to win one for Nancy. History is not clear on the facts. But, one thing history is clear on and that is Hollywood loves a good coach. He can wring tears from an audience and promote big box office bucks.

Knute Rockne, All American was made in 1940 with Ronald Reagan co-starring as George Gipp. O'Brien had some experience in the Hollywood coaching ranks before tackling the role of Knute Rockne with College Coach, a 1933 programmer that starred Dick Powell as the big man on campus. Believe it or not, O'Brien was probably hired to play a football coach more than most NFL coaches. In The Iron Major, O'Brien got to bark orders to the big gridiron boys as coach Frank Cavanaugh., coaching Dartmouth, Boston College and Fordham over 90 plus minutes.
Before Rockne inspired Reagan, Hollywood even made musicals about college coaches. The 1936 Pigskin Parade features Jack Haley as a college football coach desperate to find a star to save his job. This was two years before Haley became immortalized in tin and helped coached Judy Garland to find the great Oz. Oh yes, the 13-year-old Garland made her screen debut in Pigskin Parade.

One of the best Hollywood college football coaches I recall is Pop Warner, the renowned Carlyle mentor of Jim Thorpe. Charles Bickford, with his deep authoritarian voice, guided Burt Lancaster through the paces as the legendary Native American athlete in Jim Thorpe, All American. Great understanding and sincerity punctuate Bickford's performance. This coach may be tough but he has a heart. And to stand up to Burt Lancaster, Bickford needed to generate plenty of screen presence.

John Wayne came directly from the gridiron to Hollywood. The strapping Wayne was a lineman for USC. These days, USC is more famous for its film school. Almost thirty years after leaving the gridiron, Wayne returned, this time as a football coach. That's right, the ex-college lineman starred opposite Donna Reed in the Michael Curtiz directed Trouble Along the Way. It's a most unusual role for Wayne, but if you think of some of his western roles, like Dunston in Red River or Ethan Edwards in The Searchers, you can easily translate that hard as nails attitude to the sports arena. Trouble Along the Way is a lightweight, sentimental film and yes, Wayne is a good coach.
The biggest surprise as a coach I can think of is Larry "Buster" Crabbe. Those of who grew up on Flash Gordon would be darn right scandalized to think of Crabbe on the football field, but athletics is what brought the actor into the Hollywood fold. Crabbe was an Olympic swimmer and got his shot at playing Tarzan. Million Dollar Legs was his one foray into coaching. Not much of a movie. After doing Tarzan, Flash Gordon, and Buck Rogers, Crabbe made it to television as "Captain Gallant of the Foreign Legion." There are those who think he joined the foreign legion because of his performance as a football coach.
Do you remember Wesley Snipes and Woody Harrelson butting heads in that fine basketball movie, White Men Can't Jump. Before these two teamed up under the hoop, they were coached by Goldie Hawn in the football comedy Wildcats. Goldie Hawn coaching football. It's a great concept and it comes to fruition in Wildcats. In the 1986 film, Hawn plays high school teacher Molly McGrath who leaves a comfortable job at a private school to take prowl the sidelines as the football coach of an inner city high school. Hawn proves up to pushing the big boys around in this comic romp through the turf. A football movie here and there has depicted a tough talking lady as team owner, but Wildcats is the only film I recall featuring a female football coach.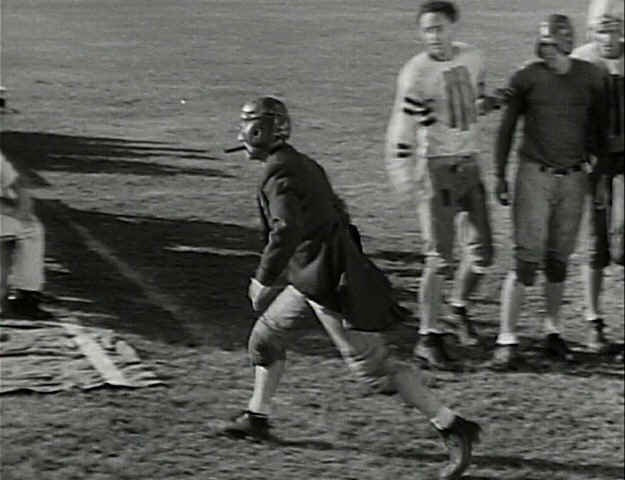 How would you like to be a coach with Harpo and Chico Marx on your team? That may be stretching the field, but in Horse Feathers, Groucho Marx plays Huxley president Professor Quincey Adams Wagstaff. He also does some unique coaching on the field, giving classic instruction to his team. "You realize what it means if Huxley loses this game? It means shame, disgrace, humiliation. Listen you bunch of butterfingered milksops, the way you're playing you couldn't beat a girl's basketball team. Boys, if you can't beat that half-witted bunch of gooks." Pigskin wisdom from the craziest coach you'll ever encounter. And to top it off, Groucho joins his brothers on the field to create their own brand of pigskin chaos.
What coach takes the title as the grubbiest? Who spits with the best flare and can't find a razor sharp enough to clean up his act? My nomination is Jimmy Dugan in A League of Their Own. Tom Hanks makes the most out of his role as the coach of the Rockford Peaches in the All Girls Baseball League. Hanks lets it all hang virtually stealing home plate in every scene, despite sharing the screen with some appealing ladies. Of course, Hanks does more spitting than coaching, but that's what makes Dugan endearing. A truly phlegmatic performance!
Look no further than The Longest Yard for one of the screen's most unusual football coaches. Burt Reynolds plays ex-football star Paul Crewe, a convict in a prison run by a very anal sports warden. The brutality is rife, but this is football with a different slant. Crewe does a great job of banding the nasty group of cons into a team, leveling the playing field against the guards in one explosive jailhouse game. Reynolds, the ex-Florida State college star, is a most credible player and generates the charisma in this jail yard football saga to convince anyone he deserves a shot at an NFL coaching contract.
Before Tom Cruise led the Mission Impossible team to box office triumph, the diminutive actor got to practice All the Right Moves under the guidance of Craig T. Nelson as coach Nickerson. Maybe those who saw the movie didn't really believe Tom could make it on the football field, but coach Nickerson gave him a tough enough time about. Nickerson may not be the best motivational coach the screen has ever seen since all he did was convince Cruise that football was not his sport. Since then, Box Office Tom has tried his hand at pool in The Color of Money with Paul Newman doing a Fast Eddie reprise as a wary coach of sorts, and in Days of Thunder Cruise as Curt Trickle lets Robert Duvall teach him a thing or two about stock car racing. Tom must have learned a thing or two about football, despite Craig T. Nelson's harangues, since his best film, Jerry Maguire, features Tom playing a football agent. Now, that was believable!
Paul Newman was a great choice for the role of Reggie Dunlop, player/coach of the Charlestown Chiefs. Slap Shot, directed by George Roy Hill, sends the puck scurrying around the ice rink with maximum raucous results. Reggie is just hoping to survive, looking ahead to one more season on the ice. He's the guy who lost his way somewhere around the blue line. Reggie drinks with the guys and delivers sloe-eyed cynical wisdom. To the Hanson Boys, go out there and kill somebody. Meanwhile, behind the scenes, Reggie battles the sly team general manager Joe McGrath. The barbs between Newman and Martin are as slick as hockey pucks bounding off the boards.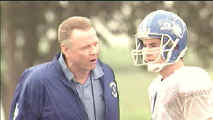 Boy, did someone play a mean trick on Jon Voight. They made him play such a one-dimensional martinet of a high school football coach in Varsity Blues. Voight does his best to bring some life to the dedicated coach Bud Kilmer, but the script just does not allow him to do anything but rush straight ahead for victory, no matter the cost. Coaches wisdom includes "When did the damn circus come to town. I didn't see no damn trucks." and "Stick to the basics, stick to the basics, stick to the basics. We're a running team. You only call what I tell you to call." Voight may just win the vote of coach most likely to get no sympathy. He shouldn't shoulder all the blame; someone did write the script that had Voight send a player out on the field held under the arms of two other players.
I guess playing a mean coach is not an easy decision for an actor. James Caan's tough boy screen persona makes sense as a tough guy coach and in The Program, he lets the nasty edge hang out prominently. How can we ever forget James Caan playing nasty coach in The Program, a 1993 effort to expose the flaws in the sport. Caan acts likes he's throwing forward passes in the big game, but he's asking the other guys to take the lumps.
Nick Nolte played one of the more complex coach role in William Friedkin's Blue Chips. Nolte plays Pete Bell, coach at perennially top-rated Western, a university with a winning tradition as long as a million dollar bills lined up one after another. Bell has the tough chore of facing down himself over the moral dilemma of paying off players to stay at school. With his personal life falling apart, Nolte is the perfect actor to dig deep for the angst to make a three-dimensional character of Pete Bell. Part of Blue Chips is outstanding, but the film falls short of making the top ten with a less than satisfying puzzle for the coach to sort out. Corruption is corruption and while Bell comes to realize the compromise he's asked to make is more than he can live with, it's really a no-brainer. But, Blue Chips is written by savvy filmmaker Ron Shelton, and there are many scenes between coach and player that have a firm grasp on truth. Somehow, the emotional core of this film gets out of control and even Coach Bell doesn't have the play book to find his to victory in this game.
Now we are coming to the king of movie coaches. We're still in basketball country, this time in Indiana, Hoosier territory. Hoosiers stars Gene Hackman as coach Norman Dale. A former prominent college coach, everyone wonders what Norman Dale's motive is for coming to a backwater town to coach high school ball. Hackman's intelligence as an actor is especially useful in this role as a high school basketball coach. When Hackman teaches the fundamentals, you believe he knows them backwards and forwards. His inspirational speeches flow as easily and naturally as anything even Spencer Tracy delivered. When Hackman says "I love you guys" to his team, you know he means it. Nothing like an actor of conviction to convince. I'd take Hackman in any coaching situation and I am confident he would make the right decision. The fundamentals are all in place for an exemplar basketball movie. Hoosiers delivers with Hackman at the helm.
From the sampling of Hollywood on the Sidelines, one would guess, it's pretty hard to deliver a convincing coach on screen. Cliché scripts present a more formidable obstacle than four three-hundred-pound linemen eagerly awaiting your arrival. Some outstanding actors have given it their best shot with mixed results. One day, a definitive movie will be made about the coaching game. There are outstanding elements from any of these films, but I think it is Hoosiers that comes closest to scoring the most points. Whether it's Hackman or the fine use of sentimentality, Hoosiers presents a sympathetic portrait of sports coach.
Coaches on DVD
A League of their Own You can keep company with Jimmy Duggan and the ladies on a fine DVD from Columbia-Tristar. An anamorphic transfer, is a colorful DVD about a colorful period. Sharp images make it east to call balls and strikes. You can even catch the gleam of sun reflected in coach Duggan's tobacco expectorations.
Varsity Blues is a beautifully transferred anamorphic DVD from Paramount. All the resolution the NTSC system has to offer is up on the screen. You can check out all of Coach Kilmer's warts. Colors are bright and flashy, echoing the dialog and plotting. Contrast range produces a snappy picture with sunshine bright and night scenes deep and rich. Score a touchdown for Paramount with this DVD.
Slap Shot looks refreshingly new in this anamorphic DVD version from Universal. Bright colors contrast against the white ice. Focus is beautifully controlled over the many ice rushing sequences. There is very little grain in the transfer. The Dolby 2-channel mono creates the allusion of the hockey arena and body checks are delivered with bass impact.
Hoosiers is a widescreen 1.85 transfer on DVD from Live Entertainment. It looks pretty good, but it is certainly not up to the best of the format. Colors are slightly de-saturated. The image is improved over the laser disc version clean detail. Grain could be tighter, but it is not obtrusive. MGM has announced a new addition of Hoosiers in both widescreen, hopefully anamorphic, and full frame versions.
Horse Feathers happily is transferred from very nice film elements. The Universal film is released through Image Entertainment. There is a minimum amount of dirt and scratches and the contrast ratio is very good. The mono sound is free of hiss and all the wonderful dialog is easy to understand. You may laugh through some of the dialog, but that's no fault of the DVD.


Selections from the feature archive include articles on Akira Kurosawa, Frank Darabont, Blonde Bimbos, Hollywood Street Gangs, or Vietnam: The Hollywood Pariah, and many more....


During World War II, Hollywood pumped out war movies one after the other. Vietnam was was another story. As far as Hollywood was concerned it was a pariah.
---

The Movie Poster Archive includes extensive poster images from the films of stars like Susan Hayward, Kirk Douglas, Katharine Hepburn and many more. Our featured star is James Mason
---

Click on the DVD MIA symbol for profiles of DVDs missing in action.
Add films to the DVD MIA Master List by filling out a simple form. Click Here



DVDPlanet is the DVD incarnation of legendary laser retailer Ken Crane's. Deep discounts and serious service.
---

Direct from the corridors of the Home Theater Forum, Home Theater Talk is the newest place on the Net to discuss everything home theater. Friendly atmosphere and knowledgeable folks are the secret ingredients.
---

Specializing in the horror side of DVD, this site features interviews with masters of DVD horror and reviews of discs.
---

Specializing in DVD reviews, DVD Authority boasts almost 400 reviews in an easy to use, elegant, interface.
Umberto Passini Online



Vintage & Contemporary Film Poster Art. Umberto has developed a fine Internet reputation as reliable and honest. Nice posters too!
---
Movie Collector's World



The publication you can't do without if your interested in Movie Posters
---


Cinemedia is the largest film and media directory with over 25,000 links.
---


Home to The American Society of Cinematographers. Includes features from American Cinematographer Magazine and more...
---


DVD Deals may be the best site for all you high-tech bargain hunters. This site helps you find coupons and cheap DVDs at all the major online stores.
---


A vast reservoir of DVD information, reviews, the kitchen sink. Check out their huge DVD database including reviews from many sites.
---


News, information, features about current films in theaters and in the pipeline. Easy to use interface.
---


The official site for information about the great comic director. A treat for connoisseurs of classic Hollywood madcap.
---


The DVD Answer Man is a new site devoted to spreading the DVD gospel. Answers to questions, reviews, links and more....
---


DVD links, information about Web specials, news, Site reviews.
---


Selections from the feature archive include articles on Akira Kurosawa, Frank Darabont, Blonde Bimbos, Hollywood Street Gangs, or Vietnam: The Hollywood Pariah, and many more....



Click on the image above for as original view of Akira Kurosawa's work
---


Catch the Hollywood take on Blonde Bimbos by clicking on the image above.
---


Movie Rage: Death in the Aisles
Everyone knows what it feels like to get angry at the movies these days. Here's a humorous but not so delightful view of big screen misery.
---