Unquestionably one of the great musical treasures of popular music, Frank Sinatra was much more than just a singer. As a public personality, Sinatra helped defined an age along with his cohorts in the "Rat Pack" during the 1960's. As a curious and casual alternative to the emerging hippie culture, Sinatra and his hipsters made great copy for the ever hungry burgeoning tabloid press. But you have to give the man his due as a Hollywood star.
With a career starting as a light-weight singer in musicals made for Metro-Goldwyn-Mayer, Sinatra's best known films of the forties co-starred hoofer Gene Kelly. Anchor's Aweigh, Take Me Out to the Ball Game and On the Town were wonderful, ebullient movies. When 1950 around, there seemed to be less demand for the talents of Sinatra and after a couple of minor films that were less than successful, the actor felt his screen career was in serious jeopardy. Then came From Here to Eternity. Sinatra lobbied hard for the role, practically getting on his knees to secure the role of the street smart punk G.I. Maggio. He sensed this was a role that could revive his career, and his instincts were right. There are lots of stories about how Columbia Studio head Harry Cohn was convinced to give the role to Sinatra, the most famous of which is expanded upon in the horse's head sequence in The Godfather. Maybe no one will know the truth about that. The one truth we do know is that the feisty New Jersey actor won the Academy Award as Best Supporting Actor for his work in From Here to Eternity. It was no looking back from then one.
Sinatra's film career found a new edge in serious roles. This is my favorite Sinatra. The dark Sinatra. The Sinatra of Suddenly leading a gang in an attempted presidential assassination. Or Frankie Machine, the drug addict card dealing would-be drummer beating a tattoo of desperation in The Man with the Golden Arm. Or the moody writer, Dave Hirsh in Some Came Running. The Manchurian Candidate is the last of Sinatra's best work. As Major Bennett Marco in the 1962 film, Sinatra found himself embroiled in an exciting project, once again about an assassination attempt. This time Sinatra was the good guy and his work was terrific. Through the years to his final feature film role in 1980's The First Deadly Sin, it seemed like Sinatra was more or less sleepwalking through the movies. His heart was elsewhere, and he continued to entertain for live audiences who were thrilled to experience the singing icon in person.
So, another of the great stars of yesteryear passes on into Hollywood legend. Sinatra was an amazing force, a survivor and a fighter that thrilled audiences in song and film. There will never be another "Chairman of the Board."
Click on a thumbnail for a larger image.
Want to see more Poster Images. Click here to out the Poster Archives


Selections from the Feature Archive include articles on Akira Kurosawa, Blonde Bimbos, Frank Darabont, Steven Culp, John Herzfeld or Vietnam: The Hollywood Pariah, and many more....
The Bitch Brigade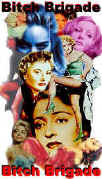 A line-up of lean-lipped actresses who marched through Hollywood in a high heeled goose step armed with razor sharp dialogue. Click on the image to read all about them.
---



BargainFlix doesn't sell movies! We just tell you where to get them for the best price! DVD reviews, giveaways and more.
---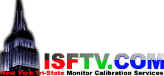 ISF Monitor Calibrations in the Tristate New York area. Lots of hardware info and frequent hardware peaks from video expert Kevin Miller. They may be judgmental, but that's the point, isn't it. Lots of DVD reviews plus news and more.
---


A home theater site filled with a host of useful information, including links to many other site.
---
Werner Herzog Film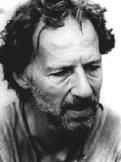 The Web site of director Werner Herzog includes lots of great material. A perfect stop for anyone who admires his films.
---


Manufacturer of computer-video interfaces, switchers, distribution amplifiers, computer-video scan converters, and high resolution cable. Found in many high end home theater systems.
---
MRQE
Find reams of movie and DVD reviews at the Movie Review Query Engine, a index of reviews appearing on the Internet.
---



Bravura simplicity of Felliniís vision perfectly mates with the unadorned tale of Cabiria, the feisty yet innocent prostitute. Don't pass it up.
---

Click on the DVD MIA symbol for profiles of DVDs missing in action.
Add films to the DVD MIA Master List by filling out a simple form. Click Here
---