You've Got Mail(SE)/B+,A
Warner/1997/120m/ANA 1.85
Is there a better time to see You've Got Mail than Spring? I doubt it. The flowers are blooming, the bees are buzzing and love is in the air. The charming updating of The Shop Around the Corner is a love letter to New York. It's sentimental, sweet, touched by a back palette bitter edge of reality.
There's a classic story of the little guy and the big guy here, but it is relegated to the background. Don't expect any dramatic sling shots. That's a great strength of You've Got Mail. Yes, it's blatantly sentimental, but it's about romance and sunshine and love, not about business. The focus is love.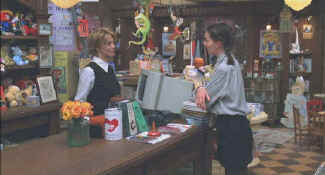 Meg Ryan runs The Shop Around the Corner©Warner
Kathleen Kelly owns a charming West Side Manhattan children's book shop left to her by mother who founded the landmark store. It's called The Shop Around the Corner, a brilliant nod to the film that inspired You've Got Mail. But a heartbeat away, just down the block, Fox Books is building a superstore. Run by third generation hard-nosed businessman Joe Fox, the new store a la Barnes and Noble or Borders uses deep discounts and aggressive marketing to smother the competition. Kathleen's shop, once sheltered by the shadows of New York's skyscrapers, is now threatened by the sweep of marketing.
The delicious complication is that Kathleen is having an e-mail affair with Joe, without either of them knowing the identity of the other. There are probably too many shots of laptop computer screens with voiced over e-mail exchanges, but the dialogue is consistently pithy and our knowledge of Kathleen and Joe's other relationship enhances the pleasure of watching them romance each other in the blind.
What can you say about the combination of Tom Hanks and Meg Ryan. There's definitely fine chemistry there. Both are gifted comedians. Ryan's physical comedy is splendid. She can make the most natural motions look hilarious. And she can do the silliest things without looking totally ridiculous. Hanks has learned to underplay his comic instincts to perfection. What used to be a broad double-take is now a quick twist of the brow or raising of the eyebrows. The supporting players offer a broad range of New York feelings, including Jean Stapleton as Kathleen's bookkeeper Bertie, Dabney Coleman as Joe's father, Greg Kinnear as Kathleen's boyfriend David and Parker Posey as Joe's paramour. Even the city lends it's support with the variety of West Side locations. I mean, has Zabar's ever lent its accent to a New York movie?
The script by the sisters Ephron, Nora and Delia, is nothing if not sophisticated. The writers know New Yorkers and understand the rhythms of the city. They know their way around clever dialogue too. This is Nora Ephron's breeziest directing gig. She's right at home in her home town New York City. The editing matches the film's energy. The montage story-telling is especially strong. I like George Fenton's score very much. It's the right balance of upbeat New York, schmaltzy New York, and blithe romance. John Lindley's photography is a New York Valentine.
The fade-out rendition of "Over the Rainbow" sung by Harry Nilsson made me wonder why the filmmakers didn't choose the classic Judy Garland recording instead. Maybe it was too expensive or maybe it couldn't be pried loose from the library, but think of the beautiful and sentimental opportunity missed since; after all, Judy did play in the remake of The Shop Around the Corner, In the Good Old Summertime. Nora Ephron's explanation for choosing the song on the audio commentary is certainly valid. It's a classic children's song from a movie of a classic children's book. But it would have been teary-eyed with Judy singing.
This is a lovely anamorphic transfer. The colors are especially gorgeous. Take a gander at the rainbow display of toys behind the counter at The Shop Around the Corner. It's an amazing array of subtlety. Every edge of the city stands out in clean detail, cleaner than the city really is, but I'm thinking about the edges, which are rock steady on this transfer. Contrast is very strong in every lighting situation. This is a very punchy transfer and a delight to watch. The Dolby Digital 5:1 surround is not overly active, but a sense of the city surrounds the characters without competing with the dialogue. Fenton's music is light and airy.
The special edition is another exemplary example of the potential of DVD. In addition to audio commentary from Nora Ephron and producer Lauren Schuler-Donner, Ephron and Schuler-Donner narrate an interactive tour of the locations of You've Got Mail, which include some short behind the scenes look at the crew at work. The tour is sweet, but contains less insightful commentary than one might expect. There's also an HBO interview with Ephron that includes scenes of the movie and an interest look at Ephron's background. It also includes comments from actors. Another bonus is an alter music only track. How about a total of ten theatrical trailers including two for You've Got Mail, one for The Shop Around the Corner and another for In the Good Old Summertime as well as eight more recommended film trailers. It doesn't end here since there are also features unique to PC use. The interactive PC features are enjoyable, but as a caveat, my computer did crash after using playing around with them. Gremlins in the e-mail? Oh well, a crash here and there is acceptable in the Spring.
Home Theater Reference System
Laser discs and DVDs are evaluated on the following current home theater equipment: Stewart 6' x 11' Videomatte 1.33 Gain Screen, 2 Runco 980 Ultra Projectors stacked, Faroudja LD100 Line Doubler, Lexicon DC1 Surround Processor/Switcher, 2 Pioneer Elite CLD-97 Laser Disc Players with AC-3 Modification, Sony 7000 DVD Player, Toshiba SD-3006 DVD Player, Total Media Systems Reference Home Theater Suite, LR Fronts, Center, LR Sides, LR Rears, 2 Velodyne F1500R Subwoofers, Sunfire Cinema Grand5 Channel Amp, Sunfire 2 Channel Amp, Lexicon RF Demodulator, Lexicon T-500 System Remote Control, Speaker Wire and Interconnects by Straight Wire.
HOT LINKS

The American Widescreen Museum
The wealth of information about widescreen movies is presented in a intelligent and easy to understand interface. Color in movies is given a similar treatment.

Robert Harris is part of the dynamic duo that restored Lawrence of Arabia, Spartacus, My Fair Lady and Vertigo. Harris rides a white horse into the battle to preserve our film legacy. Click on the image to read more.
Check out the Movie Poster Archive for short bios and images of Susan Hayward, Kirk Douglas, Katharine Hepburn and many more. This month's featured star is John Wayne. The Feature Archive has articles ranging from Akira Kurosawa to Blonde Bimbos and John Ford.



Click on the image of The Heistmasters for an interesting feature on the tough guys that pull off the big jobs.
Romance Picks
There are lots of hot romantic impulses explored in this outstanding film. Tom Cruise and Renee Zellweger provide the sparks.
Julia Roberts brings her comic gift to this enjoyable comedy.
Romantic feelings explored from a more angelic prospective by Cary Grant, Loretta Young and David Niven.