Bishop's Wife, The/B,B
HBO/1947/109 minutes/FS 1.33
Recently tepidly remade as The Preacher's Wife, the original concept for The Bishop's Wife is often charming. A Bishop faces a crisis in his life and looks to God for help and an Angel promptly arrives on the scene. Much of its success has to do with the great screen presence of Cary Grant. Grant makes the Angel come to save the day a delight and his comic timing is second to none. A look from Grant is often enough to provide a laugh.Loretta Young and David Niven are the couple in need with some excellent support from Monte Wooley.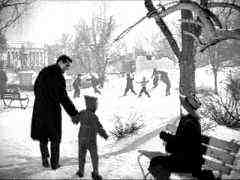 Winter fantasy. ãHBO

This black and white film from the Sam Goldwyn vaults is beautifully photographed by Greg Toland and the DVD transfer preserves the luminosity of Toland's camera. The lovely lighting and shadows come to accurate screen life. The picture is sharp and age markings are minimal. The remastered Chase Surround Stereo sound is somewhat thin, but dialogue is clear.
Home Theater Reference System
Laser discs and DVDs are evaluated on the following current home theater equipment: Stewart 6' x 11' Videomatte 1.33 Gain Screen, 2 Runco 980 Ultra Projectors stacked, Faroudja LD100 Line Doubler, Lexicon DC1 Surround Processor/Switcher, 2 Pioneeer Elite CLD-97 Laser Disc Players with AC-3 Modification, Sony 7000 DVD Player, Toshiba SD-3006 DVD Player, Total Media Systems Reference Home Theater Suite, LR Fronts, Center, LR Sides, LR Rears, 2 Velodyne F1500R Subwoofers, Sunfire Cinema Grand5 Channel Amp, Sunfire 2 Channel Amp, Lexicon RF Demodulator, Lexicon T-500 System Remote Control, Speaker Wire and Interconnects by Straight Wire.
HOT LINKS

The American Widescreen Museum
The wealth of information about widescreen movies is presented in a intelligent and easy to understand interface. Color in movies is given a similar treatment.

Robert Harris is part of the dynamic duo that restored Lawrence of Arabia, Spartacus, My Fair Lady and Vertigo. Harris rides a white horse into the battle to preserve our film legacy. Click on the image to read more.
Check out the Movie Poster Archive for short bios and images of Susan Hayward, Kirk Douglas, Katharine Hepburn and many more. This month's featured star is John Wayne. The Feature Archive has articles ranging from Akira Kurosawa to Blonde Bimbos and John Ford.



Click on the image of The Heistmasters for an interesting feature on the tough guys that pull off the big jobs.