Dirty Dozen/B+,B
MGM-UA/1967/150m/WS 1.85
A reasonable phrase to describe this very entertaining war film would be "pulp action." Starring Lee Marvin as Major Reisman, the maverick officer selected to train a team of army criminals for a daring behind the lines assault on the German high command, much of the film is formulaic, yet, with glue of Marvin's fine portrayal, The Dirty Dozen charges full speed ahead beyond the limits of its script.
Each section of the film has its special delights. The preface is Reisman's selection by top military brass for the dirty assignment. It establishes Reisman's acerbic nature and reveals the details of the mission. Part one is the selection of the men at the military prison. Each prisoner gets his own special introduction, with special emphasis on the key players. Part two details the training of the rebellious team, laced with liberal helpings of humor.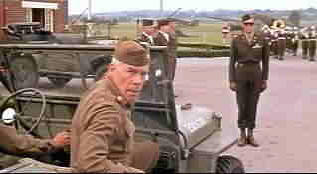 Reisman's revenge. ©MGM-UA
Along with Marvin on the mission is homicidal New Yorker Victor Franco(John Cassavettes), Southern pervert Archer Maggott(Telly Savalas), tough Robert Jefferson(Jim Brown), and creepy Vernon Pinkley(Donald Sutherland). Free spirited over-acting works fine as the order of the day in the setting of The Dirty Dozen. Robert Ryan is martinet Colonel Dasher-Breed, the easy target of some "George Kennedy and Ernest Borgnine add some hearty good fellow and Richard Jaeckel lends his typically sturdy supporting presence as MP sergeant Bowen.
The slam-bang finale starts on tip toes and winds up at full throttle. Football fans will marvel at Jim Brown's running prowess and action movie fans will delight in Robert Aldrich's crisp direction.
The images are quite easy to watch, but the years have placed some stress on the film elements for The Dirty Dozen. There's a theatrical trailer and an entertaining short promotional featurette. MGM continues to put together very informative insert booklets about their releases, an added bonus.


Selections from the Feature Archive include articles on Akira Kurosawa, Blonde Bimbos, Frank Darabont, Steven Culp, John Herzfeld or Vietnam: The Hollywood Pariah, and many more....
Vietnam: The Hollywood Pariah



During World War II, Hollywood pumped out war movies one after the other. Vietnam was was another story. As far as Hollywood was concerned it was a pariah.

.
The Movie Poster Archive includes extensive poster images from the films of stars like Susan Hayward, Kirk Douglas, Katharine Hepburn and many more. Our featured star is John Wayne


Three Kings/A-,A



Three Kings speeds ahead like a formula one race car on the fast track to reckless fascination.
---


DVD packaging can be the bane of the collector. Click on Rants and Raves for more.
The DVD Package