Bean/B+,B+
Polygram/1997/91m/WS 1.85
Fans of Rowan Atkinson's British Bean television series seem less happy with the comic's turn in the movie Bean than novitiates to the cult of individual comedy style. Bean is an often hilarious comic characterization. Atkinson's physical comedy as the hapless museum security guard borders on insanity. What seems amazing is that through the thin story, Bean has a consistency of outlook. You can feel that Bean will never change, and why should he, since he is perfectly satisfied with himself. Hell, Bean's a problem solver par excellence!
So, here's the set-up. A British museum can't find a way to fire a maddening security guard so they decide to get rid of him for a couple of months by having him accompany the recently sold Whistler's Mother to America. On arrival in L.A., Bean is assumed to be an imminent art expert. Embraced by the museum's curator and even taken into his home as a guest, Bean proves more than any museum can handle. And poor Whistler's Mother; it's virtually matricide.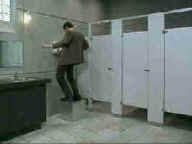 Beangenuity.İPolygram
There are several comic episodes crazy enough to bring tears to your eyes. Atkinson's rubber face and wild eyes adapt to any situation. The best moments are inspired. There are plenty of lesser titters and some questionable taste, but for lovers of broad comedy, Bean's jumpin'.
A very bright transfer makes for a fine looking DVD. The colors are rich and intense. The widescreen 1.85 film is consistently very sharp. The picture packs big screen pizzazz. No evident NTSC or MPEG artifacts mar the presentation. The sound is bold and aggressive.


Selections from the feature archive include articles on Akira Kurosawa, Frank Darabont, Blonde Bimbos, Hollywood Street Gangs, or Vietnam: The Hollywood Pariah, and many more....
Sturges Emerges


Preston Sturges was Hollywood's resident comic genius for more than a decade. His movies are timeless. Click on his image to read all about it.
---


Movie Rage: Death in the Aisles
Everyone knows what it feels like to get angry at the movies these days. Here's a humorous but not so delightful view of big screen misery.
---

.
The Movie Poster Archive includes extensive poster images from the films of stars like Susan Hayward, Kirk Douglas, Katharine Hepburn and many more. Our featured star is John Wayne
---