Animal House(SE)B+,B+
Universal/1978/109/ANA 1.85
Animal House is an outrageously entertaining DVD with John Belushi leading a pack of perfectly cast actors in an assault on the conventions of college decorum. The wild-eyed Belushi, with his amazing manic energy, eats hamburgers at a single push, is able to down whole bottles of liquid at a single tilt and generally makes Wimpy comic sandwiches look like delicate finger food. And heís just one of the denizens of Delta House that give Animal House itís own voice of comic anarchy.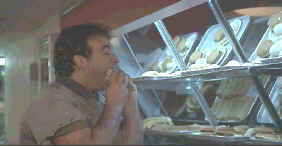 Bluto grabs a snack. ©Universal
The often sophomoric, yet delightfully ditzy comedy that turns college life on its ear is an exercise in brilliant casting. Every actor is a natural for the part in which he is cast. More importantly, any one who has ever gone to college has run into characters just like these, and some even more bizarre. Part of the fun of Animal House is reliving college days in a different light. For younger viewers, seeing Animal House starts the glands salivating for the day when they can start their college antics.
The minor story serves only as a platform from which the players can dive into campus madness. Delta House, the lowest fraternity on the campus frat pole, is the bane of Dean Wormerís existence. Faced with Wormerís warning that one more transgression of campus protocol will result in disenfranchisement of the frat, the fellows of Delta House plunge ahead full steam in their antics.
John Landis directs his group of actors with great bonhomie. Belushi can soar as Bluto, Tim Matheson smarms his way through Otter, and Stephen Furst and Mark Metcalf as Flounder and Neidermeyer have their moments in movie sunshine.
A very handsome special edition, Animal House is delivered in its anarchic glory in anamorphic style. The humor is as stretched out as the pictures. Colors are bright, interior details are illuminated. The mono sound is clean with hilarious dialog easy to understand.
The original documentary prepared for this DVD release, The Yearbook - An Animal House Reunion, is consistently entertaining. There are interviews with many of the principals as well as on set footage that captures the wonder of the Animal House experience. This isnít a typical promo pastiche but a full-blown tribute to the once in a lifetime experience of Animal House.



Apocalypse Now is Coppola's distorted vision of war now on DVD in gorgeous anamorphic images.
---


Tucker: The Man and His Dream is beautifully filmed with loving attention to detail.
---


Selections from the feature archive include articles on Akira Kurosawa, Frank Darabont, Blonde Bimbos, Hollywood Street Gangs, or Vietnam: The Hollywood Pariah, and many more....
Sturges Emerges


Preston Sturges was Hollywood's resident comic genius for more than a decade. His movies are timeless. Click on his image to read all about it.
---

Why do Al Pacino, Gene Hackman, Pat O'Brien and Goldie Hawn fall into a select group of actors? Find out more by clicking the Hollywood on the Sidelines symbol.
---


Movie Rage: Death in the Aisles
Everyone knows what it feels like to get angry at the movies these days. Here's a humorous but not so delightful view of big screen misery.
---



DVDPlanet is the DVD incarnation of legendary laser retailer Ken Crane's. Deep discounts and serious service.
---


Elegant DVD portal with news, reviews, links and information galore.


Many movie related links in an easy interface. You can even rate the sites.
---


Great site for DVD followers. Lots of information, some speculation, opinion, and reviews all bundled in a sparkling interface.

---