Air Force One/B+,A
Columbia/1997/125m/ANA 2.35,PS 1.33
I can't think of anyone better suited to play an action oriented President than Harrison Ford. The camera knows that, the audience knows that, and God bless him, director Wolfgang Peterson knows that. There you have the key to the success of Air Force One. Ford makes you believe in him. As long as the action is centered aboard the president's plane, action and tension are maintained beautifully. The weakest moments in Air Force One are the rhythmic beats at the White House as the President's staff contemplates and debates his fate.
If you can believe the group of terrorists can slip on to Air Force One as easily as they do, then you are hooked. The villains, led by a tame Gary Oldman, play shoot 'em all over the aircraft with nary a damage to the impenetrable hull. The pitched bullet battles are well choreographed and thoroughly exciting. The special effects are beautifully integrated by director Wolfgang Peterson. Peterson also contributes a running audio commentary on a separate track which is a lot of fun. Though repetitious at times, Peterson continually points out the make-up of shots, which parts are live and which parts computer enhanced. Even his digressions are interesting, talking about shoot locations and the prison in Cleveland which was originally built as a boys reformatory.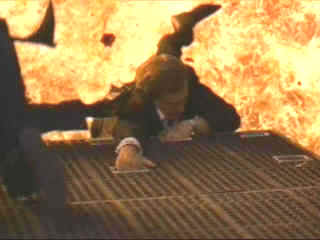 Ford hangs on, Harrison, not Jerry.©Columbia Tristar

This is a splendid example of the potential of DVD, delivering anamorphic 2.35 and pan & scan 1.33 selections for the film. Color and detail are handled with consummate expertise in terms of transfer and compression. It's east to forget one is watching a video at all. The sound is outrageous on this disc. Great attention has been given to create the most dynamic and exciting DVD soundtrack I have yet experienced. Aircraft pans are fantastically three dimensional, the hail of bullets on the planes incredibly encompassing and even the wonderful Jerry Goldsmith score renders his customary horns with spectacular fidelity.



Apocalypse Now is Coppola's distorted vision of war now on DVD in gorgeous anamorphic images.
---


Tucker: The Man and His Dream is beautifully filmed with loving attention to detail.
---


Selections from the feature archive include articles on Akira Kurosawa, Frank Darabont, Blonde Bimbos, Hollywood Street Gangs, or Vietnam: The Hollywood Pariah, and many more....
Sturges Emerges


Preston Sturges was Hollywood's resident comic genius for more than a decade. His movies are timeless. Click on his image to read all about it.
---

Why do Al Pacino, Gene Hackman, Pat O'Brien and Goldie Hawn fall into a select group of actors? Find out more by clicking the Hollywood on the Sidelines symbol.
---


Movie Rage: Death in the Aisles
Everyone knows what it feels like to get angry at the movies these days. Here's a humorous but not so delightful view of big screen misery.
---



DVDPlanet is the DVD incarnation of legendary laser retailer Ken Crane's. Deep discounts and serious service.
---


Elegant DVD portal with news, reviews, links and information galore.


Many movie related links in an easy interface. You can even rate the sites.
---


Great site for DVD followers. Lots of information, some speculation, opinion, and reviews all bundled in a sparkling interface.

---