Run Silent, Run Deep/B+,B+
MGM/1958/93m/WS 1.85, FS 1.33
This World War II submarine drama packs enough tension into the confined underwater spaces to stress the rivets of the boat and crew. When Commander Richardson loses his sub off the Japanese Bungo Straits the result is a year of desk duty desk at Pearl Harbor. While several more subs are destroyed under similar circumstances, Richardson goes over the action again and again in his office until he requests a new command. The timing is bad for Jim Bledsoe who is slated to take over the submarine Merkur on her return trip to see. Instant resentment, a classic conflict and it's a tension filled voyage for the Merkur as Richardson trains the crew for deadly shot at the Japanese killer ship.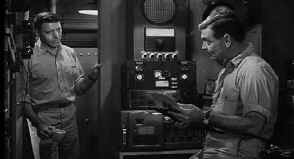 Bledsoe confronts Richardson.©MGM
Clark Gable plays Richardson with world-weariness commensurate with his years in the movie business. Gable's sagacious style in Run Silent, Run Deep keeps the movie running at an even keel. Burt Lancaster, whose company produced brought the film, is his usual powerful force as a foil to Gable. The crew includes the stellar acting support of Jack Warden.
Versatile director Robert Wise has a top-notch crew at the helm of Run Silent, Run Deep. Abetting his skilled and straightforward direction is a fine score from Franz Waxman and Russell Harlan's clean photography with bright but balanced key lighting. The result is a classic submarine drama.
The transfer elements for Run Silent, Run Deep are in terrific condition. This makes for handsome DVD. The black and white photography is given strong contrast. The very sharp images have no evidence of over-enhancement. Harlan's lighting in comfortably duplicated for the DVD. The mono sound is clean, the dialog authoritative. The DVD survives this underwater assignment with a winning salvo.
Check out the Movie Poster Archive for short bios and images of Susan Hayward, Kirk Douglas, Katharine Hepburn and many more. This month's featured star is Humphrey Bogart

The Feature Archive has articles ranging from Akira Kurosawa to Blonde Bimbos, The Heistmasters and John Ford.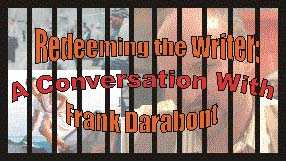 Click on the image of for a candid interview with Shawshank Redemption director Frank Darabont, Redeeming the Writer
HOT LINKS
etown.com
Venerable Internet Magazine etown.com is making a big growth spurt adding veteran home theater writers to their editorial and review staff. Look for many new hardware reviews in the coming weeks.
Classic Movies
Brad Lang movie site continues to be a great tool for Internet surfers and movie lovers. As usual, he's found some interesting links. Check out the link for a fine Japanese site on Kurosawa films.
Home Theater Reference Reviewing System


When you read a DVD review it's of utmost importance to know what equipment is being used to evaluate quality. Click on the projectors to find out more.