Errol Flynn(1909-1959)
Profile By Stu Kobak
Amongst the most dashing stars ever to grace the movie screen, Errol Flynn lived a life off the screen that echoed his on-screen persona. The devil-may-care attitude that made Robin Hood a charming rascal in The Adventures of Robin Hood (1938) came from the same kernel that made Flynn best drinking buddies with John Barrymore. The same passion with which he embraced Brenda Marshall in The Sea Hawk (1940) was evidenced off-screen by his many affairs filling Hollywood's gossip columns with choice bits from his romantic exploits.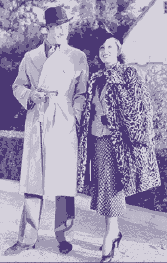 Flynn's prowess with women was so infamous that the expression "In like Flynn" became a common phrase used to describe the ease with which a man might conquer a woman. In fact, after a life rocked by success and scandal, Errol Flynn died under dubious circumstances, supposedly while having sex with a woman.
Of all the actors flicking swords to entertain movie audiences, Flynn was one of the best at making his point. A natural athlete and a rugged outdoorsman, Flynn had his own share of adventures before making Hollywood his playground. Flynn sailed the seas for seven months in and around Australia and even managed a tobacco plantation in New Guinea. His experiences in life helped to form the on-screen chemistry that made audiences love him.
There was an native intelligence behind all the screen bonhomie and perhaps even a self-deprecating humor. Check out Flynn's late-career performance as the dissipated Mike Campbell in The Sun Also Rises (1957). In many ways, it's a comment on the actor's life.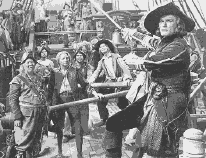 Flynn's career undoubtedly suffered from his excessive drinking and high life style. Barely a dozen years after capturing movie audiences with his dashing portrayal in Captain Blood (1935), the actor struggled to fit the image of the handsome, dashing adventurer, struggling with weight and bloating from drink. His later adventure films pale in comparison to the early efforts, yet, the magic still survives. Even as late as 1953 in The Master of Ballantrae,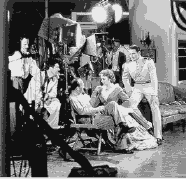 Flynn's rascally charm and athleticism provided enough sparks to light up the Robert Louis Stevenson story. Maybe it wasn't the same Flynn that drew a quick six gun in Dodge City, but there was still a glimmer of dash and romance in his step. Too Much Too Soon (1958) was Flynn's last Hollywood film. Ironically, he played John Barrymore in this biopic, his old drinking buddy, who, like Flynn, lived a rapacious life satisfying his hunger for women and wine. Lamentably, there was one more film left in Flynn called Cuban Rebel Girls released in 1959, a sad closing to a thrilling career.

The Feature Archive has articles ranging from A Western is a Western is a Western to Screen Voices, The Heistmasters, Akira Kurosawa, film preservationist Robert Harris and Shawshank Redemption director Frank Darabont.


Catch the Hollywood take on Blonde Bimbos by clicking on the image above.
---
More than just talk, one of the friendly and helpful places on the web where home theater views are exchanged. You might find a laugh or two as well.
---
Imaging Science Foundation


The Imaging Science Foundation promotes proper standards in home theater viewing. ISF trained technicians offer monitor calibration services to consumers. The difference in a properly calibrated monitor can be astounding. Click on the image to find an ISF member near you.
---


Looking for a fix of irreverent flick dissection. Check out The Big Combo where four guys rave and rant about movies.
---
DVD Verdict
They may be judgmental, but that's the point, isn't it. Lots of DVD reviews plus news and more.


Click on the link to visit the judge's chambers.
---
Brad Lang continues to add more interesting to the extensive collection at Classic Movies. Everything from actors and actress to your favorite directors is linked at the site.
---

The Movie Poster Archive include extensive poster images from the films of stars like Susan Hayward, Kirk Douglas, Katharine Hepburn and many more. Our featured star is William Holden.
---

Need a daily fix of movie quotes. Reel Quotes Newsletter has the answer. Click on the Reel Quotes symbol symbol for more.
---