Fastballs in Japan
By Stu Kobak
Long before Hideki Irabu and Hideo Nomo were making sports headlines as Japanese ballplayers coming to the big leagues in the US, and long before the funny and savvy baseball movie, Mr. Baseball was made starring Tom Selleck as the big fish out of water, the Japanese baseball league was importing major leaguers at eh end of their playing days to add some punch to Japanese baseball. The first wave of these "gaijin" baseball players were big stars in Japan but were very much outsiders. Japanese baseball was not as successful as it is today but it was just as popular.
In the late 1960's and early seventies former New York and San Francisco Giant shortstop Daryl Spencer made the big commitment of playing ball in Japan. Spencer brought a big bat to Japan and parked balls over the short fences with regularity. In 1972, while working as a newspaper editor in Kobe, Japan, I interviewed Daryl Spencer. Outspoken and straightforward, Spencer had many controversial comments to make about Japanese baseball at that time. A few weeks after the interview was published the big home run hitter and first American coach of a Japanese team was headed back home to seek out a coaching job in the "bigs." With the release of Mr. Baseball to DVD, I thought it make an enjoyable companion piece to publish excerpts of that long ago interview.
Go Directly to the Interview Excerpts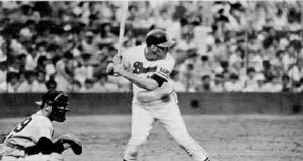 Spencer at the bat in Japan.Photo by T. Fisher
Good Times/Universal/1992/108m/WS 2.35
It happens every Spring. Hundreds of major leaguers saunter out onto baseball diamonds across America to begin another season of playing in "The Show," better known as the major league. For a few big league ballplayers, usually in the twilight of their careers, a chance to extend their playing days awaits them in the Japanese baseball league. Mr. Baseball is one of those fish out of water that thoroughly succeeds on a number of levels.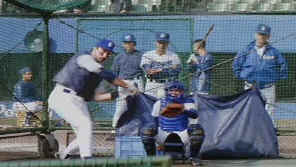 Elliot powders one in practiceŠUniversal
Chief amongst Mr. Baseball's assets is another fine, under-appreciated, performance by Tom Selleck. Ironically, it was Selleck's likable screen persona that originally made for a significant obstacle in my enjoyment of the film. Selleck portrays an aging Yankee baseball star who is callously and humorously dealt to the Chunichi Dragons of the Japanese baseball league. Selleck's Jack Elliot is initially cynical and acerbic and not really likable, thus going against the grain of what an audience has come to expect of the actor. There may be too many inconsistencies in Elliot to thoroughly believe the least attractive aspects of his character, however, once that obstacle is broached, the film works beautifully.
Mr. Baseball is very insightful into Japanese culture that are not always easy for the Western observer to understand. The message, humorously put forth by the film, is that the way to understanding is through learning from each other. It is only by taking the best each has to offer that both the Chunichi Dragons and Jack Elliot succeed.
Ken Takakura provides an excellent foil for Selleck's loud baseball star. Genuine affection and respect for each other develops out of the action of the film. Aya Takanashi is the beautiful love interest for Selleck. Yoji Nishimura is very funny and charming as Elliot's interpreter.
Australian Fred Schepisi has directed the film with the savvy sense of an outsider. When the film threatens to go too far toward broad comedy, Schepisi tightens the reigns. His view of the contrasting cultures is outstanding.
Mr. Baseball looks very good when it isn't trying to navigate the difficult waters of an NTSC decoder. It appears this DVD is from a composite transfer and straight edge fine details are prone to aliasing and inter-line flicker. There was some cross color artifacts evident as well. On the plus side, there is virtually no edge enhancement to exacerbate straight edges. Colors are strong and flesh tones very natural. Subtitles are used to translate much of the Japanese dialogue, though there were a couple of instances when Japanese players spoke English and subtitles appeared anyway. The surround sound captures the ambiance of the ball park beautifully.


Selections from the feature archive include articles on Akira Kurosawa, Frank Darabont, Blonde Bimbos, Hollywood Street Gangs, or Vietnam: The Hollywood Pariah, and many more....


During World War II, Hollywood pumped out war movies one after the other. Vietnam was was another story. As far as Hollywood was concerned it was a pariah.
---

The Movie Poster Archive includes extensive poster images from the films of stars like Susan Hayward, Kirk Douglas, Katharine Hepburn and many more. Our featured star is James Mason
---

Click on the DVD MIA symbol for profiles of DVDs missing in action.
Add films to the DVD MIA Master List by filling out a simple form. Click Here



DVDPlanet is the DVD incarnation of legendary laser retailer Ken Crane's. Deep discounts and serious service.
---

Direct from the corridors of the Home Theater Forum, Home Theater Talk is the newest place on the Net to discuss everything home theater. Friendly atmosphere and knowledgeable folks are the secret ingredients.
---

Specializing in the horror side of DVD, this site features interviews with masters of DVD horror and reviews of discs.
---

Specializing in DVD reviews, DVD Authority boasts almost 400 reviews in an easy to use, elegant, interface.
Umberto Passini Online



Vintage & Contemporary Film Poster Art. Umberto has developed a fine Internet reputation as reliable and honest. Nice posters too!
---
Movie Collector's World



The publication you can't do without if your interested in Movie Posters
---


Cinemedia is the largest film and media directory with over 25,000 links.
---


Home to The American Society of Cinematographers. Includes features from American Cinematographer Magazine and more...
---


DVD Deals may be the best site for all you high-tech bargain hunters. This site helps you find coupons and cheap DVDs at all the major online stores.
---


A vast reservoir of DVD information, reviews, the kitchen sink. Check out their huge DVD database including reviews from many sites.
---


News, information, features about current films in theaters and in the pipeline. Easy to use interface.
---


The official site for information about the great comic director. A treat for connoisseurs of classic Hollywood madcap.
---


The DVD Answer Man is a new site devoted to spreading the DVD gospel. Answers to questions, reviews, links and more....
---


DVD links, information about Web specials, news, Site reviews.
---


Selections from the feature archive include articles on Akira Kurosawa, Frank Darabont, Blonde Bimbos, Hollywood Street Gangs, or Vietnam: The Hollywood Pariah, and many more....



Click on the image above for as original view of Akira Kurosawa's work
---


Catch the Hollywood take on Blonde Bimbos by clicking on the image above.
---


Movie Rage: Death in the Aisles
Everyone knows what it feels like to get angry at the movies these days. Here's a humorous but not so delightful view of big screen misery.
---