Up in Mabel's Room/B-,C-
VCI/1944/77/FS 1.33/BW
The "B" movie was a great Hollywood tradition. With minor budgets, these movies were produced primarily to to play second fiddle on double bills at local theaters. Up in Mabel's Room fits the bill sublimely. Short on production values or big name stars, it has touch of the classic madcap comedies, fits well as a drawing room comedy, has a farcical center of gravity, and along with agreeable performances, the quick and clever dialogue delivers lively comedy. Adapted from a Broadway play and remade fromt he 1926 silent film, Mabel and company remain rather stage bound, but director Allan Dwan manages the revolving rooms at a laughter inducing pace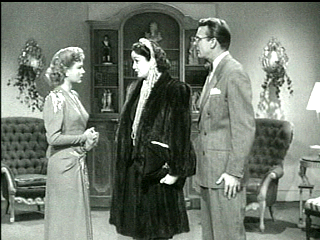 What's up, Mabel? ©VCI
Newlywed Gary Ainsworth has a little secret he doesn't want to share with wife Geraldine. Mabel knows all about it though and she is determined to let the news slip. A weekend at Mabel's fiancée Arthur's country farm is the perfect setting for sexual shenanigans and a comic collision of the ladies and Gary.
Dennis O'Keefe made a number of successful low budget films during the forties. O'Keefe proves adept at mugging, feigning innocence, and bumbling his way around sexual byplay in Up in Mabel's Room. There's a solid supporting cast surrounding the central performance of O'Keefe. Marjorie Reynolds spits out dialogue with rapid energy as Geraldine Ainsworth, Gary's bride of a whole month. Gail Patrick seemed permanently amused as Mabel and Mischa Auer gets a lot more from the role of ambitious waiter than one might expect.
The best you can say about DVD production on Up in Mabel's Room is serviceable. You can watch and enjoy this silly comedy despite the transfer problems. The first problem to be address is the lack of a proper pluge set-up for transfer. If you don't adjust your black level, the picture will surely be washed out. Bring the black level down a number of clicks to bring the picture into the proper range. There are a number of scenes with prolonged full length scratches. More annoying, however, is a feint pattern of hairlines that appear in portions of the pictures. I was not able to identify whether it's a reflection of element condition or processing. Grain is slightly processed, probably owing to some digital cleaning and black somewhat compressed. The overall sharpness is less than good, but it falls short of being annoying. The mono sound is thin with a minor nasal raspiness but all the dialogue is clearly delivered. As a bonus, VCI has included a seventeen minute comedy short starring Edgar Kennedy. Not much going on in the silliness, but this is a good example of a typical program filler. Where's the cartoon and newsreel?
If Up in Mabel's Room is up you alley, you might want to check out Getting Gertie's Garter, the 1945 film reunited the star and production team of the former.


Selections from the feature archive include articles on Akira Kurosawa, Frank Darabont, Blonde Bimbos, Hollywood Street Gangs, or Vietnam: The Hollywood Pariah, and many more....
Sturges Emerges


Preston Sturges was Hollywood's resident comic genius for more than a decade. His movies are timeless. Click on his image to read all about it.
---


Gary Morris's insightful publication Bright Lights Film Journal turns the celluloid in films from a unique perspective. Click on the image above for more pure movie views.
---
Imaging Science Foundation


The Imaging Science Foundation promotes proper standards in home theater viewing. ISF trained technicians offer monitor calibration services to consumers. The difference in a properly calibrated monitor can be astounding. Click on the image to find an ISF member near you.
---


Information on film sound in theaters and home theaters. Lots of helpful information provided in a handsome interface.
---
The Movie Poster Archive includes extensive poster images from the films of stars like Susan Hayward, Kirk Douglas, Katharine Hepburn and many more. Our featured star is Kirk Douglas.