Ulysses/C+,D
Fox Lorber/1954/
I remember being mighty impressed by Ulysses as a kid. Man, Kirk Douglas starring as the legendary adventurer in a color epic. Douglas was still smoldering fire from his delightful turn as Ned Land in Twenty Thousand Leagues Under the Sea. The Cyclops sequence was most memorable and most impressive to young eyes. The good news is that (You gotta be kidding Kobak!) I still had lots of fun watching Kirk make wine for Cyclops. Beyond that, I can't conjure up many positive adjectives to describe the sadly static action movie. The dubbing is horrendous. I could hardly recognize Douglas's distinct phrasing. Only Cyclops sounds just right.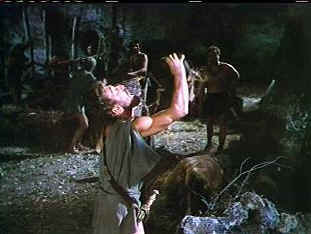 Vintage Kirk? ©Fox Lorber
Just in case you don't know the story of Homer's Odyssey, Ulysses is King of the Greek island of Ithaca. A mighty warrior, he is one of the leaders in the Trojan War, though this filming makes him the big cheese. After successfully suckering the Trojans and raping their city, Ulysses and his shipmates depart for home, but, since Neptune, God protector of Troy is angry, it takes them years to make it back. Storms, Sirens, Cyclops and Circe all conspire to keep Ulysses from returning to his lovely and loyal wife Penelope and the son, Telemachus, now grown. who he left as an infant.
While Ulysses is trying to recover his memory, Penelope has her own problems in Ithaca. A bevy of suitors have camped out in her castle, demanding that she take a husband to replace the missing King of Ithaca. The guys are partying, but still impatient, as Penelope stalls them with all the guile of a bad actress. Telemachus is positively foaming at the mouth at the suitors, who refuse to leave the castle. The Ithaca party alternates with the adventures of Ulysses, and everything awaits his eventual return to claim his Queen, restore order in his house, and give his kid a big Dad hug. When Ulysses finally does return, he's disguised as a beggar. The fact that no one sees through the ruse is but another reflection of how unconvincing this tale plays.
With producing pedigree like Dino De Laurentiis and Carlo Ponti, you might expect more from the production. Veteran Hollywood cinematographer is on hand to capture Ulysses in various postures, but ultimately, it's just another lost voyage.
The print used for transfer to DVD is not in good condition. There are bad splices, lots of scratches and dirt and the color is turning brown or fading in many sequences. The DVD is seldom acceptably sharp. Detail is smeared, eye expressions are impossible to detect, not that there were many in the stilted acting. There's even too much grain to rub it in. Even the thin sound isn't enough to mask the poor dubbing.
The Movie Poster Archive includes extensive poster images from the films of stars like Susan Hayward, Kirk Douglas, Katharine Hepburn and many more. Our featured star is Kirk Douglas.
---


Selections from the feature archive include articles on Akira Kurosawa, Frank Darabont, Blonde Bimbos, Hollywood Street Gangs, or Vietnam: The Hollywood Pariah, and many more...

From The Adventures of Robin Hood to Casablanca, director Michael Curtiz made movies that delighted audiences. Click on the image for Michael Curtiz: Directed Passion.
---



DVD Deals may be the best site for all you high-tech bargain hunters. This site helps you find coupons and cheap dvds at all the major online stores.


DVD links, information about Web specials, news, Site reviews.
---


The DVD Answer Man is a new site devoted to spreading the DVD gospel. Answers to questions, reviews, links and more....
---


Looking for information about widescreen movies and hardware. The Widescreen Movie Center is the place to go.
---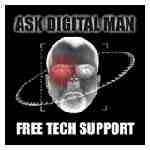 Ask Digital Man is the web's only 24-hour, totally FREE source for all your home theater, DVD, Dreamcast, PC, and Networking tech support needs!
---