Direct Passion: Michael Curtiz
By Stu Kobak
With an astonishingly consistent career, spanning six decades as a director of motion pictures, Michael Curtiz deserves a place in the pantheon of Hollywood legends. Curtiz's consummate movie mastery spread over virtually every film genre. From his fabulous Errol Flynn adventure collaborations to musicals, biopics, suspense and melodrama, horror, comedy, widescreen epics and westerns, Curtiz effortlessly stepped over the treacherous cracks dividing film genres. In an industry where the greatest directors were closely associated one or at most two genres, Curtiz defied traditional Hollywood logic and safety, ferociously attacking any project Warner Brothers put before him.
Actors working under Curtiz's fierce prodding often achieved their greatest artistic successes. James Cagney garnered an Academy Award for Best Actor in Yankee Doodle Dandy(1940), as well as Best Actor from the New York Film Critics for Angels with Dirty Faces(1935). Joan Crawford won her Academy Award giving a riveting performance for Curtiz in Mildred Pierce(1946), and William Powell was cited by The New York Film Critics for his starring role as Clarence Day in Life with Father. Humphrey Bogart and Spencer Tracy, John Garfield, Bing Crosby, Danny Kaye, Ingrid Bergman, Bette Davis, Al Jolson, Kirk Douglas, Olivia de Havilland, William Holden, Ronald Reagan, John Wayne, Lauren Bacall, Doris Day, Edward G. Robinson, Robert Taylor, Sophia Loren, Gary Cooper, Cary Grant, Paul Muni, Burt Lancaster, Alan Ladd and even Elvis Presley number amongst the star that performed under the Hungarian-born Curtiz.
Curtiz brought a ruthlessly dictatorial style to the set. He was driven by a love of his work and placed its importance above all else, looking with contempt on those in the industry who merely worked to live well. Scott McQueen, writing in The Perfect Vision, related how on the set of Noah's Ark(1929), an early Warner sound picture, Curtiz, looking for realism, flooded the set on unsuspecting extras while cameras captured the images of startled and helpless actors, waters crashing over them and tearing the set apart. Though many members of the extra community were injured, their welfare was never a consideration to Curtiz; only the resulting image mattered.
It's not surprising that Curtiz was not well liked by those who worked under him. Although Errol Flynn appeared in a dozen Curtiz directed films, acrimony existed between them from the very outset. Describing Curtiz acidly, Flynn commented that "he liked blood so much he insisted that the tips be taken off the swords." Despite the conflict between Flynn's light-hearted spirit and Curtiz's intense drive for speed and perfection, Flynn's finest screen moments were captured under the director's command. Flynn's first assignment under taskmaster Curtiz was a minor role in The Case of the Curious Bride(1935), a Perry Mason detective yarn. Captain Blood(1935) marks the first time Curtiz and Flynn worked together as director and star and is followed the next year by Charge of the Light Brigade, another rousing adventure. Their most famous collaboration, The Adventures of Robin Hood came in 1938 and only after Curtiz was brought in to replace director William Keighley, who was taking too long behind the camera for the powers at Warners. Dodge City(1939), The Sea Hawk(1940 and The Santa Fe Trail(1940) are amongst the best of the duo. The last film made by this legendary combination was the 1941 Dive Bomber, which, like most of the duos efforts, was a financial and critical success.
There is no question that the ten-year span from the mid-thirties to mid-forties was Curtiz's most successful. It was the pinnacle of the studio system and Curtiz, often thought to epitomize the system, was a key player in the Warner success story, where he headed their list of "A" directors. Perhaps it is this close association with the studio system that has prevented Curtiz from receiving due respect for his achievements as one of the premier practitioners of the art of making movies.
Curtiz's career can be considered in a number of segments. The commercial and artistic success of the Curtiz/Flynn epics firmly established Michael Curtiz as one of the princes of Hollywood. Curtiz was not a man to rest on his laurels. After the last Flynn film, in the course of six years went on to direct four films nominated either for Best Actor or Best Picture. A workaholic, he produced a prodigious output of fine films, several times directing as many as three films in a single year.
There are a number of unifying forces in the body of Curtiz's work. Elegant camera movement is a hallmark of the Curtiz film. The director's camera begins a high approach to a scene, sweeps slowly downward into and through the detailed composition, and then closes dramatically on the scene's main substance. In Casablanca and Angels with Dirty Faces, for instance, the stylized camera begins at the highest point of a cityscape, providing a broad perspective and setting, then moves in hypnotically. The camera is a magnet to the audience, drawing them into Curtiz's world. Not only does the establishing shot capture place, it creates the overall feeling that will dominate the film.
Another secret to the Curtiz success is his editing rhythm. His films move in incisive camera strokes without sacrificing a graceful flow. The establishing shot, the two-shot, the close-up, the long-shot is Curtiz's cinematic dance created to bring his vision to life. Watching a Curtiz film with an added awareness of his astounding visual vocabulary will layer the experience. Curtiz's films, even when flawed, move with an unpretentious grace and effortless pace.
In 1962, after completing his last film, The Comancheros, Michael Curtiz succumbed to an arduous battle with cancer. Ironically, the action sequences for which Curtiz was so famous, were shot by the second unit director in The Comancheros, since he was too ill to handle the demands of location shooting.
So it was that Curtiz passed on doing what he loved so much, working to the very end directing movies. The rich legacy of polished celluloid images leaves a film-loving public forever indebted to this master of film. In his autobiography, no less an authority than the great producer Hal Wallis labeled Michael Curtiz the best director in the business.
The following Curtiz films are currently available on DVD.
Casablanca
A premier edition from Warner, Casablanca on DVD is a core title for any DVD collection.

Proud Rebel
From HBO, this small, but charming Curtiz film is given decent treatment on DVD.
Santa Fe Trail
Beware. This is from a small company releasing public domain films in questionable condition.
Kennel Murder Case
Roan, who delivered some good "B" public domain titles to laser disc, continues with DVD. The Kennel Murder Case is packaged as part of a two title set with Nancy Drew, Reporter.
Life with Father
Another public domain title from a minor DVD releasing entity. Caveat Emptor.



DVDPlanet is the DVD incarnation of legendary laser retailer Ken Crane's. Deep discounts and serious service.
---

Direct from the corridors of the Home Theater Forum, Home Theater Talk is the newest place on the Net to discuss everything home theater. Friendly atmosphere and knowledgeable folks are the secret ingredients.
---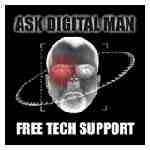 Ask Digital Man is the web's only 24-hour, totally FREE source for all your home theater, DVD, Dreamcast, PC, and Networking tech support needs!
---

Need a daily fix of movie quotes. Reel Quotes Newsletter has the answer. Click on the Reel Quotes symbol for more.

The Movie Poster Archive includes extensive poster images from the films of stars like Susan Hayward, Kirk Douglas, Katharine Hepburn and many more. Our featured star is Humphrey Bogart.
---


Selections from the feature archive include articles on Akira Kurosawa, Frank Darabont, Blonde Bimbos, Hollywood Street Gangs, or Vietnam: The Hollywood Pariah, and many more...
Robert A. Harris
He's part of the dynamic duo that restored Lawrence of Arabia, Spartacus, My Fair Lady and Vertigo. Harris rides a white horse into the for the cause of preserving our film legacy. Click on the image to read more.
---



DVDPlanet is the DVD incarnation of legendary laser retailer Ken Crane's. Deep discounts and serious service.
---

Direct from the corridors of the Home Theater Forum, Home Theater Talk is the newest place on the Net to discuss everything home theater. Friendly atmosphere and knowledgeable folks are the secret ingredients.
---


The American Widescreen Museum, is the ultimate resource for widescreen movie information, Martin Hart's reliable site is a great tool for movie buffs.
---
They may be judgmental, but that's the point, isn't it. Lots of DVD reviews plus news and more.


Click on the link to visit the judge's chambers.
---

Gary Morris's insightful publication Bright Lights Film Journal turns the celluloid in films from a unique perspective. Click on the image above for more pure movie views.
---