Tiger of Eschnapur/ D+,B
Fantoma/1959/100/FS 1.33
Warning! You don't want to buy The Tiger of Eschnapur without its companion DVD The Indian Tomb. They are really one movie split in two.
With settings to die for captured in glorious color, Fritz Lang's Tiger of Eschnapur is briefly reminiscent of the magic of Michael Powell's Thief of Baghdad. Briefly is the operative word here. The script is a poorly crafted throwback to turn-of-the-century camp melodrama with a serious helping of cliffhanger serials. The cliffhangers were lots of fun, but under the static awkward direction of Lang, his tiger has false teeth. There's little excitement, the romance is too much jam on a thin piece of bread, and the politics are tot he left of ridiculous. Even the music plays like it was lifted from a compendium of cliffhanger specials.
Architect Harald Berger arrives in India to begin a construction project for Maharajah Chandra of Eschnapur. At a village on route he sets eyes on beautiful Indian dancer Seetha, who is also on her way to serve the Maharajah. Harald is ready to jump her bones like a hungry tiger. Deciding to travel together to Eschnapur, Harald captures the heart of Seetha with an act of heroism.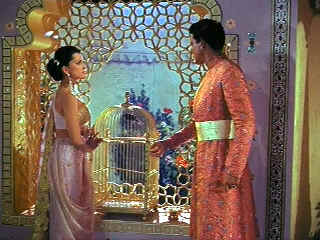 The prince, the dancer and the bird. İFantoma
Hey, what's love without some problems. Chandra is bringing Seetha to Eschnapur after seeing her dance at a temple. Watching Seetha dance is enough to turn any man to jelly, it seems. The recently widowed Chandra plans to make Seetha the new Maharani. Rule one of the architect's handbook: thou shall not covet the dancer your Maharajah is panting after: it's a bad set of plans.
As Seetha and Harald arrive in Eschnapur, the political pot boils. Prince Ramagani wants to dethrone his brother Chandra. Former father-in-law Padhu wants Chandra to remain faithful tot he memory of his daughter. High priest Yama wants to feed Seetha to the gods. Will Seetha marry Chandra? Will Harald escape the wrath of Chandra? Will Ramagani steal the crown? Will Tiger of Eschnapur ever end? The answers to these questions and more can be found in The Indian Tomb.
Aside from the lush location production details, Debra Paget's Seetha makes pretty good watching. She throws together some nice Indian dance moves in scanty clothing. Paul Christian (Hubschmid) is unafraid as Harald. Walter Reyer looks positively moony every time Seetha's in the room. Rene Deltgen as Ramagani is only missing a handlebar mustache for twirling.
The Fantoma team has treated these late Lang efforts with great respect. The transfer elements appear worked over big time. Colors are beautifully saturated. The appear almost painted on the screen. Individual colors are well defined with no color bleeding. Dig those big jewels: even the light reflected through them is softly captured on clothing. The chief transfer shortcoming is color instability at scene transitions. It's almost as if the transfer equipment hesitates before locking in on a new color scheme. The material is otherwise quite clean. Save for a couple of small scenes, image is delivered with maximum resolution. Blacks are as rich as can be. Shadow detail balances perfectly with the intense color scheme. Lighting in a few Day-for-Night sequences is questionably bright. You can watch Paget and company go through the paces in English of German 2 channel mono. In English, the dialogue has a hollow ring to it. In German, it looks ridiculous. English subtitles are available if you choose German language.



Quite simply one of the funniest comedies ever made and the transfer is gorgeous.
---


The major studio vaults are filled with incredible film treasures which few have seen the light of DVD.
Open the Vaults
---


Selections from the Feature Archive include articles on Akira Kurosawa, Frank Darabont, Blonde Bimbos, Hollywood Street Gangs, or Vietnam: The Hollywood Pariah, and many more....
Body Parts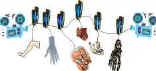 Hollywood's long fascination with parts of the body is explored piece by piece.
---

The Movie Poster Archive includes extensive poster images from the films of stars like Susan Hayward, Kirk Douglas, Katharine Hepburn and many more. Our featured star is Tyrone Power.
---


Imaging Science Foundation


The Imaging Science Foundation promotes proper standards in home theater viewing. ISF trained technicians offer monitor calibration services to consumers. The difference in a properly calibrated monitor can be astounding. Click on the image to find an ISF member near you.
---
Brad Lang continues to add more interesting material to the extensive collection at Classic Movies. Everything from actors and actress to your favorite directors is linked at the site.


The National Film Preservation Foundation (NFPF) is the nonprofit organization created by the U.S. Congress to save America's film heritage.
---

The Movie Poster Archive includes extensive poster images from the films of stars like Susan Hayward, Kirk Douglas, Katharine Hepburn and many more. Our featured star is Lana Turner.
---