Thirteen Days (SE)/ B+, A-
New Line/2001/147/ANA 1.85
A sense of invincibility is inherent in the swagger of youth. In 1962, as a nineteen-year-old, I was pretty much oblivious to the Cuban Missile Crisis. Little did I realize how close the United States came to entering into a devastating nuclear war. Thirteen Days is the story of that crisis told from the perspective of The White House. Perhaps the election of youthful John F. Kennedy as President in 1960 emphasized that feeling of being indestructible. If Eisenhower was a father figure, Kennedy was more like a big brother, infused with youth and vitality.
When nuclear missiles are discovered by spy planes in Cuba, President Kennedy is confronted with the reality that their presence in close proximity to United States targets poses an unacceptable threat to our National security. How Kennedy and his team of advisors, including brother Robert, Secretary of Defense McNamara, the Joint Chiefs of Staff, United Nations Ambassador Adlai Stevenson and outside advisor Dean Acheson deal with the crisis is ring in which Thirteen Days makes its excellent fight. It's not giving too much away by telling you we never did go to war over the missiles.
Choosing Kennedy advisor and close friend Kenny O'Donnell as the eyes through which the story is told adds a layer is an excellent dramatic choice. O'Donnell's concerns reach outside The White House to his own family, and we can more easily identify with the less well known O'Donnell. One false script decision gives O'Donnell a couple of chores too many, but overall I had few qualms about script veracity and sagacity.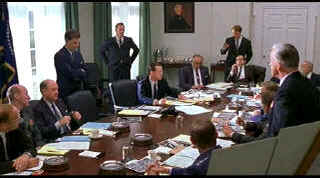 Laying down the ground rules. ©New Line
Roger Donaldson has had an enigmatic directing career. Just when you think he's about to break into a superstar suit, he revs up the wrong vehicle. Donaldson broke into the art house scene with the excellent New Zealand drama Smash Palace and moved on with panache to a big critically successful remake of Mutiny on the Bounty, The Bounty starring Mel Gibson and Anthony Hopkins. A solid political drama followed, Marie, starring Sissy Spacek, and then the excellent Kevin Costner vehicle No Way Out set in Washington's corridors of power. But then there have been the critical clinkers like the lamentable Cocktail, desperately loud Cadillac Man, and Species, a scifi flick that emphasized sex over story. Donaldson's last effort, Dante's Peak, was overpowered by excess lava. Happily, the director really hits the mark with Thirteen Days. Taking the historical chronology and delivering a riveting and suspenseful film isn't as easy as it might seem. You might know the results, but with intelligence and something akin to sleight of hand, Donaldson and his team have a winning fight plan. Rhythm is crucial to making a successful film based on historical events which unfold like those of Thirteen Days. Donaldson is like a fighter who comes into the ring with all the right combinations. He bobs and weaves, uses the ring like a savvy pro and keep the big right hand punch as a threat fromt he very first round.
Blending black and white cinematography for transitions is not a new device, but it is elegantly effective in setting the Thirteen Days scene and period. Cinematography and production design are excellent. This is a first class production all the way. The Trevor Jones score makes sure the tension is effectively maximized.
Kevin Costner nails the Boston accent perfectly as Kenny O'Donnell. It's a convincing performance and one that will probably be taken for granted like many of the actors excellent effortless cinema turns. Bruce Greenwood is okay as JFK, but he seems in and out of accent, playing Kennedy as a hybrid between Boston and Brooklyn. I wonder how the casting process went? Greenwood's resemblance to a young Cliff Robertson is uncanny. Robertson played John F. Kennedy in PT 109, the story of Kennedy's war service. Robertson never did remind of Kennedy in the least bit and neither does Greenwood. Steven Culp, on the other hand, looks and feels like Robert Kennedy. Together with Costner, Culp's convincing work helps bolster any doubts about Greenwood. The overall fabric of the film is enriched by many fine supporting performances including Len Cariou as for Secretary of State Dean Acheson and Dylan Baker as Secretary of Defense Robert McNamara.
As the first title in New Line's Infinifilm*series of special editions, Thirteen Days makes an auspicious choice for launching the project. It is packed with information about the film and era. An annotated historical commentary includes speeches from the likes of Kennedy, Khrushchev, and press secretary Pierre Salinger. The heart of the special edition is the commentary from the filmmakers led by director Roger Donaldson, producer Armyan Bernstein, writer David Self, former New Line head of production Michael De Luca and producer/star Kevin Costner. The importance of casting is noted a number of times, and not surprisingly, Donaldson notes details of production design that capture the reality of the White House in 1962. It's a benefit having various principals sharing their ideas in interaction on a commentary. Conversation ranges from historical perspective to comments of acting challenges at different times. Or you might learn that a White House switchboard scene was added after preview input.
There's more: a 48 minute documentary, Roots of the Cuban Missile Crisis adds a clear historical perspective. There are nine deleted or extended scenes available with or without commentary. a visual effects demonstration utilizing the angle feature of DVD presents the compositing of a sequence. A making of eleven minute short features filmmaker observations. You can watch the film with annotation bars at the beginning of every chapter giving you a couple of second opportunity to access additional illumination about the film or history. There's a nifty text feature that provides information about historical characters over the image.
There are lots of visual textures in Thirteen Days resulting in images of varying brilliance. Separating enhanced archival footage and intentionally degraded shots keeps a viewer on his toes. I suppose the image could have been rendered with more consistent sharpness, however, there's a somewhat newsreel quality to the film that may explain why it sometimes veers from perfect clarity. Overall, Thirteen Days is a very sharp presentation with no ugly edge enhancement to muddy detail. Colors are beautifully saturated with no edge bleeding. The black and white transitional scenes are simply lovely with deep blacks and perfect gray scale balance. All the black and white sequences are sharp enough to give you a close shave. The Dolby Digital 5:1 Surround Sound creates a consistently sense of spatial immediacy without being overly aggressive.
*New Line's Infinifilm branded DVDs are designed to make for easy navigation on special edition voyages. For more detailed information, click the link on Infinifilm.


Selections from the Feature Archive include articles on Akira Kurosawa, Frank Darabont, Blonde Bimbos, Hollywood Street Gangs, or Vietnam: The Hollywood Pariah, and many more....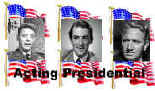 What actor would you vote whose screen persona best exemplified the fabric of the president of the United States? Check act Acting Presidential for a look at the many actors who have coveted The Oval Office.
---

Steven Culp extracts the essence of Robert F. Kennedy in Roger Donaldson's outstanding feature Thirteen Days. Culp recently shared insights on the performance and his career with Films on Disc. Click the image for more.



The American Widescreen Museum, is the ultimate resource for widescreen movie information, Martin Hart's reliable site is a great tool for movie buffs.
---


Comprehensive DVD review database. Easy to use interface with specific region searches.
---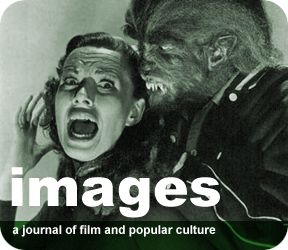 Images is a non-commercial Web site created for everyone who enjoys movies and popular culture. Images is published quarterly; however, new reviews will appear each week, so check back often.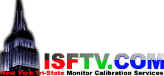 ISF Monitor Calibrations in the Tristate New York area. Lots of hardware info and frequent hardware peaks from video expert Kevin Miller.
---

Jim Doolittle
ISF Instructor. Premier calibrator and expert front projection system setup technician in the Boston area.
---


Now a major independent DVD distributor, Image has parlayed its laser disc business to success. Great DVD release calendar info.
---


The National Film Preservation Foundation (NFPF) is the nonprofit organization created by the U.S. Congress to save America's film heritage.
---

Have you visited Home Theater Talk lately? One of the friendliest places on the Net for Home Theater and DVD discussion, you can get help for installation problems or simply share your opinions with other Vidiots.
---

The Movie Poster Archive includes extensive poster images from the films of stars like Susan Hayward, Kirk Douglas, Katharine Hepburn and many more. Our featured star is Gregory Peck



Apocalypse Now is Coppola's distorted vision of war now on DVD in gorgeous anamorphic images.


DVD packaging can be the bane of the collector. Click on Rants and Raves for more.
The DVD Package


Mother Night/A-/A-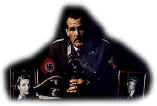 The eccentric style of Nick Nolte is perfect for the angst ridden Howard W. Campbell, Jr., a hero or a villain.

Click on the DVD MIA symbol for profiles of DVDs missing in action.
Add films to the DVD MIA Master List by filling out a simple form. Click Here