Thinner/B,A-
Republic/1996/92m/WS 1.85
A lean and delicious tale from a Stephen King story, Thinner takes special delight in reducing its star Robert Burke to a bag of bones. After an accident involving a gypsy visiting his small New England town, lawyer Billy Halleck finds his life takes a dramatic, horrifying and unexpected turn.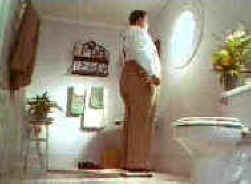 Incredulous losses. ©Republic Home Video
Burke, a Hal Hartley regular, carries his varied make-up well and does an excellent job of giving his character a center of believability. Joe Mantegna provides good support as a Mafioso client.
Thinner is presented as a special edition DVD, providing an excellent second audio commentary from director Tom Holland and Mantegna and a documentary focused on the extensive make-up used in the film. Presented in 1.85 aspect ratio only, the widescreen DVD is quite stunning. THX certified sound adds to the power of the presentation.


Selections from the feature archive include articles on Akira Kurosawa, Frank Darabont, Blonde Bimbos, Hollywood Street Gangs, or Vietnam: The Hollywood Pariah, and many more...
Robert A. Harris
He's part of the dynamic duo that restored Lawrence of Arabia, Spartacus, My Fair Lady and Vertigo. Harris rides a white horse into the for the cause of preserving our film legacy. Click on the image to read more.
---



DVDPlanet is the DVD incarnation of legendary laser retailer Ken Crane's. Deep discounts and serious service.
---


The National Film Preservation Foundation (NFPF) is the nonprofit organization created by the U.S. Congress to save America's film heritage.
---


Information on film sound in theaters and home theaters. Lots of helpful information provided in a handsome interface.
---


A vast reservoir of DVD information, reviews, the kitchen sink. Check out their huge DVD database including reviews from many sites.
---

The Movie Poster Archive includes extensive poster images from the films of stars like Susan Hayward, Kirk Douglas, Katharine Hepburn and many more. Our featured star is James Stewart
---