Terminator2:Judgement Day/B+,A-
Live/1991/139m?ANA 2.35
Itís a natural that the technical wizardry of T2 should mark the debut of DVD RSDL for a single movie on dual DVD layers. The result is no impediment to the dynamic flow of the relentless terminator pursuit.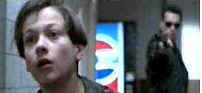 First meeting. "Live
T2 is an exciting action film, yet it lacks an element of humanity that the original Terminator captured. Itís a hell of a ride though. The special effects are expertly integrated with story and the climax is dynamite.
T2 DVD is presented in anamorphic and widescreen ratios. The images are sharp, color accurate and the sound dynamic. Itís a shame a 5:1 Dolby mix was not done for T2, but it is no doubt a choice of the director.
The Feature Archive has articles ranging from Akira Kurosawa to Blonde Bimbos, The Heistmasters and Frank Darabont.


Read about Hollywood's hesitant view of the Vietnam war. Click on the image for more.
Check out the Movie Poster Archive for short bios and images of Susan Hayward, Kirk Douglas, Katharine Hepburn and many more. This month's featured star is Katharine Hepburn.


Imaging Science Foundation promotes proper standards in home theater viewing. ISF trained technicians offer monitor calibration services to consumers. The difference in a properly calibrated monitor can be astounding. Click on the image to find an ISF member near you.
HOT LINKS
National Preservation Film Board
Learn about what this organization is doing to preserve our film heritage. Want to know the guidelines for proper handling of film? This is the place.
Home Theater Reference Reviewing System



When you read a DVD review it's of utmost importance to know what equipment is being used to evaluate quality. Click on the projector to find out more.