S.O.B./ C+, B+
Warner/1981/121/ANA 2.35
What starts with a potent shot of darn funny black comedy turns into too much of a personal sandbox for writer/director Blake Edwards. No doubt this satire of the Hollywood movie-making machine contains comic kernels might provide some delightful irritation for the Hollywood "in the knows," but it struck me as mostly self-indulgent.
Producer Felix Farmer, a perennial money-making producer for his studio, steps into quicksand with his latest film, a family entertainment starring his saccharine movie star wife Sally Miles. Through into dark depression, Felix tries seven varieties of suicide while a wild party rages on at his beach house. There are dead bodies, mad men, guns ablaze, collapsing floors, and enough booze to float James Cameron's replica of the Titanic. The beach house party contains some good sight-gags, but it falls far below the normal Edwards laugh quotient.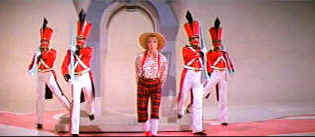 Julie Polly Waddle Doodles. ©Warner
Julie Andrews gets to do a couple of songs and struts her way through two boring versions of Polly Waddle Doodle All Day, but the famous scene when she bares her breasts didn't send Hollywood into a dither twenty-odd years ago; it actually provides more laughs today in light of the lax screen mores practiced in today's cinema. It's William Holden's last film role, and though he's weather-beaten by the years and the booze as director Tim Cully, Holden's star quality stands up to the chaotic script. Robert Preston, warming up for his grand performance under Edwards Victor Victoria, has some early funny moments as Dr. Irving Finegarten, shot-meister to the stars, but he runs out of B-12 early on. Richard Mulligan is a wild man as Felix.
Warners gets the most from the film elements on S.O.B. The image is clean and color holds up very well. Color saturation is good with accurate skin tones. It's a sharp DVD with only slight high peak transition artifacts. Blacks are deep, and shadow detail, what there is of it, is very good. Overall light output is excellent. Dolby Digital one track mono sound delivers competently clean sound.


Selections from the Feature Archive include articles on Akira Kurosawa, Blonde Bimbos, Frank Darabont, Steven Culp, John Herzfeld or Vietnam: The Hollywood Pariah, and many more....
Nobody's Perfect




Billy Wilder left movie lovers a legacy of cinematic treasure. From defining Film Noir to outrageous comedy, writer/director Wilder delivered the goods with consummate style.
---

The Movie Poster Archive includes extensive poster images from the films of stars like Susan Hayward, Kirk Douglas, Katharine Hepburn and many more. Our featured star is William Holden.
---



Manufacturer of computer-video interfaces, switchers, distribution amplifiers, computer-video scan converters, and high resolution cable. Found in many high end home theater systems.
---
MRQE
Find reams of movie and DVD reviews at the Movie Review Query Engine, a index of reviews appearing on the Internet.
---

The Argonaut Foundation is involved in promoting film, film score, and movie location restoration. They are currently involved in promoting the restoration of the site for John Wayne's The Alamo. For more information, click on the picture of the Duke.
---