Rear Window (SE)/A,B-
Universal/1954/115/ANA 1.66
Alfred Hitchcock has constructed Rear Window with devious precision. Gnawing under the surface is a teasing sense of right and wrong. The director has total control of the elements in Rear Window. His protagonist is glued to a static set. And what a fascinating set casting a voyeuristic shadow upon protagonist and audience alike.
News magazine photographer L. B. Jefferies is stuck in a wheelchair. That's what happens when you get in the way of race car. But Jefferies did get the picture, which tells you something about the man. Confined to his apartment, he's itching, figuratively and literally. Things aren't really all that bad though. The gorgeous, vivacious, high fashion lady Lisa Fremont wants to marry Jefferies. His confinement is almost over and there's always the windows of the courtyard apartments for entertainment.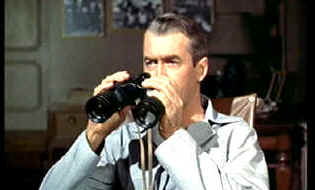 Peeping Tom or responsible citizen? ©Universal
An assortment of stories play out in the courtyard procenium arch before Jefferies' inquisitive eyes. Miss Lonelyhearts fantasizes about sharing a romantic dinner with a man. A composer strokes the keys of his piano is hope of success. A dancer practices her moves in scanty outfits. It's hot, sizzling summer hot. Jefferies sits watching these set pieces play as beads of perspiration form on face like a rash of guilt The benign and humorous complexion of the observations changes dramatically when Jefferies realizes something suspicious is happening in the salesman's apartment.
James Stewart's L. B. Jefferies has a darkness to him sort of left over from the Anthony Mann westerns. His sarcasm and cynical attitudes toward domesticity are thoroughly biting. Stewart is outstanding is this second teaming with Hitchcock. The actor's expressive voice makes this wheelchair performance quite limber and mobile. Grace Kelly is perhaps more appealing in Rear Window than in any other film. She's the bright light in all those dim interiors. Kelly captures a dilettante's spirit with good nature and displays an appealing mischievous side. She and Jefferies are a rather strange pair. One wonders what bonds them together, but then you must remember that Jefferies is confined to his wheelchair and those heavy casts aren't exactly conducive to high spirits.
The stars get some excellent support. Thelma Ritter, playing Jefferies' nursemaid is up to trading jibes with Stewart. Ritter's washboard voice delivers most of the humor of Rear Window. Wendell Corey is less convincing in the role of Lieutenant Doyle, Jefferies' wartime buddy. The small roles viewed mostly from the window perspective of Jefferies are all performed quite nicely.
The set itself is a wonderful character. It's fascinating to watch through the windows of the courtyard apartments. Robert Burks delivers outstanding camera work and lighting and the script from John Michael Hayes is consistently keeps brilliantly glued to the courtyard perspective.
Details of the set construction revealed in the accompanying documentary are fascinating. There are also glimpses of the restoration work done by Bob Harris and Jim Katz. In fact, the accompanying documentaries on all the Hitch DVDs seem consistently good. Robert Burks is on hand on to talk about the challenges of lensing the Rear Window set and Patricia Hitchcock O'Connell adds her her memories of her father's film. Georgine Darcy who played Miss Torso shares her memories of Hitchcock's natural direction wisely giving her the freedom to improvise her dance moves, while assistant director Herbert Coleman looks back on his years with Hitchcock. Peter Bogdanovich adds a filmmakers and film scholars perspective.
I was expecting a lot from the transfer from the restored Rear Window elements, but was ultimately disappointed. It's a bit soft and there are still scratches and dirt despite the restoration. I think Harris mentioned in the documentary that a decision had to be made to focus the restoration for color or for sharpness and they chose color. Well, the color is very good. Grain is also unexpectedly heavy. Perhaps the softness of the original elements may have dictated more emphasized resolution enhancement thereby inadvertently exacerbating the grain. The excellent Franz Waxman score cleanly embellishes the action in Dolby Digital 2 channel mono.


Selections from the Feature Archive include articles on Akira Kurosawa, Frank Darabont, Blonde Bimbos, Hollywood Street Gangs, or Vietnam: The Hollywood Pariah, and many more....




Is North by Northwest Hollywood's definitive exploration of the nose? From schnozzles to beezeers, film mavens make the most of the foremost. Click on Mount Hitchcock for more.
---



DVD Demystified makes it all clear.The official Internet DVD FAQ for the rec.video.dvd Usenet newsgroups.
---


European film portal and hard to find video store.
---


An on-line Home Theater magazine with excellent hardware reviews, including thorough and responsible research. Check it out.
---

The Movie Poster Archive includes extensive poster images from the films of stars like Susan Hayward, Kirk Douglas, Katharine Hepburn and many more. Our featured star is James Stewart
---

Need a daily fix of movie quotes. Reel Quotes Newsletter has the answer. Click on the Reel Quotes symbol for more.
---


Three Kings/A-,A



Three Kings speeds ahead like a formula one race car on the fast track to reckless fascination.
---

Click on the DVD MIA symbol for profiles of DVDs missing in action.
Add films to the DVD MIA Master List by filling out a simple form. Click Here
---