Hollywood Nose Pix
By Stu Kobak
Moviemakers with an acute sense of style often mine the proboscis for visual stimulation. What's in a nose you say? Gertrude Stein might have proclaimed a nose is a nose is a nose, but the truth of the matter cannot be defined by a pair of nostrils alone.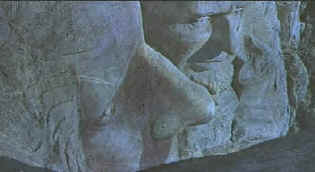 Rushmore: Up close and dangerous. ©Warner
Perhaps the nosiest movie of all time is North By Northwest. The second draft of the film was even entitled, The Man on Lincoln's Nose, but wisdom prevailed and the directionality of the film was immortalized. The sheer size of the presidents' noses on Mount Rushmore dwarfs any other nasal screen concoction. Alfred Hitchcock was surely a director with that sixth sense of style. Hitchcock was well aware that he was making nasal history when he had Cary Grant climbing all across George Washington's famous protrusion. Hitchcock's goes to greater heights than ever before for his bit of onesnoutsmanship. The National Parks Service wasn't any too happy with Hitchcock's nosing around with sacrosanct Mount Rushmore. Their attitude was keep off the presidential schnozzles, but the visionary director simply thumbed his nose at the government little noses and built a set to stand in for the actual Mount Rushmore location. It was probably a good thing too. Can you image the public outcry if Cary Grant had left his footprints on Abe Lincoln's prominent sniffer. Now maybe Eva Marie Saint's dainties would have been acceptable. You can catch North by Northwest in a beautiful DVD from Warner. Color depth is extraordinary and resolution is sharp enough to reveal the make-up on Cary Grant's face in one scene. The noses never looked better either!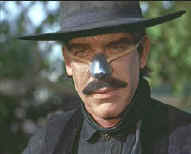 Lee Marvin shows off his new tin nose in Cat Ballou. ©Columbia.
Talk about mining magic from a nose, the inspired tin nose adorning Tin Strawn in Cat Ballou is a source for nasal hilarity. The western villain's metal smell detector is a constant source of laughter. Can you just imagine the scene we never see when Strawn has his nose bitten off in a fight. I like to think that Kid Shelleen is the man with the sharp teeth who feasted on a cartilage supper. Cat Ballou is available on DVD from Columbia in a special edition featuring audio commentary from stars Dwayne Hickman and Michael Callan. Colors are vibrant and the image provides sharp views of Lee Marvin in his Academy Award winning role as Shelleen/Strawn.
A brilliant use of the nose was stylized by the cons signaling each other in The Sting. A simple forefinger stroking the nose identified the cons to each other. No one ever seemed to think that an outsider with a case of acne might have slipped into the fraternity conmen with a subtle soothing rub of a pimple. The Eerie Kid's nose is also featured prominently in The Sting, first wrapped and then swollen. The Sting DVD looks better than I've ever seen the film on video, but one still gets the feeling that this title could use an overhaul.
Long noses have a long Hollywood history. Walt Disney knew how much money he could make promoting noses with his wonderful animated version of Pinocchio. Conjecture has it that the Disneys made millions for each additional inch that famous nose grew. The only bad break the studio has was Pinocchio was made before the preponderance of widescreen cinemascope.
Perhaps the finest protuberance that ever graced a Hollywood screen sat square in the middle of Cyrano de Bergerac's face. That famous nose has seen a number of screen incarnations, including Jose Ferrer's poetic beak in the 1950 Cyrano, Gerard Depardieu's magnificent snout in the 1990 widescreen French version of Cyrano and even Steve Martin got to create a virtual catalog of nose jokes in his comic updating of Cyrano, Roxanne. He even goes so far as to use his nose for a straw. That's far worse than Kevin Kline's stuffing French fries in his nostrils for comic effect in A Fish Called Wanda. You can catch Kline in the act on an MGM DVD in widescreen. The DVD transfer is merely okay and is wanting anamorphic 16 x 9 enhancement. Ferrer's and Depardieu's noses have yet to see the light of DVD, but you can catch Martin brandishing his facial extension with exuberant good nature.
Barry Sonnenfeld knew a good thing when he sniffed it out. In Get Shorty, the director makes brilliant use of Dennis Farina's broken snoot, bandaged and bulbous after a full frontal assault by John Travolta's Chilli Palmer. Get Shorty is a bright and colorful DVD transferred with no evidence of edge enhancement.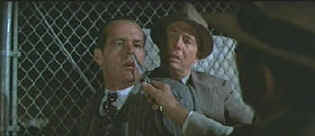 Nicholson as Jake Gittes gets a nose trim from Roman Polanski. ©Paramount
Roman Polanski earns the title as the screen's greatest nose slasher. Playing a small role in his own film Chinatown, Polanski uses a knife on Jake Gittes' nose with such devious delight one actually suspects the blood is real. For much of Chinatown, Gittes plays it fast and lose first with a bandaged nose and later with a badly swollen reminder of Polanski's craft. Polanski's work with a knife and behind the camera is available on DVD from Paramount. The DVD is pretty sharp and colors are stable, though perhaps they could have had better saturation. Still, this is Chinatown as good as it gets, for now.
The most controversial nose in cinema history? Alec Guinness wore a huge prosthetic nose for the role of Fagin in David Lean's Oliver Twist. The nose was so exaggerated that the actor's portrait of the miser was said to be blatantly anti-Semitic. That was one nose that caused a stink at the box office leaving producers sniffling over the lack of profits. You can check out Guinness, beek and all, in Criterion's DVD.

The bulbous beezeer of W.C. Fields helped make every acid remark from the comic seem even more snotty. Fields had a nose spread out over his to such a degree it seemed to cast a shadow over his eyes and mouth. Fields aficionados like to credit the comic's enormous beak to his endless appetite for booze, but the truth is that Fields spent many days as a homeless street urchin and could not keep his nose out of trouble long enough for it to heal from the repeated blows. Fields is now available on DVD in The Bank Dick, a grand representation of the comic's unique humor. Dig the way Fields drags out Souse. The king of Schnozzola was surely Jimmy Durante. The comic worshiped at the alter of his own magnificent muzzle, using every opportunity to emphasize its size. Other famous Hollywood noses included the distinctively prominent nose of John Barrymore, often depicted in profile to emphasize its power. Bing Crosby often chided Bob Hope about the precipitous descent from the bridge to the tip of his nose and even referred to him as old ski nose.
Next time you want to sniff out a good movie, think about checking out some of these famous snouts.

The Movie Poster Archive include extensive poster images from the films of stars like Susan Hayward, Kirk Douglas, Katharine Hepburn and many more. Our featured star is Lana Turner.
---


Gary Morris's insightful publication Bright Lights Film Journal turns the celluloid in films from a unique perspective. Click on the image above for more pure movie views.
---
Brad Lang continues to add more interesting to the extensive collection at Classic Movies. Everything from actors and actress to your favorite directors is linked at the site.
---



The Big Combo has style to spare in reviewing films and producing feature articles. Check out their special "Lingo" section.
---


Reviews of affordable remote controls in the market place. Codes and tips as well.
---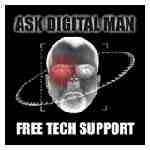 Ask Digital Man is the web's only 24-hour, totally FREE source for all your home theater, DVD, Dreamcast, PC, and Networking tech support needs!
---


DVD links, information about Web specials, news, Site reviews.
---


Looking for information about widescreen movies and hardware. The Widescreen Movie Center is the place to go.
---


A hallmark of Film Threat Magazine is irreverence. The transition from print to the Internet leaves the acid base in tact. Humorous criticism with a vengeance.
---


The Cinema Laser
A home grown magazine for laserphiles that has been publishing for a number of years and has embraced DVD in a big way. Lots of helpful information.
---
They may be judgmental, but that's the point, isn't it. Lots of DVD reviews plus news and more.


Click on the link to visit the judge's chambers.
---


A vast reservoir of DVD information, reviews, the kitchen sink. Check out their huge DVD database including reviews from many sites.
---

Need a daily fix of movie quotes. Reel Quotes Newsletter has the answer. Click on the Reel Quotes symbol for more.