Panic (SE)/ B,A
Artisan/2000/93/ANA 2.35
In numerous films, William H. Macy effortlessly captures the guy between a rock and a hard place. In Panic, Macy gives one of his most appealing performances as a loving father going through a mid-life crisis. A wonderful bright six-year-old son is a patch on the romance drained from his marriage, but Alex's eye is roving. He meets Sarah in the waiting room before his first visit with a psychologist. But the silent volcano bubbling inside Alex has more to do with his relationship with his father. Alex is the heir to the family business and while pop Michael gleefully shares his profession, Alex wants out. You see, the family business is a two person shop. Michael and Alex are hit men.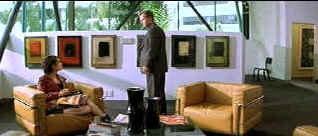 Pick-up in a psychologist's office. ©Artisan
Panic paints with an evil undercoat. It's a contrast of families and a perversion of values. The casual fashion in which elements are handled heighten the tension. Written and directed by Henry Bromell, Panic is delivered with straight forward efficiency. It's both a virtue and a fault of the screenplay. It's so direct that the road map of its course is plotted too clearly early on. This is Bromell's first feature directing effort, and it is an outstanding debut. The cinematography is elegant and compliments the simplicity of the script to perfection. Locations likewise echo the thematic material. Panic is a truly harmonious production. Panic just falls short of brilliance, but it is a solid entertainment.
The acting is outstanding. Macy makes every move Alex makes totally convincing. Alex, through Macy's controlled effort, is a very sympathetic character, profession notwithstanding. Neve Campbell is very appealing as Sarah. Her energy compliments Macy beautifully and she too is natural in her role. Tracy Ullman gives another on target understated performance as Alex's wife Martha. Donald Sutherland is an inspired choice as Alex's dad Michael. Sutherland plays demonically cool with graceful élan and dissolves convincingly into the various ages required of the role. John Ritter delivers psychologist Josh Parks with solid strokes. Barbara Bain adds a cold Barbie Doll ruthlessness as Alex's mother Deirdre. Director Bromell does an excellent job of matching characteristics of Alex at various ages. It goes a long way to understanding the character and his arc.
Artisan has turned Panic out in a beautiful anamorphic widescreen transfer. Color saturation is brilliant. Check out little Sammy's birthday party for an array of balloon video color worth celebrating. But it is the color in variously lit interiors that is truly beautiful, enriched by a warm sheen of brilliance. Contrast is excellent, night scenes resolved perfectly and bright days delivered with no sky bloom or unsightly edge transitions. This is as clean a transfer you'd ever want. Sharp with no help from over-zealous control tweaks, Panic achieves a terrific depth of field. The cool, faintly techno score is well recorded on the Dolby Digital 2.0 Surround audio.
Artisan gives Panic a special edition treatment. There are five deleted scenes which are a good indication that the current edit is the best of the material. Director Henry Bromell provides an excellent audio commentary over the action.


Selections from the Feature Archive include articles on Akira Kurosawa, Frank Darabont, Blonde Bimbos, Hollywood Street Gangs, or Vietnam: The Hollywood Pariah, and many more....

Film noir: The phrase hangs awkwardly on the tongue, shadowy images peek out from behind half-closed doors. Click on the Noir and Noir Again symbol for a look into the dark spaces of Hollywood's revisiting of film noir.
---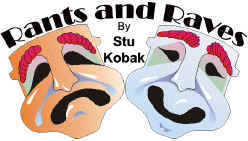 If the FBI Warning won't get you than the logo wars will.
---


Imaging Science Foundation


The Imaging Science Foundation promotes proper standards in home theater viewing. ISF trained technicians offer monitor calibration services to consumers. The difference in a properly calibrated monitor can be astounding. Click on the image to find an ISF member near you.
---
MRQE
Find reams of movie and DVD reviews at the Movie Review Query Engine, a index of reviews appearing on the Internet.
---


An on-line Home Theater magazine with excellent hardware reviews, including thorough and responsible research. Check it out.
---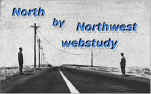 A great place to link through the noses of Mount Rushmore into the mind behind North by Northwest.
---