---
Noir and Noir Again
By Stu Kobak
Film noir: The phrase hangs awkwardly on the tongue, shadowy images peek out from behind half-closed doors. The phrase was coined by the new wave French critics to categorize a group of black and white films in the Forties and Fifties characterized by dark themes, weak men and scheming women, colliding in a cynical universe. The English translation of noir is "black" or "dark," and indeed it is this darkness that all noir films share. Many of the Hollywood noir films were conceived as "quickie" B flicks, but their slick dialog and terse action found favor with critics and filmmakers alike.
The lure of noir, since the genre's heyday and sanctification by the French, has acted as a flame to directors seeking their own vision of cinematic truth. With color as a requisite for most of today's films, the stark, defined images of film noir retain a hypnotic power defining right and wrong in simple terms. Every few years, a filmmaker will take a crack a making a film noir in color, composing in shadows or de-saturating the hues, trying to revisit a simpler time when the world could be described in black and white.
Body Heat, one of the more successful contemporary noirs, manages to exist blithely in an anachronistic world. Dialog is straight out of 1940s movies, the setting looks like a 1980 encapsulation of post-war Florida and the characters move through this world with a sense that they are playing out a film noir story. There is a particular pleasure in director Lawrence Kasdan's choice to ignore the anachronistic elements of his film. In its way, it is an homage to the films that defined this small, elite genre, born on "B" budgets but elevated to classic status by its admirers. By freely acknowledging his debt to the classics of the genre, Kasdan neatly detours criticism that his work is merely a parody of past noirs.
Body Heat's script is culled from classic noir convention. There's the beautiful young woman married to an older man, a womanizer waiting to be duped, an inheritance in question and investigators hot on the trail. Matty Walker (Kathleen Turner) is married to real estate developer Edmund Walker (Richard Crenna). While he's off making his questionable business deals, sweet Matty's at home plotting a path to his money. Matty fishes up lawyer Ned Racine (William Hurt), shakes her tightly skirted bottom and reels in an accomplice to knock off Edmund and inherit the money. What Racine doesn't realize is that Matty's avarice knows no bounds.
Yes, Kasdan has written a derivative screenplay, borrowing liberally from films like Double Indemnity, The Postman Always Rings Twice and Pitfall. While the originals may have more bite, Body Heat manages to ignite its fair share of sparks. There is a slothful, evil elegance to the production style. Kasdan's choice to take the air conditioning out of 1970s Florida is a bold anachronism that serves his purpose well. A young, slim, cat-like Kathleen Turner as Matty is a major asset. The many shots of Turner in perfect profile define the look of the noir goddess. She just barely keeps her pot of actor's tools from boiling over and makes you believe every twist and turn. William Hurt is perfection as Racine, an oily ambulance chaser with a weakness for women and an uncomplicated moral code.
The opening shot is particularly brilliant: Racine peers out of a bedroom window at a nighttime skyline dominated by raging fire. Framing through the window, using a red filter, cinematographer Richard Kline defines the mood. Thereafter, Body Heat is shot either through hot red or cold blue filters, an interesting choice, though the photography never again achieves the power of that opening image. Composer John Barry's score works best when it is confined to jazz themes, but becomes overblown when the orchestrations try to empower images.
How well does Body Heat fare on DVD? Kasdan and cinematographer Richard Kline chose a heavily filtered style of shooting Body Heat. The result is a difficult film transfer, to say the least. The dark, moody photography cries out for the range that DVD offers. The source material is fine, and while the film is very dark, light output is good. Several daylight scenes are a bit washed out, perhaps because of overall compensation for the many night sequences. Images are comfortably sharp, with no resultant artifacts. The Dolby Digital 5:1 sound is clear, with good dynamic range and dialog is easily understood. The laserdisc finishes with a theatrical trailer.
Kasdan is not the only director lured by the mystique of film noir. In 1982, Ridley Scott married noir to science fiction in the brilliant, dark Blade Runner. With Harrison Ford as Deckard, official hunter of Replicants (human androids turned enemy -- but are they?) and Sean Young as a vacuous Replicant femme fatale, Blade Runner is perhaps the most successful film in redefining noir. Most recent examples include an excellent B flick, Bulletproof Heart (director: Mark Malone), in which Anthony LaPaglia plays a hit man with little taste for one nighttime job and Mimi Rogers relishes the opportunity to mix sex and dialog with abandon. Stephen Frears' The Grifters, starring John Cusack, Angelica Huston and Annette Bening, goes so far as to redefine the darkness of classic noir, adding a side dish of incest to the main course. Along with The Grifters, the most effective of the recent neo-noirs is John Dahl's The Last Seduction. It features many stellar noir plot conventions, but Linda Fiorentino breaks the noir mold in the role of Bridget Gregory, a dark-souled lady who absconds with her husband's hard-earned drug money and uses every feminine wile to scratch her way to survival. Dahl gives Fiorentino an arsenal of double-edged dialog to create a memorable femme fatale. Dahl is a director* who takes his noir seriously, having also directed Red Rock West and Kill Me Again, dark tales of contraband and betrayal.
Some classic film noir titles have found their way into Hollywood's retread list, most recently Kiss Of Death, with an unappealing David Caruso trying to conjure noir ghosts, and Night And The City, a flat remake, with Robert De Niro, of the Jules Dassin classic black and white film starring Richard Widmark. The Postman Always Rings Twice with Jack Nicholson and Jessica Lange, yet another remake, failed to generate the sexual sparks of the original with John Garfield and Lana Turner. Against All Odds, Taylor Hackford's film with Jeff Bridges in the Robert Mitchum role, was a decent updating of Out Of The Past and D.O.A., a lackluster, by-the-numbers remake. Often, in these neo-noirs, the use of color photography is restrictive rather than freeing. The directors and cinematographers of the original noir films used the simplicity of black and white photography to full advantage, often using hot key lights for dramatic emphasis. The classic noir harks back to that simpler time when we could understand themes told in very simple moral terms. Contemporary noir stories often fail to measure up, lost in the complexities of modern society, ending as no more than jazzed-up, overdressed noirs. However, the best of the neo-noirs, like Body Heat or The Grifters or The Last Seduction, find their way back to the roots of classic noir.
*Reader Leonard Thurman pointed out that we had implied The Last Seduction writing credit to Dahl, while Steve Barancik in fact did the screenplay. Thanks Leonard.

Turner Turns on the Heat
The versatile actress burst on the scene with both barrels firing sex, both she has turned into a fine comic actress. Click for more.
---


The Feature Archive has articles ranging from Akira Kurosawa to Blonde Bimbos and John Ford.



Click on the image of The Heistmasters for an interesting feature on the tough guys that pull off the big jobs.
---

The Movie Poster Archive include extensive poster images from the films of stars like Susan Hayward, Kirk Douglas, Katharine Hepburn and many more. Our featured star is Robert Mitchum
---

Need a daily fix of movie quotes. Reel Quotes Newsletter has the answer. Click on the Reel Quotes symbol for more.
---


Specializing in DVD reviews, DVD Authority boasts almost 400 reviews in an easy to use, elegant, interface.
---

Gary Morris's insightful publication Bright Lights Film Journal turns the celluloid in films from a unique perspective. Click on the image above for more pure movie views.
---


Home to The American Society of Cinematographers. Includes features from American Cinematographer Magazine and more...
---
Brad Lang continues to add more interesting to the extensive collection at Classic Movies. Everything from actors and actress to your favorite directors is linked at the site.
---


News, information, features about current films in theaters and in the pipeline. Easy to use interface.
---


Reviews of affordable remote controls in the market place. Codes and tips as well.
---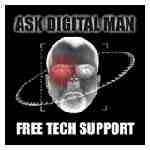 Ask Digital Man is the web's only 24-hour, totally FREE source for all your home theater, DVD, Dreamcast, PC, and Networking tech support needs!
---
The Movie Poster Archive includes extensive poster images from the films of stars like Susan Hayward, Kirk Douglas, Katharine Hepburn and many more. Our featured star is Edward G. Robinson