Man of the Century (SE)/ B+, A-
Fine Line/1999/77/ANA 1.85/BW
Bouncing through contemporary New York City streets to Cole Porter rhythms, news reporter Johnny Twennies is spiritually a man from another time. Everything about Johnny is 1920s hip, cool, innocent and distilled with bootleg drollery. Johnny talks jive, sees everything with eyes filtered by another set of moral values. The key is that this is not an affectation but Johnny can only see things colored through anachronistic glasses. The quaint and delightful idea is delivered with jaunty glee by writers Gibson Frazier and Adam Abraham and affectionately infused with tons of throwaway period details by director Adam Abraham.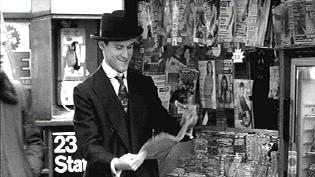 Johnny admires his own by-line. İFine Line
Johnny is a great character. He loves what he does and who he is and hasn't a clue that he's out of synch with the rest of New York City. Some of the looks he gets from people are precious. But Johnny is oblivious to the off reaction, ignores the contemporary comeback. I never tired of Man of the Century's key gimmick. It's delivered with professional consistency.
Man of the Century takes off on wings of inspiration and much of it plays out in perfect tempo to the initial scoring. It does slog through some awkward scripting. Too much is left to the gimmick when a sharper pencil would have taken Johnny all the way into the end zone. Still, the originality and verve of execution delivers Man of the Century like a loaded dice, rolling sevens against improbable odds. Some repetitions creep into the game plan, but it shouldn't discourage you; it didn't stop me from enjoying most moments.
Gibson Frazier gets Man of the Century's movie medal of honor for his blitheful portrayal of Johnny. Frazier is a hoot. His every movement defines Johnny, emphasizing the past with a strut energized by confidence. The rest of the cast is given less magic to pull from their acting duffel bags, but no one stands out like a 1920s man in contemporary New York, except Johnny of course.
Man of the Century is a seventy-seven minute glass of effervescent champagne. The comic bubbles burst with celebration of a past inebriated with a joy of life.
This is quite a handsome transfer. Even the initial simulated silent movie material looks perfectly authentic. The anamorphic black and white widescreen images are creamy delicious. The DVD had a very nice gray scale range. Excellent contrast delivers deep blacks and clean whites. Consistently sharp, I did not detect any undue NTSC artifacts in the transfer. A few scenes might have extracted a mite more resolution from the source material, but that's debatable. Shadow detail is everything you could ask for and overall light output is outstanding. Viewed on a 6500K monitor, or better yet, a 5400 black and white calibration setting, Man of the Century stands up to its title. The Dolby Digital 5:1 tracks deliver clear dialogue and upbeat music.
Packaged as a special edition, Man of the Century includes commentary by star and co-writer Gibson Frazier, a behind-the-scenes featurette "pop up" notes and a Johnny Twennies glossary. There are also scripted deleted and alternate scenes. Our review DVD did not include any of the extras so we cannot comment on them.


Selections from the Feature Archive include articles on Akira Kurosawa, Frank Darabont, Blonde Bimbos, Hollywood Street Gangs, or Vietnam: The Hollywood Pariah, and many more....
Sturges Emerges



Preston Sturges was Hollywood's resident comic genius for more than a decade. His movies are timeless. Click on his image to read all about it.
---


Ghost World/ A, A




Ghost World may be one of the finest movies about outsider I have ever seen. Splendid work from Thora Birch and maybe the best Steve Buscemi ever. A stunning transfer.
---


Have you visited Home Theater Talk lately? One of the friendliest places on the Net for Home Theater and DVD discussion, you can get help for installation problems or simply share your opinions with other Vidiots.
---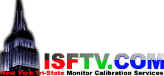 ISF Monitor Calibrations in the Tristate New York area. Lots of hardware info and frequent hardware peaks from video expert Kevin Miller. They may be judgmental, but that's the point, isn't it. Lots of DVD reviews plus news and more.
---


ISF presenter and industry consultant Jim Burns provides info and HDTV and other areas on his site.
---


Rent the hottest movies at DVDO with no monthly charges, late fees or due dates! Upgrade your free membership anytime to our exclusive Double Feature Club
---