Love Me Tender/ C+, B+
Fox/1956/89/ANA 2.35/BW
From an historical point of view Elvis Presley's screen debut is reason enough to see a movie, but you don't need an excuse to see Love Me Tender. It's a decent western set at the very end of the Civil War, and in fact, one the weakest aspects is the Presley performance. It's surely not the kind of film you would have expected as a platform for the rock and roll star. He does get to sing a quartet of songs twisting his hips and shaking those knees with anachronistic vigor. The songs are fun and well executed, but let's cut to the chase.
Love Me Tender starts out quite successfully with a Confederate hijack of a Union payroll train. When the small southern unit finds out that the war is over, they face a quandary about giving back the money. Is is rightly spoils of war? The three Reno brothers are part of the raiding party that disburse to return to their respective homes.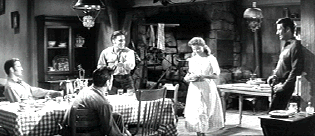 One big happy family. ©Fox
The brothers Vance, Brett and Ray are greeted at their farm by Mom, youngest brother Clint, and Cathy, the girl Vance left behind. The big surprise is that kid brother Clint has stepped into Vance's shoes. Just when you think they have things worked out, Mr. Siringo and a team of Union soldiers arrive to throw a few curves at the Renos.
The beginning of the film, right up until the big crisis is quite well done. It's a family drama, it's about what war can do to a family. The relationships are fairly well drawn. The relationship between Vance and Clint is reasonable; certainly the predicament that Cathy finds herself in between Vance and Clint is a situation that easily could have come about in these circumstances. But the script falls apart in trying to sort out the Renos' troubles. It kicks up enough horse dust for a Saturday morning serial matinee.
Presley is quite awkward in his debut. He doesn't have a good feel for the camera. When he sings, he's dynamic and comfortable, but he interacts stiffly, aware of the camera and trying to unaware. Richard Egan is a solid presence as Vance and Debra Paget is a luscious attractive Cathy. William Campbell and James Drury are fine as the brothers, though Neville Brand is somewhat uncomfortable as one of Confederate raiders, mainly because it's a poorly drawn role.
Love Me Tender has been turned with quite a good-looking transfer. There are a few errant source markings, but they are minor and never intrude on the image. There's good contrast range and plenty of light output. Black levels are very good. Excellent shadow detail and a fine gray scale range. The image is quite sharp, though a couple of scenes might be slightly soft. The four channel stereo mix is pleasing and the Presley songs come across very well.


The Feature Archive has articles ranging from Akira Kurosawa to Blonde Bimbos.



Click on the image above for a "dream interview" with director John Ford.
---

The Movie Poster Archive include extensive poster images from the films of stars like Susan Hayward, Kirk Douglas, Katharine Hepburn and many more. Our featured star is Clark Gable.
---


Searchers, The/ A,B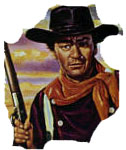 John Wayne invests Ethan Edwards with enormous dignity and determination. A classic western from director John Ford. Mesmerizingly beautiful.
---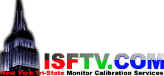 ISF Monitor Calibrations in the Tristate New York area. Lots of hardware info and frequent hardware peaks from video expert Kevin Miller. They may be judgmental, but that's the point, isn't it. Lots of DVD reviews plus news and more.
---


World class video expert Joe Kane's home on the Internet. Look for details on the new DVD Essentials.
---


DVD reviews for women from a woman's point of view
---