Love and Basketball (SE)/A-,A
New Line/2000/127/ANA 1.85
ISF Reference DVD Selection
A charming love story framed around boy and girl neighbors who grow up with basketballs bouncing in their dreams. Unusual concept and fine execution. Good coaching, oops-- direction.
When eleven-year-old Monica Wright moves next door to young Quincy McCall, the kids find immediate conflict and attraction. Wright can shoots hoops with the best of the boys and McCall, whose Dad is a NBA player, has all the moves of a future star. Love and Basketball takes the two through adolescence to high school, college and even the pro ranks, all the while mingling hoops and heart with equal panache. Family relationships are explored with unusual honesty, sex is treated with sweet delicacy and fresh frankness, and the universe which these two stars inhabit is created grand insight.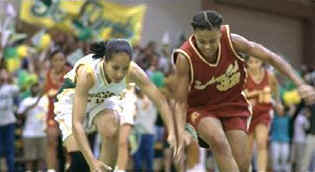 Giving it all. İNew Line
Gina Prince-Blythwood makes first team all director with Love and Basketball. She knows this turf so well and shares the complexity of her feelings. The pace is beautifully modulated. Price-Blythewood paces her film like an athlete saving something for the end. Perhaps a less reserve and some swifter ball handling would have made Love and Basketball even more incisive. The director's team delivers the goods in a first class package. The bright, contemporary cinematography by Reynaldo VillaLobos matches the energy of the director's script. Terrence Blanchard's score more the basketball down the court is sweet rhythms.
The director shows a sure hand in coaxing wonderful performances from her leads.Sanaa Lathan is a wonderful presence in Love and Basketball. Everything revolves around her strong personality. This girl can command the court. Lathan makes Monica Wright a fully realized human being, working out her feelings on the basketball court, in the kitchen with her mother, or in intimate situations with Omar Epps. As Quincy McCall, Epps is good, but scores fewer emotional baskets. Perhaps his character is less fully explored by the screenplay. The characters both get lots of "Playing" time, but Lathan gets the bulk of the minutes.
Prince-Blythewood works magic with the supporting actors as well. Perhaps it's the excellent casting. Dennis Haysbert, looking every inch the professional basketball player, plays the senior McCall with great dignity. Alfre Woodward provides parental conflict as Monica's homemaker Mom with her usual screen strength.
The audio commentary featuring Gina Prince-Bythewood and Sanaa Lathan is consistently charming. Director and star are having a good time. A lot of the time commentary is not scene specific, but a conversation between the two ladies. The blooper reel is not especially entertaining. There's an isolated score commentary featuring composer Terrence Blanchard, editor Terilyn A. Shropshire and Prince-Blythewood. The loaded special edition includes deleted scenes, audition tapes, and animated story boards. Finally, there's an original documentary Breaking the Glass Ceiling: The Rise and Acceptance of Women Competitors. This consists mostly of successful women talking about the perseverance necessary for a woman to succeed. It's intercut with some scenes fromt he movie to make it more palatable.
Love and Basketball is a winning DVD from the opening tip-off. These are just about the sharpest images I recall seeing on DVD with no edge ringing. Depth of image is simply amazing. The contrast and brightness levels are eye-popping: snap, crackle and a perfect jump shot every time. Colors are deeply saturated with no bleeding. Perfect edges all the way. The Dolby Digital Surround is active with bass thumping rhythms passionately delivered.


Selections from the feature archive include articles on Akira Kurosawa, Frank Darabont, Blonde Bimbos, Hollywood Street Gangs, or Vietnam: The Hollywood Pariah, and many more....
Sturges Emerges


Preston Sturges was Hollywood's resident comic genius for more than a decade. His movies are timeless. Click on his image to read all about it.
---


Gary Morris's insightful publication Bright Lights Film Journal turns the celluloid in films from a unique perspective. Click on the image above for more pure movie views.
---


Click on the link to visit the judge's chambers.
---
Imaging Science Foundation


The Imaging Science Foundation promotes proper standards in home theater viewing. ISF trained technicians offer monitor calibration services to consumers. The difference in a properly calibrated monitor can be astounding. Click on the image to find an ISF member near you.
---


Information on film sound in theaters and home theaters. Lots of helpful information provided in a handsome interface.
---
The Movie Poster Archive includes extensive poster images from the films of stars like Susan Hayward, Kirk Douglas, Katharine Hepburn and many more. Our featured star is Kirk Douglas.