Little Shop of Horrors(SE)/B,C+
Warner/1896/94m/ANA 1.85,FS 1.33
The deliciously dark musical comedy Little Shop of Horrors starts out with the silliest premise imaginable, a plant that wants to dominate the human race. Wait a sec, don't I remember seeing a classic something with those plant-like pods taking over the human race. Hey, it's all in fun and the blood-letting and play on sado-masochism is consistently delirious.
Rick Moranis plays Seymour with wide-eyed innocence and good nature, succumbing to his pet plant's devious demands in most amoral fashion. Ellen Greene is delightfully daffy as bimbo blond Audrey and Steve Martin as the demented dentist and Bill Murray as a masochistic patient are very funny. The musical numbers are a hoot and Frank Oz helms with the necessary energy.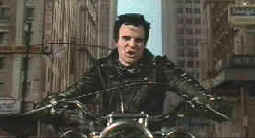 Martin bites into his role as the dentist.©Warner
I found this transfer plagued by what appeared to be a moving grain in characters faces. It's the first time I have observed this pattern, which for want of any other explanation may be a MPEG nasty. The film is presented both anamorphic widescreen 1.85:1 and full screen 1.33. Color is slightly dull, yet saturated and this appears to be the chosen look for the film. Images are sharp enough. The Dolby Digital 5:1 surround is entertaining. This is a full blown special edition including commentary by director Oz, out-takes, the controversial alternate ending, trailers and TV spots. Unfortunately, this outstanding value has been recalled purportedly due to the objections of producer David Geffen. I've got to believe it will make another appearance.


DVD packaging can be the bane of the collector. Click on Rants and Raves for more.
The DVD Package
---

.
The Movie Poster Archive includes extensive poster images from the films of stars like Susan Hayward, Kirk Douglas, Katharine Hepburn and many more. Our featured star is John Wayne
---


Selections from the Feature Archive include articles on Akira Kurosawa, Frank Darabont, Blonde Bimbos, Hollywood Street Gangs, or Vietnam: The Hollywood Pariah, and many more....
Redeeming the Writer:


A Conversation with Frank Darabont
---


Imaging Science Foundation


The Imaging Science Foundation promotes proper standards in home theater viewing. ISF trained technicians offer monitor calibration services to consumers. The difference in a properly calibrated monitor can be astounding. Click on the image to find an ISF member near you.
---


Home Vision Cinema
Classic and foreign motion pictures on VHS tape. The title selection is excellent and informative essays are provided for many of the films.
---