Kramer vs. Kramer/A,A-
Columbia/1979/105/ANA 1.85
I forgot how beautifully Kramer vs. Kramer explores the human heart. There is so much honesty and humanity in the film. Various relationships in the film resound with the ring of truth. There are few short-cuts taken to hype the story. The change in Hoffman's ad man Ted Kramer is at first prompted by necessity and seamlessly shifts to change born on a wave of overpowering love. Many scenes are exhilaratingly spontaneous, no doubt owing to some insightful improvising.
Kramer vs. Kramer examines the break-up of a marriage and a family with tasteful veracity. Ted Kramer is a typical young workaholic driven to succeed in his advertising job and oblivious to problems brewing at home. The guy loves his family. At what just may be the high point of his career, Kramer's world collapses around him. Sounds like the stuff of sappy drama, but through writer/director Robert Benton's eyes the film is soothingly lined with humor.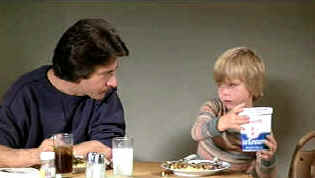 Ice cream inspiration.. ©Columbia
Director Robert Benton does an outstanding job of capturing the rhythms of New York City without sacrificing his film to petty base travel instincts. Pacing of the film never lags.
Hoffman is a wonderful Ted Kramer. Character parts are part and parcel of the Hoffman genius. His exploration of Kramer is consistently on target. Meryl Streep probes the depths of her character with typical intensity. There's thought behind every moment. The scenes between her and Hoffman are consistently amazing. Jane Alexander is a reassuring presence as divorced neighbor Margaret Phelps. Then, there's the little kid, Justin Henry. He's adorable and bonds beautifully with Hoffman.
Kramer vs. Kramer won Academy Awards© for Best Picture, Best Actor for Hoffman, Best Supporting Actress for Streep and Best Screenplay and Director for Benton.
Kramer is a terrific looking DVD. The colors are dead on accurate. Some scenes are not focused sharply, but I think it was the fault of the focus puller. Choosing takes between perfect focus and perfect performance, Benton elected willingly sacrificed visual sharpness to emotional acuity. Depth is outstanding throughout the DVD. Excellent black levels and fine duplication of various lighting schemes. Facial tones are natural. Production design elements live in perfect harmony with cinematographer Nester Almendros' lighting.
Finding the Truth: The Making of Kramer vs. Kramer is an outstanding documentary accompanying the film presentation. Mainly talking heads of Benton, Hoffman, producer Stanley Jaffe, Streep and Alexander, the recollections add up to a fine picture of the project.


Charade/A,B



Successfully combining romantic comedy and suspense is no small achievement. Charade does it with panache.
---

---

The Movie Poster Archive includes extensive poster images from the films of stars like Susan Hayward, Kirk Douglas, Katharine Hepburn and many more. Our featured star is Errol Flynn.
---


Selections from the Feature Archive include articles on Akira Kurosawa, Frank Darabont, Blonde Bimbos, Hollywood Street Gangs, or Vietnam: The Hollywood Pariah, and many more....

Steven Culp extracts the essence of Robert F. Kennedy in Roger Donaldson's outstanding feature Thirteen Days. Culp recently shared insights on the performance and his career with Films on Disc. Click the image for more.
---