Knight's Tale, A (SE)/D, B+
Columbia/2001/132/ANA 2.35
Chaucer would have died, or better yet, written an ode in offal dedicated to the last man awake for the predictable conclusion of the joyfully specious anachronistic joust through the middle ages. Watching A Knight's Tale, I felt vaguely like a refugee from a summer of endless Renaissance festivals played with all the verisimilitude of porcelain Marx Brothers figures. Can you even imagine a view of the middle ages from the perspective of Mr. Rogers Neighborhood? If a new age style middle ages meets your needs, perhaps A Knight's Tale will be a gas. For me, it's paging Monty Python: Do we ever need you now!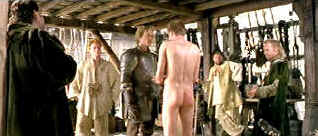 Playing Knight for Chaucer. ©Columbia
Writer/director/producer Brian Helgeland's romp depicts the sudden rise from vassal to knight of young William Thatcher. Set in 14th century France and England at a succession of joust tournament sites, A Knight's Tour depicts the equivalent of a season of tennis tournaments culminating in a grand battle of the champions. Squire Will seizes the moment when his master fails to answer the call to contest in a silent death between bouts. Disguised as his master, the young imposter succeeds in this dubious debut performance. After as short confer with the other two servants of his former master, it is decided Will will go on as a knight contestant. Wandering writer Geoffrey Chaucer enters the picture at this point and provides additional humor and a necessary boost of sophistication so that A Knight's Tale may ride fully armed into the joust. There's a fair maid to conquer, a dark knight to overcome and lots of broken lances along the way.
The production is very colorful and Helgeland makes sure to throw in some less than welcome anachronistic charm here and there. I am no expert on 14th century dress, but some of the clothing looked positively Issey Miyake.
There's plenty of jousting repetition. The shot selection a crucial moments is almost always the same alternating close-ups and the exciting push-off by Thatcher's team. A Knight's Tale moves to its own beat, freely mixing contemporary and medieval elements and sensibilities. You could say its a daring conceit but it appears that Helgeland took a few too many lances to the head when concocting the script.
Heath Ledger is called upon to transform William to a knight worthy of a ladies lust. I am not sure anyone could step into this script and do an adequate job. Ledger, at least, fits very well into the contemporary/medieval time crack. Rufus Sewell stares him down in a one note performance as arch Count Adhemar. Paul Bettany bares all delivering Chaucer's choice bombast and Shannyn Sossamon plays the lady Jocelyn with a totally modern feel.
A Knight's Tale is a very good looking DVD. Busy set designs sets are replicated with well-saturated colors. Individual colors stand out with delineated clarity. Complex fabric treatments retain a feeling of texture. Image is mostly sharp and unenhanced. Shadow detail and black levels are excellent. The picture packs plenty of punch into the contests. The Dolby Digital 5:1 surround is active and exciting.
Delivered as a packed special edition, A Knight's Tale features commentary from Helgeland and actor Paul Bettany, deleted scenes, an HBO Making of Special, Behind the scenes featurettes, a music video and theatrical trailers.



The wonderful comedy of Danny Kaye comes from a sweet source, making it live for audiences of all ages. Patter songs and graceful dances are part of Kaye's world. Click on the image for Any Day Danny Kaye.
---



Quite simply one of the funniest comedies ever made and the transfer is gorgeous.
---

The Movie Poster Archive includes extensive poster images from the films of stars like Susan Hayward, Kirk Douglas, Katharine Hepburn and many more. Our featured star is Errol Flynn.
---


Have you visited Home Theater Talk lately? One of the friendliest places on the Net for Home Theater and DVD discussion, you can get help for installation problems or simply share your opinions with other Vidiots.
---


Nearly 40 key software and hardware companies representing leading consumer electronics giants, major movie studios home video and music video units have joined forces to establish the DVD Video Group.
---
MRQE
Find reams of movie and DVD reviews at the Movie Review Query Engine, a index of reviews appearing on the Internet.
---


A hallmark of Film Threat Magazine is irreverence. The transition from print to the Internet leaves the acid base in tact. Humorous criticism with a vengeance.
---