It Came From Outer Space (SE)/ B, B+
Universal/1953/81/FS 1.33/BW
The sappy romantic thread that opens the film is happily short-lived. Thank heaven's for that! A roar and a flash in the desert night sky diverts astronomer John Putnam's attention from the pretty Ellen Fields at his side, and it's off to investigate.
When Putnam discovers that what he thought was a giant meteor is actually a space ship, nobody wants to believe him. But, strange things start to happen around the small town. A few people wonder about in zombie-like trances. It doesn't take John long to figure out that the Aliens are on the loose. He must convince the Sheriff, who fancies John's girl, that something very real is going on.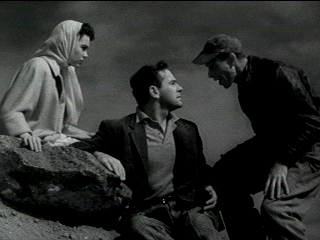 I did see them, I did! ŠUniversal
It Came From Outer Space was one of the first 3-D productions. Watching the way the nasty projectile from space is filmed lets you imagine how it popped off the theater screen in 3-D almost fifty years ago. You also might enjoy pondering how the recent film Evolution took many of its plot points directly from It Came From Outer Space. There are some nice cheesy horror effects depicting the gelatinous aliens and some heavy duty eerie music accompanies their every appearance. Don't try to hum the theme music.
The action unfolds with snappy efficiency. Director Jack Arnold (Creature From the Black Lagoon) moves the story along efficiently from section to section as the tale unfolds to a simple conclusion.
Ray Bradbury gets story credit. It's a good little script. You might have read a story like this in one of the scifi magazines of the period, or it might even have been based on one of those eye-witness sightings of space ships that were prominent in those days. The story bears significant resemblance to Invasion of the Body Snatchers, which this predates by several years. I've never noticed a communist paranoia thread run through a movie as overtly as it does here.
Richard Carlson plays John Putnam within his acting range, serious and determined to save the day and the girl. Charles Drake is somewhat stiff as Sheriff Warren, and Barbara Rush is along to provide someone who looks good in a dress.
Excellent source elements have been preserved from the Universal library. The black and white film looks almost fresh enough to have been made yesterday. Black levels are excellent. The DVD consistently exhibits a very nice gray scale range. The image is stable and detail is finely resolved. Shadows are revealing. Good, tight, fine grain pattern replicates the feeling of film. There a few minor specs of dirt. The mono sound is very clear with no sign of hiss and only a couple of minor instances of scratchiness.
Universal delivers It Came From Outer Space armed with special edition powers. Film historian Tom Weaver provides audio commentary. A half-hour documentary is sort of a promo for Universal films, but it does give a glimpse into attitudes and the times when the film was made. There's also a photo and poster gallery, production notes and a theatrical trailer.


Selections from the Feature Archive include articles on Akira Kurosawa, Blonde Bimbos, Frank Darabont, Steven Culp, John Herzfeld or Vietnam: The Hollywood Pariah, and many more....
Nobody's Perfect




Billy Wilder left movie lovers a legacy of cinematic treasure. From defining Film Noir to outrageous comedy, writer/director Wilder delivered the goods with consummate style.


Starship Troopers/A-,A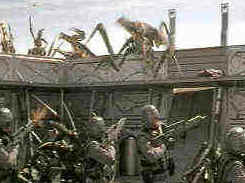 A great, modern, war movie that skewers genre conventions. Director Paul Verhoeven controls the Scifi flick with a perfect flight plan.
---


Buddhacon features a wide range of reviews from DVDs, first-run movies to top-selling albums. Editorials, features and more. User comments appended.
---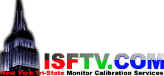 ISF Monitor Calibrations in the Tristate New York area. Lots of hardware info and frequent hardware peaks from video expert Kevin Miller. They may be judgmental, but that's the point, isn't it. Lots of DVD reviews plus news and more.
---

The Cinematheque is a cultural, arts organization that programs year-round specialty film series at the newly renovated, landmark 1922 Egyptian Theatre on Hollywood Boulevard!
---