Evolution (SE)/ C, B
Dreamworks/2001/102/ANA 1.85
Evolution is a spoof of cheesy science fiction movies in black and white in the early fifties. It's never funny or outrageous enough. The creative forces stop short of letting the lid blow off and thereby undermine whatever potential for comic success is inherent in the material. Maybe there isn't much at that.
When a giant object crashes to the earth in the Arizona desert, a couple of college professors arrive on the scene to investigate and bluff their way through the police lines. You probably guessed already, it's an alien presence. Before the aliens can catch their first clean breath of desert air, the military arrives on the scene to take charge with a bull dog general and pretty chief scientist in the lead. The profs have to battle the government guys to share in the discovery. But there's more going on below ground than meets the eyes. At this point someone should have called Ghostbusters.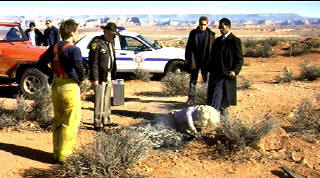 Exercising authority dubiously. ©Dreamworks
You got that right. Director Ivan Reitman 's been down this road before to much greater effect. His Ghostbusters Pillsbury Doughboy towers over anything in Evolution, especially the limply massive alien Jell-O mess that stands in for the ultimate alien. When the Pillsbury Doughboy explodes, it's a joyful glob of inspired nuttiness. When Evolution's alien gets the pump job before splattering over the desert, it isn't the least bit delicious.
David Duchovny goes through the motions as Dr. Ira Kane in a bland stupor. Orlando Jones who plays colleague Harry Block tries to be outrageous and he does overshadow Duchovny, but that doesn't say much in this instance. It might surprise you, but Julianne Moore, who has made her reputation is serious roles, displays thee best display of comic timing finding a source of daffiness in her portrayal of scientist Dr. Allison Reed.
A film like Evolution really has to provide a lot of belly laughs. Probably, the most naturally comic actor is Seann William Scott, playing country club maintenance guy Wayne Grey. He's got a goofy presence. With some crisper scripting, Scott could have provided those needed guffaws. The alien incarnations fall short of their potential to rock the mirth meter. The military machine is not depicted with broad enough strokes; no, they're not quite to taken seriously, but they are not funny either. Basically, Evolution falls splat to earth.
Evolution looks very good, a typically sharp transfer from new source material. Perhaps color saturation could have been goosed a little bit. Blacks are deep enough and shadow detail is revealing with good depth. The DTS surround has ample range with good, deep base extension. The fine surround effects are highlighted by outstanding flying monster pans.
Packaged as a special edition, Evolution includes a conversation with Reitman and stars Duchovny, Jones and Scott. A number of deleted scenes are part of the package. There's storyboard comparisons and more.

Selections from the Feature Archive include articles on Akira Kurosawa, Frank Darabont, Blonde Bimbos, Hollywood Street Gangs, or Vietnam: The Hollywood Pariah, and many more....




Is North by Northwest Hollywood's definitive exploration of the nose? From schnozzles to beezeers, film mavens make the most of the foremost. Click on Mount Hitchcock for more.
---


The Movie Poster Archive include extensive poster images from the films of stars like Susan Hayward, Kirk Douglas, Katharine Hepburn and many more. Our featured star is Robert Mitchum
---


Starship Troopers/A-,A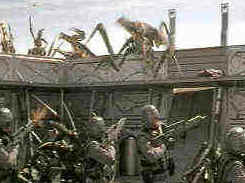 A great, modern, war movie that skewers genre conventions. Director Paul Verhoeven controls the Scifi flick with a perfect flight plan.
---


The Cinematheque is a cultural, arts organization that programs year-round specialty film series at the newly renovated, landmark 1922 Egyptian Theatre on Hollywood Boulevard! The online site for Film Comment Magazine includes all the information you need to know about cinematic events sponsored by the Film Society of Lincoln Center.
---
.

The online site for Film Comment Magazine includes all the information you need to know about cinematic events sponsored by the Film Society of Lincoln Center.
---
MRQE
Find reams of movie and DVD reviews at the Movie Review Query Engine, a index of reviews appearing on the Internet.
---

Sight and Sound Magazine is the venerable voice of The British Film Institute. The site includes articles and film reviews. A great resource in print and on the Internet.
---