Hombre/ B, B+
Fox/1967/111/ANA 2.35
Hombre caught by surprise. It wasn't a quick-draw western, but the taut forceful performance by Paul Newman in the title role was enough to keep riveted to the screen. Newman's central performance as John Russell, the man walking the line between an Indian and white man's world is a fascinating character. Russell has his own code of ethics and the films pivots on his every move. It doesn't hurt that the source material comes from an Elmore Leonard novel.
When Russell finds himself part of a group of stagecoach travelers, he must examine himself through their eyes as well as his own. The ingredients are reminiscent of John Ford's Stagecoach, but Newman and John Wayne (Stagecoach's gun) are worlds apart in style and substance. The group find's themselves up against some pretty nasty desperadoes. Under pressure, the best of them and the worst of them is sure to come out.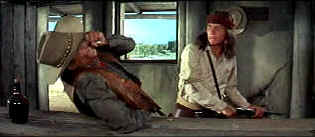 A man of action. ©Fox
Frederic March is such a mean-spirited man as Indian Agent Favor. Having enormous respect for March as an actor and the characters he's played over the years, I felt a slight letdown at this despicable character, but March is very good. Diane Cilento is excellent opposite Newman as the marginal sex interest. She's tough and earthy. Martin Balsam as a Mexican is a bit of a stretch, but he's a good actor. Richard Boone is a stark contrast in styles to Newman. Boone has no compunction about overacting as bad boy Grimes. His laugh is enough for both him, Newman and a couple of other actors. But Boone is entertaining in the part.
Direction by Martin Ritt is solid. Ritt is not especially a visual stylist, but he tells a story. Still, the western vistas photograph are often stirring in their beauty. Having James Wong Howe as your cinematographer doesn't hurt. Ritt does get an excellent performance from Newman. He knows how long to let the camera linger on the actor, he understands the importance of pauses. He's a patient filmmaker in this essentially action film.
Hombre is a solid DVD transfer. Color saturation is outstanding with fine range. Check out the burnished brown skin on the close-ups of Newman, not to mention the penetrating blue eyes. You can count the years and the pain reflected in their icy stare and look through to the keen intelligence. Images are consistently sharp though there is some edge enhancement. Perhaps there's a touch of excess grain, but it is tightly controlled. Solid blacks and excellent contrast. Two-channel mono sound is clean delivering the David Rose score with brio.


The Feature Archive has articles ranging from Akira Kurosawa to Blonde Bimbos.



Click on the image above for a "dream interview" with director John Ford.
---

The Movie Poster Archive includes extensive poster images from the films of stars like Susan Hayward, Kirk Douglas, Katharine Hepburn and many more. Our featured star is Humphrey Bogart.
---


Have you visited Home Theater Talk lately? One of the friendliest places on the Net for Home Theater and DVD discussion, you can get help for installation problems or simply share your opinions with other Vidiots.
---


"CinemaQuest has matched the correct TV color of gray in a light fixture."__Joe Kane
Monitor bias lighting in a pre-packaged configuration. Take the strain off your eyes.
---

Jim Doolittle
ISF Instructor. Premier calibrator and expert front projection system setup technician in the Boston area.
---


DVD News, Reviews, Previews, Easter Eggs and more.
---