Fatal Attraction (SE)/ B+, B
Paramount/1987/119/ANA 1.85
Fatal Attraction is the movie that made it very clear to the viewing public that extra-marital affairs are like walking barefoot on a hot path of sharp nails. Guaranteed the number of New York farragoes dropped several percentage points during the initial theatrical release. The message is clear: Don't do it! There just may be an Alex shuffling side-to-side at a crowed bar.
Dan Gallagher lets temptation get in the way of what is depicted as a terrific life. Happily married to attractive Beth, a charming young daughter Ellen, a partner in a strong New York law firm, Dan could be a poster boy for family man of the year. The lesion starts out as nothing more than a few casual words with book editor Alex Forrest at a publishing party. With Beth away for the weekend, Dan meets Alex Forrest again at meeting concerning the book publisher she works for. It's all too easy to fall off the cliff at the edge of happiness.
What begins as nothing more than a casual weekend tryst turns bizarrely dangerous when Alex feels like hanging onto Dan. Fatal Attraction revs into high gear from there.
Domestic bliss is set up with effective script strokes. The family is comfortable with each other, they depend upon each other, they are truly a family. The better the home life seems, the more powerful the unsettling elements of the film. Relationships ring true in almost every instance.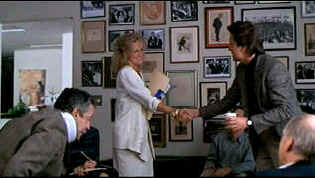 A glance, a few words, a handshake: watch out. ©Paramount
Adrian Lyne is outstanding at the helm of Fatal Attraction. He delivers the heated sexual scenes with relish. Actors exercise their libido with reckless abandon in his films. Visually, Lyne sets a distinct, hot tone. He does some very clever things using lights that are part of the scenery to create some powerful effects. Often remembered for the counter-top love-making scene, Fatal Attraction does develop sexual steam, but the thriller instincts are what carry the film, and they are mostly on target.
Music is used very effectively. It's seldom over-the-top out there and even when used with quiet restraint it adds a level of tension. The Madame Butterfly excerpts are beautifully integrated into the flesh of the film.
The screenplay by James Dearden and Nicholas Meyer is well crafted. Details help make the film come to life. I never realized how smutty taking the family dog on an illicit outing could appear. Some of Dan Gallagher's reactions to his situation were difficult to reconcile. doubt. He's an intelligent man, he's a sharp attorney; he goes beyond his own logical limits and then fails to act with a consistency of nature.
Michael Douglas, the perennial everyman, is an excellent choice as Dan Gallagher. He's innocent enough and carries a fair measure of sympathetic baggage to the table. Douglas uses his face very well. His reactions are mostly on target. He plays the initial telephone call to his wife after his errant night with terrific facial tension. It's between the lines, not obvious and works very well. Glenn Close, cast against type in Fatal Attraction, is more than up to the task of creating an odious leech. Once she grabs onto you she doesn't want to let go. Close turns up the smile big time. She's a man-eater all right. Anne Archer is at her charming best as Beth Gallagher. Her solid homemaker streak provides an excellent contrast to the honed manipulative smile Close uses so effectively as Alex.
Lyne seems to like a grainy feel to his material and the Paramount transfer handles in a consistently exemplary manner. It's tightly controlled, delivers Lyne's ambiance without detracting from the clarity. Just a hint of edginess creeps in here and there. It's a bright DVD. Excellent detail. Shadow detail is fine, but I think black level could have been a little deeper, especially in the darker scenes. Skin tone range is slightly pinched. The transfer appears slightly washed out, likely owing to Lyne's desired style of lighting. Even the outdoor sequences are missing some snap. There are some specs of dirt and minor blemishes on the source material. In a few scenes my current DLP set-up was not very happy handling the grain in the image. When grain is combined with a pan, DLP struggles. In a few compositions black details tend to blend into one another slightly. The transfer is probably less than optimally sharp and noise level is somewhat pronounced. It's certainly serviceable, but it's not handsome.
A welcome special edition, Paramount's release features audio commentary from director Adrian Lyne. While close to fifteen years since Lyne made the film, his memories are sharp and insightful. He's generous with his thought process. A simple detail like the neck brace worn by one character is a fine example of how character and relationships come to life in a film. Rehearsal footage between Michael Douglas and Glenn Close is a special treat to see so well preserved. In addition, the alternate ending is outstanding. In fact, it makes one wonder if Lyne shouldn't have stuck to it or at least something closer to it. His melodramatic and histrionic choice as it it stands is less than harmonious with the rest of the film.


Selections from the Feature Archive include articles on Akira Kurosawa, Frank Darabont, Blonde Bimbos, Hollywood Street Gangs, or Vietnam: The Hollywood Pariah, and many more....

Film noir: The phrase hangs awkwardly on the tongue, shadowy images peek out from behind half-closed doors. Click on the Noir and Noir Again symbol for a look into the dark spaces of Hollywood's revisiting of film noir.
---

The Movie Poster Archive includes extensive poster images from the films of stars like Susan Hayward, Kirk Douglas, Katharine Hepburn and many more. Our featured star is Kirk Douglas.
---


Hunted, The/B+,A-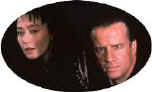 An American businessman in Nagoya, Japan meets a beautiful Japanese woman in a bar and the Kodo drums begin a pulsing beat that doesn't end until the climatic sword battle. Lots of fun.
---



Agoraquest is offering reviews, forums, news, and more dedicated to Sony products including, televisions, cameras, audio, DVD, and more.
---


DVD Price Search
Allows you to create a "Comparison Cart" filled with the DVD titles that you are interested in buying.
---

Jim Doolittle
ISF Instructor. Premier calibrator and expert front projection system setup technician in the Boston area.
---

It rains a lot in Portland, so DVDcorner.net provides an umbrella of entertainment with lots of DVD reviews and DVD news. Check out the monthly give-a-ways too!.
---


Classic Images on classic films, featuring news, reviews, obituaries, film convention reports, and detailed articles on film people, from the most famous to the most obscure
---

ETEKNet is the web's only 24-hour, totally FREE source for all your home theater, DVD, Dreamcast, PC, and Networking tech support needs!
---

Buddhacon features a wide range of reviews from DVDs, first-run movies to top-selling albums. Editorials, features and more. User comments appended.
---