Chopper (SE) /B+,B
Image/2000/90/ANA 1.77
. The Australian film Chopper is a frightening depiction of habitual criminal and murderer Mark "Chopper" Read. The film is based on best selling books by Read and interviews conducted by writer/director Andrew Dominik. This is an extremely violent film. Blush gushes with casual abandon. A powerful assault, Chopper, just like its protagonist, is no-holds-barred filmmaking. It's not for the feint of heart or weak of stomach, but for movie lovers who can get by the bloody barriers, Chopper is a worthwhile viewing experience.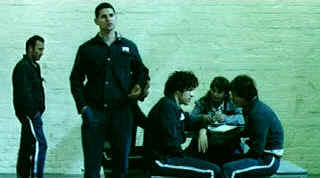 Chopper challenges for control. ©Image
Chopper is an incredible character; unpredictable, a swirling wind of dark black clouds, violent, innocent, loud and always dangerous. Dominik uses a time-shifting approach, starting from the vantage point of Chopper's second prison term and following a younger Chopper in and out of prison. Half the film takes place in prison, but it feels unlike any other prison film I've seen. The walls are a background for Chopper's portrait. In prison, Read asserts himself, proving himself number one in his cell block. Once you see Chopper in action every step he takes will be in nitro-glycerin shoes. The patterns of behavior we first witness are repeated once Chopper is released after a ten year term. Revenge, self preservation, regret and violence mingle like raindrops on dry dirt, spattering in every direction.
Chopper is thoroughly skillful filmmaking. Some script elements are a trifle confusing but the flow is never less than riveting. Dominik excellent sense of pace and place enrich the film. If Chopper falls short it's due to the piecemeal storytelling.
The visual style relates to documentary in the hand-held camera shots, but it veers off sharply and effectively. Dominik uses an assortment of chilling washed out hot colors, bordering on surreal, to capture Chopper's world.. Strong regional Australian accents pose some challenge, but I don't think I missed too much.
Eric Bana is terrific as Chopper. I found it hard to distinguish between Bana's performance and the character. Bana is physicality is explosive. He magically turns from a young Chopper into a somewhat older and more robust Chopper. Supporting performances are effectively lean. The DVD transfer is a pretty good representation of the original material. Sometimes very grainy, almost always stylized, there's plenty of grain, but it's consistent and effective. Lighting preserves the garish elements of Chopper's world. Shadow detail is good. Black levels are adequate. Color is saturated effectively in keeping with the quasi-documentary look. Overall sharpness is good enough. Sometimes I wanted a bit more resolution to examine the reflections of madness in Chopper's eyes, but again, the DVD is likely true to the transfer elements.
Two audio commentaries are selectable. Director Andrew Dominik provides observations on one track and Mark "Chopper" Read provides his often off-center comments on another commentary. His casual attitude toward the depicted violence is another level of frightening. There also deleted scenes with perfect explanations Some of the original interview footage with Chopper is also part of the special edition. Try it at your won risk!


Selections from the Feature Archive include articles on Akira Kurosawa, Blonde Bimbos, Frank Darabont, Steven Culp, John Herzfeld or Vietnam: The Hollywood Pariah, and many more....
Director Walks the Wire


Balanced by an armor of movie lore and filmmaking daring, director John Herzfeld is comfortable walking the high wire. Check out this interview by Stu Kobak.
---


L.A. Confidential (SE) /A,A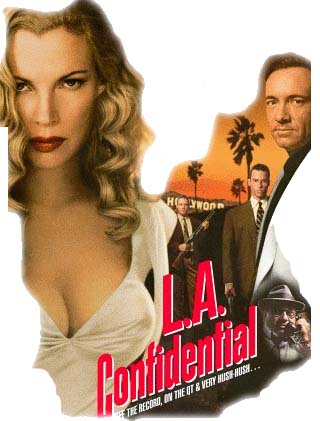 Unquestionably the best picture of 1997. Top-notch entertainment with superb acting.
---


The major studio vaults are filled with incredible film treasures which few have seen the light of DVD.
Open the Vaults

---

The Movie Poster Archive includes extensive poster images from the films of stars like Susan Hayward, Kirk Douglas, Katharine Hepburn and many more. Our featured star is James Mason
---