Blues Brothers 2000/C,A
Universal/1998/124m/ANA,WS1.85

Ellwood's release from prison after eighteen years is an excuse for a celebration of the original Blues Brothers film, with reprises from many of the first films cameo stars. In Blues Brothers 2000(It's a better title than Blues Brothers 2)Ellwood Blues, once again played with supreme cool and dark glasses by Dan Ackroyd, can't stay out of trouble. Between deciding to put the band together and alienating his long lost "stepbrother," the lone surviving Blues brother(Jake died while Ellwood was in prison.)starts in motion a wild cross state chase as the band tries to stay ahead of the cops and Feds. Not very original. It was even done better in the original.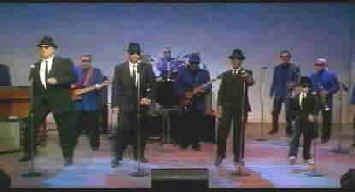 The band plays on. ŠUniversal
Don't get me wrong. There are funny moments in "2000," but they are limited by lack of imagination. Had the silly humor been sifted through some genuinely clever situations, maybe this long in coming sequel would have succeeded. Both the writing and directing seem rather lazy. John Goodmanplays a bartender brought in to take the place of the late John Belushi, but Goodman's sweetness is no match for Belushi's madness. And Ellwood is given a savvy kid from his orphanage alma mater to take under wing dressed in signature black suit and shades. The kid's cute in the dance sequences.
The list of concert performers supporting Elwood and company is far too long to list, but the credit sequence for the film does a great job of that. In fact, it's one of the highlights. The musical numbers are what salvage some pleasure from the film. The question is whether the poor excuse for a story is worth sitting through while waiting for the grand finale.
The DVD quality is astonishing. Anamorphic images extract every ounce of detail from the original source material. High key images transfer with amazing vitality onto DVD, and Blues Brothers 2000 has all that energy in image and sound. The Dolby Digital 5:1 surround rocks! This Blues Brothers 2000 special edition DVD includes a 24 minute featurette about the making of the film. There are also production stills, poster images and a theatrical trailer.


Selections from the feature archive include articles on Akira Kurosawa, Frank Darabont, Blonde Bimbos, Hollywood Street Gangs, or Vietnam: The Hollywood Pariah, and many more....
Sturges Emerges


Preston Sturges was Hollywood's resident comic genius for more than a decade. His movies are timeless. Click on his image to read all about it.
---


Movie Rage: Death in the Aisles
Everyone knows what it feels like to get angry at the movies these days. Here's a humorous but not so delightful view of big screen misery.
---

.
The Movie Poster Archive includes extensive poster images from the films of stars like Susan Hayward, Kirk Douglas, Katharine Hepburn and many more. Our featured star is John Wayne
---