Bite the Bullet/ B, C+
Columbia/1975/131/ANA 2.35/PS 1.33
A sweeping western that fills the widescreen with glorious landscapes, big sound and big performances, Bite the Bullet injects more wind in its cross country 2000-mile endurance horse race than the average western conjures up on a dust filled main street showdown. There were snippets of good work and the cinematography took advantage of the fabulous terrain, but it failed to live up to its scope. I love watching Gene Hackman and he was terrific as former Rough Rider Clayton, the Good Samaritan of the contestants In the end, it really seemed to go on for 2000 miles.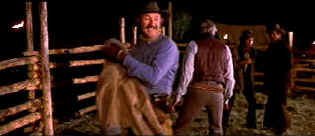 Clayton's class room. ©Columbia
There's no question about the grueling nature of the race, but at times the repetition seems almost as grueling. Some script elements appear contrived serving simply to add meat to the bones of the race. What seems rather odd is that there's never any qualification or entering the race and it's not clear how much the entry fee, if any, costs. Some of the participants seem outright out of place. Though an old tough guy like Ben Johnson would normally fit right in, his character simply does not work.
Writer/director Richard Brooks displays a sure hand in in leading the production. Characters are introduced and set-up with cool efficiency. The thrust of the film is established almost immediately. There are some perfect moments as simple as when a prostitute asks Clayton "How do you like it Mister?," and the response is a terse "Without conversation."
The Alex North score is vitally important to the scope of the film. It combines with the sweeping cinematography of Harry Stradling, Jr. to mine the most out of the relatively repetitious race imagery.
Along with Hackman's fine performance, James Coburn does his usual cool gig with customary élan and Ian Bannen is an interesting addition to the mix of characters.
Despite some obvious flaws, Bite the Bullet still manages to entertain over the course of 200 miles and 131 minutes.
The source material is fairly grainy. Color saturation is a little less than optimum. Volume level needed adjustment up three or four dB. Overall image could have been sharper, but it's adequate. At least it is not an edgy looking transfer with exacerbated noise.


The Feature Archive has articles ranging from Akira Kurosawa to Blonde Bimbos.



Click on the image above for a "dream interview" with director John Ford.
---


Searchers, The/ A,B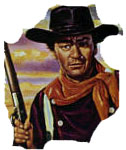 John Wayne invests Ethan Edwards with enormous dignity and determination. A classic western from director John Ford. Mesmerizingly beautiful.
---

---

The Movie Poster Archive includes extensive poster images from the films of stars like Susan Hayward, Kirk Douglas, Katharine Hepburn and many more. Our featured star is Richard Widmark.