Bingo Long Traveling All-Stars and Motor Kings (SE)/ B+, B+
Universal/1976/111/ANA 1.85
Wonderfully evocative film of the Negro baseball leagues just before major league baseball broke the color line with the dramatic entry into the National League of Jackie Robinson. Long before you could say Jack Robinson, baseball was being played with a passion by black athletes relegated to playing a segregated game. While the subject could be treated in a respectful manner, Bingo Long and His Traveling All Stars and Motor Kings chooses to create a colorful and often hilarious view of this period in sports history.
There are many delightful elements to the film. The concept on the "invite pitch," which was a bit of showmanship used by the great pitcher Satchel Paige, adds some grand fun to the movie. .And the lesson of the cake walk as a major element to the success of barnstorming baseball makes for some great upbeat filmmaking.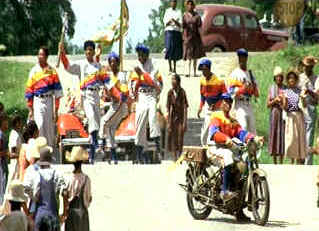 Bingo's barnstormer cake walk ©Universal
The actors have a field day in baseball uniforms. Billy Dee Williams brings matinee idol presence to the role of Bingo Long, star pitcher of the St. Louis Ebony Aces and founder of the barnstorming all-stars. Williams has no problem with the athletic movement needed to make a convincing Bingo and he has charm to spare. James Earl Jones exchanges banter and shares center stage with Williams as Leon Carter, the king of the Negro leagues home run hitters. Jones is a powerful Carter, as always, using his beautiful voice with resonant embellishment. Long's character was modeled after the great black major league pitcher Satchel Paige and Carter on legendary Negro league long-baller Josh Gibson. Richard Pryor is hilarious as the all-star conniving to enter the big leagues by posing as a Cuban instead of an American Negro.
John Badham does a splendid job in his feature film directing debut. Bingo Long is perfectly paced. Badham gets fine performances from all his actors, insuring that this wonderful portrait of another time in our history comes to loving screen realization.
Color is the key to the lovely transfer of Bingo Long. Intense saturation marries with the bigger than life images. Very inviting! Contrast range is excellent in all lighting conditions. Blacks are deeply delivered. There is a seamless, film-like quality to the images. Most scenes are very sharp with peak transition ringing barely in evidence. The upbeat musical score sounds fresh and adds its measure of delight to the production.
Director John Badham's warm commentary shares the sheer joy of making Bingo Long. His memories of making the film are clear-eyes and unaffected. Badham shares some of the history of the reality of the Negro baseball leagues. Badham sometimes resorts to describing scenes that are self-evident.
Bingo Longo is a joyous cake walk of a movie!
Reviewed on a Sharp 9000VX DLP Projector


Selections from the Feature Archive include articles on Akira Kurosawa, Frank Darabont, Blonde Bimbos, Hollywood Street Gangs, or Vietnam: The Hollywood Pariah, and many more....



Want to compare the home run swing of Jack Elliot to former Japanese Home Run King Daryl Spencer? Click on the baseball for Fastballs in Japan.


Have you visited Home Theater Talk lately? One of the friendliest places on the Net for Home Theater and DVD discussion, you can get help for installation problems or simply share your opinions with other Vidiots.
---


"CinemaQuest has matched the correct TV color of gray in a light fixture."__Joe Kane
Monitor bias lighting in a pre-packaged configuration. Take the strain off your eyes.
---


Comprehensive DVD review database. Easy to use interface with specific region searches.
---


Lady Eve, The (SE) A,C+



Wonderful classic comedy from writer/director Preston Sturges. Henry Fonda and Barbara Stanwyck star.
---

The Movie Poster Archive includes extensive poster images from the films of stars like Susan Hayward, Kirk Douglas, Katharine Hepburn and many more. Our featured star is Frank Sinatra.