O (SE)/ B, A-
Trimark/1999/94/ANA 1.85/PS 1.33
Shakespeare's plays remain timeless source material for popular entertainment. Some movies are faithfully filmed adaptations. Freer spirits take their best shot updating Shakespeare for easier embrace by younger audiences. O takes the later course quite successfully transplanting warrior Othello from the canals of Venice to the hardwood basketball floor of a private Southern high school. Iago is a jealous teammate, Desdemona, the daughter of the Dean of the important Southern private school, Casio a teammate catalyst and Rodrigo a student on the outside. Director Tim Nelson Blake runs the script adaptation by Brad Kayaa down the floor cool with efficiency.
The melodramatic ravings of Othello and the insidiously cunning Iago marry perfectly to the broad strokes of stage bound theater, but the plotting seems less true in an updated setting on screen. Still, it is very faithful to Shakespeare's original, perhaps too faithful for the contemporary updating of young people caught in a web of sick deception.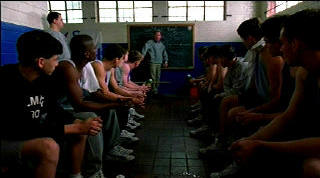 The obbligato pep talk. ŠTrimark
O is a great title in more ways than one. O for Othello, Odin James for the great tragic American sports figure O.J. Simpson, and even O for the "Big O," the great basketball star Oscar Robertson.
This is a top-notch production. It photographed by Russell Lee Fine with shimmering intensity. The players literally glow. The basketball sequences are filmed with fine energy and are happily kept to a minimum. Blake cuts O with quick strokes and helms his team with good command.
Mekhi Phifer is sincere as O, but he doesn't carry great weight. What stands out is his gross stupidity. He's a sitting duck for Hugo's insinuations. Hugo is an excellent vehicle to platform Josh Hartnett's talent. Hartnett does command the screen. He's an intelligent actor and he comes across as the high scorer in this game. Julia Stile's is an appealing Desi while Elden Henson has a difficult time making Roger Rodriguez a convincing character. Martin Sheen is a manic coach on the floor. A little more foaming at the mouth and he might just start barking. But it's okay if he plays it at one loud level since it's not his story.
O looks great. Sharp images throughout compliments a bright, powerful transfer. Contrast range packs as much punch as an Odin James dunk. Color saturation is outstanding. Richly saturated reds are perfectly controlled. Deep blacks never bury details. Shadow detail is excellent. The soundtrack rocks with rap. Deep bass extension and good surround effects.
The two-disc special edition features a scene specific commentary from director Tim Nelson Blake on disc one. He articulates the comparisons with Shakespeare's original very well. Blake makes some key observations on the parallel between the action on screen and some recent unfortunate middle class angst acted out on the real life American stage. Disc two includes deleted scenes with commentary, an analysis of the basketball sequences, and interviews with director and stars. A special treat is the inclusion of a newly restored 79-minute silent version of Othello starring screen legend Emil Jannings. Image quality is spotty but its visually interesting and a excellent addition to the feature material.
Reviewed on a Sharp 9000VX DLP Projector

Selections from the Feature Archive include articles on Akira Kurosawa, Blonde Bimbos, Frank Darabont, Steven Culp, John Herzfeld or Vietnam: The Hollywood Pariah, and many more....
Director Walks the Wire


Balanced by an armor of movie lore and filmmaking daring, director John Herzfeld is comfortable walking the high wire. Check out this interview by Stu Kobak.
---


L.A. Confidential (SE) /A,A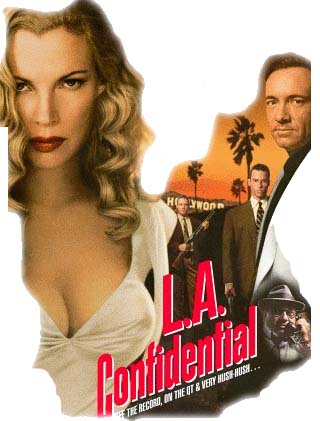 Unquestionably the best picture of 1997. Top-notch entertainment with superb acting.
---

The major studio vaults are filled with incredible film treasures which few have seen the light of DVD.
Open the Vaults

---

Have you visited Home Theater Talk lately? One of the friendliest places on the Net for Home Theater and DVD discussion, you can get help for installation problems or simply share your opinions with other Vidiots.

---

It rains a lot in Portland, so DVDcorner.net provides an umbrella of entertainment with lots of DVD reviews and DVD news. Check out the monthly give-a-ways too!.

---


The National Film Preservation Foundation (NFPF) is the nonprofit organization created by the U.S. Congress to save America's film heritage.

---

The Cinematheque is a cultural, arts organization that programs year-round specialty film series at the newly renovated, landmark 1922 Egyptian Theatre on Hollywood Boulevard!

---

'You are a strange species, not like any other. You are at your best when things are at their worst.' Alien wisdom from Jeff Bridges in Starman.

---

Harold.
Starman

'Remember, in a pirate ship in pirate waters. , in a pirate world, ask no questions; believe only what you see....No! Believe half of what you see.' Burt Lancaster spouts the wisdom of The Crimson Pirate.

---

Mutiny on the Bounty
Crimson Pirate
Caine Mutiny

The African Queen: Humphrey Bogart to Katharine Hepburn, tired of apologizing-'Well, I ain't sorry no more, you crazy Psalm-singing old maid.'

African Queen
Captain Blood
Wizard of Oz

'It doesn't matter where a man dies as long as he dies for freedom.' :Robert Taylor in the patriotic war movie Bataan.

---

Bataan
Casablanca
Falling Down

There isn't very much Joan Crawford available on DVD as yet. Mildred Pierce, 1945, directed by Michael Curtiz, won an Oscar for Crawford as am ambitious business women. This one is photographed with immense beauty by Ernest Haller.

Click on the DVD MIA symbol for profiles of DVDs missing in action.
Add films to the DVD MIA Master List by filling out a simple form. Click Here

Destination Tokyo
City of Joy
Mildred Pierce


Artisan Entertainment and uBid.com have announced a joint promotion to coincide with the release of Jon Favreau's Made. The big prize is a trip to New York City. Enter the Get Made in New York promotion by visiting uBid.com. Vince Vaughn will not be giving tours.

---

DVD Authority has implemented a new site design, according to webmaster Matt Brighton. Easier to access reviews and navigation. Check it out.