North By Northwest (SE)/A,A
MGM/1959/136/ANA 1.85

Cited as an ISF Reference DVD.
Classic Hitchcock themes are refined by the master director of suspense in the breezily constructed North By Northwest. The wrong man erupts with easy precision as advertising man Roger Thornhill is mistaken for a spy in the Oak Room at the Plaza Hotel. Hitchcock's fascination with bigger than life props reaches the heights of Mount Rushmore as his heroes are pursued to the very tip of Lincoln's nose.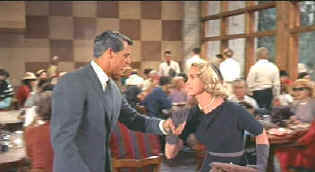 Under the stare of Mount Rushmore. ©Warner
Cary Grant embodies the perfect Hitchcock star. Grant's ability to turn a phrase with ultimate sophistication, to look cool under the most dire circumstances, and to project convincing screen sex appeal, makes him a match for Hitchcock's own screen fantasies. In North By Northwest, Hitchcock finds a grand foil for Grant's suave presence in James Mason, who brings his own old world sophistication to villain James Van Damme. Eva Marie Saint is an easy fit for Eve Kendall and even Martin Landau gets to exercise his dark side as Van Damme henchman Leonard.
The original script by Ernest Lehman is a wonderful, whimsical work. Beginning with a couple of suggestions from Hitchcock, Lehman crafted a plot that in some ways is a homage to the director's body of work. Elements from The 39 Steps, Sabotage, The Man Who Knew Too Much find their way into North by Northwest. The script, with sharp dialogue and brilliant transitions, however, goes beyond anything Hitchcock did before or after. Lehman, who knack for dialogue made Sweet Smell of Success crackle with New York life and energy, gives Hitchcock a rich bag of tricks to ply his trade.
Hitchcock collaborators composer Bernard Herrmann and cinematographer Robert Burks are in top form with North by Northwest. Burks lights the stage sets of Mount Rushmore with a fantastic glow and Herrmann's signature strident passages emphasize the danger and menace.
This is a stunning transfer of a classic film. Shot in VistaVision, a big negative process, the DVD soaks up the detail and color saturation from the transfer elements with breathtaking precision. There was little variation in color saturation, a problem that often plagues older three strip Technicolor films. Look at Chapter 28 as an example of how well this disc transfers to DVD. It's a hotel room tête-à-tête between Grant and Saint. Saint is wearing a black dress heavily brocaded with red flowers. The red on black is stunning. There is no hint of bleeding between the red and black. The fabric on the lamp shade is a transfer nightmare, yet on North by Northwest it is thoroughly stable. The complex weave retains individual integrity. Look at the ruby necklace worn by Saint. Each jewel maintains its own space and shape, and there's sparkle in them.
Hats off to Warner for delivering North by Northwest in a fine special edition. Screenwriter Ernest Lehman provides audio commentary, remembering the great Hitchcock and emphasizing his own contribution as creator of North by Northwest. Star Eva Marie Saint hosts a tightly produced 40 odd minute documentary on the making of North by Northwest. Saint's charming narration points out the pleasures of working with Hitchcock and Grant, and even points her finger at a small boy with his fingers in his ears in anticipation of a gun shot.

.
The Movie Poster Archive include extensive poster images from the films of stars like Susan Hayward, Kirk Douglas, Katharine Hepburn and many more. Our featured star is Cary Grant.
---


Selections from the feature archive include articles on Akira Kurosawa, Frank Darabont, Blonde Bimbos, Hollywood Street Gangs, or Vietnam: The Hollywood Pariah, and many more....

Film noir: The phrase hangs awkwardly on the tongue, shadowy images peek out from behind half-closed doors. Click on the Noir and Noir Again symbol for a look into the dark spaces of Hollywood's revisiting of film noir.
---



Fine reviews, features and news on DVD. The Big Picture has been doing DVD as long as anyone. Jeff McNeal and Bob Banka feed on a steady diet of DVDs.
---


Cyber Theater is an outstanding source for accurate video information. Check out their 16 x 9 format guide for a thorough understanding of DVD encoded that way.
---
Brad Lang continues to add more interesting to the extensive collection at Classic Movies. Everything from actors and actress to your favorite directors is linked at the site.
---


News, information, features about current films in theaters and in the pipeline. Easy to use interface.
---


Looking for information about widescreen movies and hardware. The Widescreen Movie Center is the place to go.
---