Wonder Man,B,B+
HBO/1945/144m/ANA,WS 2.35

There's a wonderful bit of screen magic when Danny Kaye meets Danny Kaye, whoops, Buzzy Bellew meets Edwin Dingle. Twins separated by many years with opposing personas, they reunite in Central Park. The catch is that Buzzy is already dead and wants to enlist Edwin's help in bringing his killers to justice. Brash Buzzy takes over the shy Edwin in a delightful demonstration of split personality. Buzzy and Edwin share the screen with some excellent Hollywood wizardry crowned with a Buzzy bust mounted on a cement pillar. Kaye has a field day as the conflicting characters battle for his body.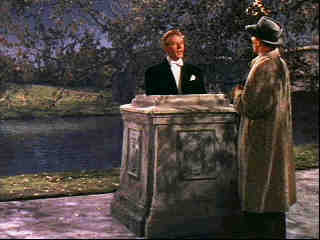 Kaye meets Kaye©HBO
Wonder Man has all the ingredients for an excellent Danny Kaye outing. Kaye gets to mug in a variety of situations, there are pretty girls flowing through the night club where Buzzy reigns, courtesy of Sam Goldwyn's chorus mine, and Danny has a delightful variety of night club numbers to perform while Buzzy commands Edwin's body. With Virginia Mayo and Vera-Ellen on hand to provide dual love interests, Danny is surrounded by pretty women in a sumptuous production. Add some entertaining character actors such as S.Z. Sakall and Edward Brophy, and pot of Danny Kaye entertainment is filled with the right ingredients.
The vaults of Samuel Goldwyn Entertainment once again deliver beautiful Technicolor elements for a rich DVD transfer. Lively colors with no annoying noise are a hallmark of DVD and Wonder Man gives the medium a chance to show off. Detail is fine with no artifacts from excessive image manipulation. The mono sound is in excellent shape.


Selections from the feature archive include articles on Akira Kurosawa, Frank Darabont, Blonde Bimbos, Hollywood Street Gangs, or Vietnam: The Hollywood Pariah, and many more....


Catch the Hollywood take on Blonde Bimbos by clicking on the image above.
---

Brad Lang continues to add more interesting material to the extensive collection at Classic Movies. Everything from actors and actress to your favorite directors is linked at the site.
---

Direct from the corridors of the Home Theater Forum, Home Theater Talk is the newest place on the Net to discuss everything home theater. Friendly atmosphere and knowledgeable folks are the secret ingredients.
---


The DVD Forum is an international association of hardware manufacturers, software firms and other users of Digital Versatile Discs (the "DVD Format"), created for the purpose of exchanging and disseminating ideas and information about the DVD Format and its technical capabilities, improvements and innovations.
---


A vast reservoir of DVD information, reviews, the kitchen sink. Check out their huge DVD database including reviews from many sites.
---

The Movie Poster Archive includes extensive poster images from the films of stars like Susan Hayward, Kirk Douglas, Katharine Hepburn and many more. Our featured star is Susan Hayward
---