Truman/C+,C
HBO/1999/131/FS 1.33
Gary Sinese captures Harry S. Truman in this biopic of Franklin Delano Roosevelt's successor with a great talent for mimicry. You can compare Sinese's gait and overall appearance to some of the newsreel footage of Truman that's incorporated into the film.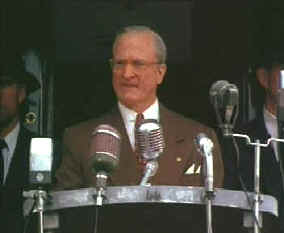 Give 'em hell, Harry. İHBO
The great fascination with the Truman story is how in hell's name did the man become President? Tracing the path to the White House is an interesting, if mostly mundane, story, of a man trying to find a place for himself. Truman is depicted as a guy who wants to do good, but also as a man compromised by his own shortcomings. From the Missouri beginnings of his political career under the blatantly corrupt Boss Pendergast, to his stomping the campaign trail for election as President, the Truman road is paved with questionable material.
Along with Sinese, Diana Scarwid does an outstanding job, in gobs of make-up, as Bess Truman, the President's loyal wife, who tells it like it is in monosyllables. Harris Yulin seems out of uniform as General George C. Marshall, while Colm Feore is comfortable int he role of Truman's press advisor.
The DVD transfer is delivered in consistently soft focus. Is it possible that the original elements looked like this? Not a chance. Let's lay the blame on the transfer. The picture often feels like it is blooming slightly, thereby causing an overall lost of definition. Colors are okay, contrast is unremarkable, and the brightness level is more than adequate for display on any variety of monitors. The Dolby Digital 2-channel surround is clean with few effects making it to the surrounds.


A love of movies drives this small DVD production company, Synapse Films, currently specializing in horror and cult films. Watch for new DVD releases of film festival independents as Synapse branches out.
---

Direct from the corridors of the Home Theater Forum, Home Theater Talk is the newest place on the Net to discuss everything home theater. Friendly atmosphere and knowledgeable folks are the secret ingredients.
---

Don May gets his say. The president of Synapse Films and former partner in Elite Entertainment, knows his way around horror. He talks about transferring DVDs and making his product special to DVD Unleashed.
---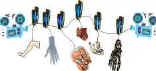 Hollywood's long fascination with parts of the body is explored piece by piece.
---

The Movie Poster Archive include extensive poster images from the films of stars like Susan Hayward, Kirk Douglas, Katharine Hepburn and many more. This month's featured star is Susan Hayward
---