True Grit/B+,B+
Paramount/1969/127m/ANA 2.35
With releases like True Grit, the tradition of the western is alive and well on DVD. Though it's not typical in elements of its western style, particularly the stylized dialog delivery, there's plenty of rollicking action, wide mountain vistas and an outstanding score.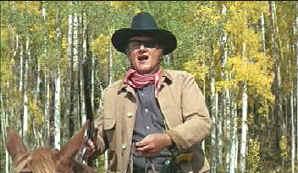 Rooster saddles up for action. ©Paramount
The story is an oft-told tale shaped injected with a freshness derived from character. Mattie Ross is the non-nonsense daughter of rancher Frank Ross. When her Dad is cut down by drunken ranch hand Tom Chaney, young Miss Ross sets out to revenge her father's murder. She enlists the aid of Deputy US Marshall Rooster Cogburn, a tough, hard drinking loner, who has a reputation for getting his man any way he can. A Texas Ranger, Le Boeff, joins forces with the paltry posse to bring Chaney to justice. Between Chaney and the hangman is none other than dirty desperado Ned Pepper. Guns misfire, snakes bite, a stubborn old rider takes the bit between his teeth and the Western landscapes looms beautifully in the background.
John Wayne received the Academy Award as Best Actor for his performance as Rooster Cogburn. Wayne is extremely likable in his curmudgeonly mode, but is he any better than in many other of his Western films. Not likely, Pilgrim. Wayne plays well against his young female co-star, Kim Darby. Darby, as Mattie Ross, delivers her lines with determination and the clear eyed power of innocence. Glenn Campbell, the then very popular country singer, is the third wheel Le Boeff on this motorcycle of a movie romp over the rough Western terrain, but he doesn't add much stability to the mix.
You can really appreciate the condition of the film elements used to transfer this movie to DVD. The colors are fresh, bristling with Western brio. Images remain sharp throughout the presentation, with slight edge enhancement employed for some of the long-lens compositions. Every leathered line of age on Wayne's face is edged with relish. Film grain is tightly controlled with fine rendering. The Dolby Digital Mono recording delivers Elmer Bernstein's* score with polish and the intentionally awkward dialogue comes through with perfect precision.
---
*Reader Michael Evans was kind enough to point out our error in originally crediting the music to Nelson Riddle.


The Feature Archive has articles ranging from Akira Kurosawa to Blonde Bimbos.



Click on the image above for a "dream interview" with director John Ford.

---


Direct from the corridors of the Home Theater Forum, Home Theater Talk is the newest place on the Net to discuss everything home theater. Friendly atmosphere and knowledgeable folks are the secret ingredients.
---

Gary Morris's insightful publication Bright Lights Film Journal turns the celluloid in films from a unique perspective. Click on the image above for more pure movie views.
---

It rains a lot in Portland, so DVDcorner.net provides an umbrella of entertainment with the online DVD sales.
---

Graphic Expectations is an excellent resource for large 47 x 63" French movie posters.

.
The Movie Poster Archive include extensive poster images from the films of stars like Susan Hayward, Kirk Douglas, Katharine Hepburn and many more. This month's featured star is John Wayne