Total Recall/A-,B+
Live/1990/113m
Total Recall gets better every time I watch it. You'd think that such familiarity would point up the holes, but it only serves to embellish the brilliance. The clever plot was confusing on first viewing Now it fits together like an old Swiss watch. Arnold Schwarzenegger is secret agent Doug Quaid on a mission to mars to infiltrate the revolutionary underground. Or is he. Set design is fantastic, especially Venusville. The photography and editing are excellent. I never took such notice of the great cut when Colhagen kicks over the fish tank--fish sucking for air on the floor--cut to the bar in Venusville with everyone choking from lack of oxygen.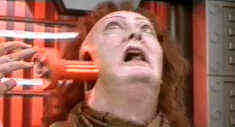 Quaid's disguise comes off. ŠLive
This is a beautiful DVD even though it is transferred anamorphic. Image delivery is extremely sharp with no evident artifacts. Color is simply an order of magnitude better than the laser disc counterpart. The difficult Venusville lighting and color schemes are perfectly rendered on the DVD. Presented both in widescreen and standard versions, Total Recall's Dolby Digital 5:1 surround track is extremely dynamic. Bass blasts will knock your socks off.


The Feature Archive has articles ranging from Akira Kurosawa to Blonde Bimbos.



Click on the image above for a "dream interview" with director John Ford.
---


The wonderful comedy of Danny Kaye comes from a sweet source, making it live for audiences of all ages. Patter songs and graceful dances are part of Kaye's world. Click on the image for Any Day Danny Kaye.
---