Ride With the Devil/B+,A-
Universal/1999/139/ANA 2.35
Ang Lee, the director of Sense and Sensibility, Eat Drink Man Woman and The Ice Storm, directing a Western set during the American Civil War may seem an unlikely marriage of man and material. The director's sensitive touch has paid dividends on previous films, but a Western needs action. Well, the good news is that Lee directs some beautifully conceived and executed action sequences in Ride with the Devil. The sensitivity has not been abandoned and personal relationships are given a thorough exploration in this interesting, off-beat Western. This well written action drama only suffers from a lack of more action. In part, you miss the action because of how well it's been handled.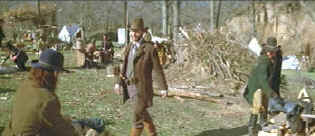 News from home. ŠUniversal
Toby Maguire, who worked with Lee in The Ice Storm, is a wonderful young actor who invests his characters with innocence and integrity. Jake Roedel, the protagonist of Ride with the Devil, is no exception to the Maguire rule. When Jake is swept up by the forces of war from peer pressure, he becomes part of a renegade band harassing Union troops. While others of the group are slowly dehumanized, Jake learns more about becoming a man and what sacrifices to make for right and survival.
Skeet Ulrich is effective as Jake's best friend Jonathan Rhys-Meyers plays Pitt Mackeson, a raider with a dark heart, with a nasty streak that stretches from one side of the Kentucky border to the other. He gives the character a mean streak fueled by a hint of effeminacy. Equally effective is Jewel. She may be overshadowed by some of the acting, but she declares herself a presence of stability and honesty.
This is an outstanding DVD transfer, with excellent detail throughout. Minor edge enhancement prevents keeps this just short of reference quality. Colors are consistently accurate with a wide range of skin tones. Color depth is equally impressive. The Dolby Digital 5:1 surround is aggressive and detailed, especially during the action sequences.


Selections from the feature archive include articles on Akira Kurosawa, Frank Darabont, Blonde Bimbos, Hollywood Street Gangs, or Vietnam: The Hollywood Pariah, and many more...

From The Adventures of Robin Hood to Casablanca, director Michael Curtiz made movies that delighted audiences. Click on the image for Michael Curtiz: Directed Passion.
---



Home to The American Society of Cinematographers. Includes features from American Cinematographer Magazine and more...
---

Sight and Sound Magazine is the venerable voice of The British Film Institute. The site includes articles and film reviews. A great resource in print and on the Internet.
---


DVDinsider is a daily email publication targeting the DVD Industry Professional. The publication includes current news, events, stock prices and more.
---

Need a daily fix of movie quotes. Reel Quotes Newsletter has the answer. Click on the Reel Quotes symbol symbol for more.
---

The Movie Poster Archive include extensive poster images from the films of stars like Susan Hayward, Kirk Douglas, Katharine Hepburn and many more. This month's featured star is Susan Hayward
---