//C+,CRage at Dawn/C+,D
Roan/1955/86m/ANA 1.85
For Western lovers, Rage at Dawn is nothing more than a standard oater. The chief asset is the always solid Randolph Scott, but Scott gets to show off less of his Western hero mettle in this movie. You don't even get the star until more than 25 minutes into the film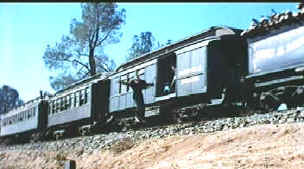 A stunt well timed. İRoan
The rolling title credits the film as the true story of the Reno brothers, purportedly the first train robbers in American history. They are just a bunch of mugs doing the bidding of the corrupt town officials. Somebody's got to stop these bad boys from ruling the roost. Jim Barlow steps up to the plate as an agent sent from Chicago to infiltrate the band of outlaws and catch them in flagrante delecto, so to speak.
Probably the most powerful sequence is when an angry town gets out of hand to form a lynch mob. Somehow, this sequence seems out of character with the rest of the shoot 'em up style of the film and is rather jarring. But, it's a lot better than the insipid romance hustled into the script between agent Jim Barlow and Reno sister Laura. The big shoot 'em up finale lasts about six minutes with enough bullets blasting to forge a brand new steam engine.
Production values are okay, but everything, from the script to the direction to the photography is ordinary. Even the music strains to achieve "B" Western bombast, embellishing the action with more notes than bullets.
Scott's square jaw style of acting gets support from Forrest Tucker as big Frank Reno, while J. Carrol Naish lays on the ham as Sim Reno. Mala Powers looks good as Laura Reno, but the task of conjuring up a romance with Barlow is too much for any actress.
The package claims "Was restored from original Technicolor material." What constitutes a restoration? Maybe the elements used by Roan were so substandard that even this mess of a DVD transfer could be called a restoration. But, the implication is clearly that this DVD transfer should look reasonably good; forget about it. The elements used for transfer are in miserable shape and the while the "restoration" may clean up some of the mess of dirt and scratches, it softens the picture with disastrous results. The picture pulses and jumps. The color is pretty good, at least, but everything has a flattened out look, like it was washed with acid contempt for the true look and feel of film.


The Feature Archive has articles ranging from Akira Kurosawa to Blonde Bimbos.



Click on the image above for a "dream interview" with director John Ford.

---


Direct from the corridors of the Home Theater Forum, Home Theater Talk is the newest place on the Net to discuss everything home theater. Friendly atmosphere and knowledgeable folks are the secret ingredients.
---

Gary Morris's insightful publication Bright Lights Film Journal turns the celluloid in films from a unique perspective. Click on the image above for more pure movie views.
---

It rains a lot in Portland, so DVDcorner.net provides an umbrella of entertainment with the online DVD sales.
---

.
The Movie Poster Archive include extensive poster images from the films of stars like Susan Hayward, Kirk Douglas, Katharine Hepburn and many more. This month's featured star is John Wayne