Pushing Tin/C+,B+
Fox/1973/143m/WS 1.85
Pushing Tin takes an unusual look at a high profile, little understood profession, air traffic controllers. Me? I was scared witless watching many of these scenes, Maybe the writers, or even air traffic controllers, could find humor in the material, but there was too much truth to make me laugh. There's some fine satire about suburban life that is simply overpowered by the hyper kinetic antics of the control room.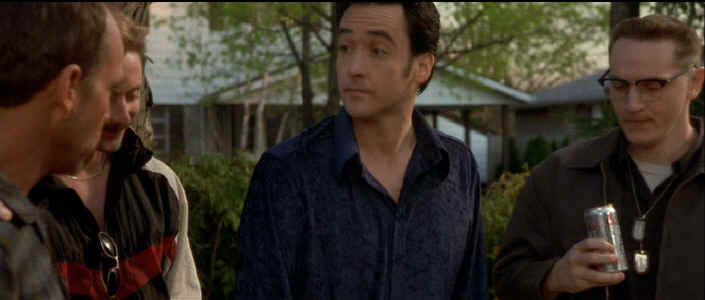 Mine's bigger than yours!. ©Fox
The set-up is simple. Nick Falzone is the ice-blooded hot shot in front of the traffic screens. Nobody approaches the job with the same wild abandon and reckless cool as Nick. That is, until Russell Bell revs up his Harley and makes a three point landing alongside Nick. Russell isn't running on super high octane like Nick; Russell is simply out of his gourd. Complications get as thick as family when Mary Bell slinks around the guys with a sexual hunger bulging out of her tight-fitting garments. In the meantime, Connie Falzone is trying to hold Nick from an out of control take-off. Planes and people collide with the same intensity that energizes the air traffic control room.
Mike Newell, a director of fine sensibilities usually, seems to have been entranced by the excess of computer screens in this film. The script is so edgy it positively slices open any potential pleasure. Still, there are some pretty nifty ideas in Pushing Tin. Treating those control screens like computer games is terrific and it may make sense too: How do you do a job like that without creating a layer of stimulation to temper the repetition? But I do not recommend seeing Pushing Tin with any pending travel plans in the near future.
Huzzahs for the acting in this lively but bizarre film. Is Kate Blanchett playing Connie Falzone really the same actress who portrayed good Queen Bess in Elizabeth? It's hard to believe the Down Under actress wasn't born in the New York metropolitan area. Its not just the American local accent. She captures the sensibilities of someone in her element. John Cusack is always a pleasure to watch. This young actor has an abundance of energy and when the material is there, hes tops. While hes funny as can be with a straight face in Grosse Point Blank, hes scary in Pushing Tin. as Nick Falzone. Billy Bob Thornton smiles his way through Russell Bell like he knows more than hes letting on and Angelina Jolie continues to make an amazing screen impression as Mary.
Pushing Tin is a stunning bright and colorful DVD transfer. Though not anamorphic, the resolution is maximized with only minor edginess. Some NTSC artifacts crop up, but they are kept to a minimum. Varied lighting schemes are transferred with accuracy. The contrast is strong without losing subtlety. The Dolby Digital 5:1 has some nice directionality. The action in the control room is replicated with lots of surround info. The music sequences are lively with excellent depth.



Catch the Hollywood take on Blonde Bimbos by clicking on the image above.
---

The Movie Poster Archive include extensive poster images from the films of stars like Susan Hayward, Kirk Douglas, Katharine Hepburn and many more. This month's featured star is Susan Hayward
---



Black DVD Online is a new site dedicated to black film content on DVD. The commendable enterprise is hosted by Webmaster Samuel L. McLemore, Jr. and presented in an attractive interface.
---
Brad Lang continues to add more interesting to the extensive collection at Classic Movies. Everything from actors and actress to your favorite directors is linked at the site.
---
They may be judgmental, but that's the point, isn't it. Lots of DVD reviews plus news and more.


Click on the link to visit the judge's chambers.
---

Direct from the corridors of the Home Theater Forum, Home Theater Talk is the newest place on the Net to discuss everything home theater. Friendly atmosphere and knowledgeable folks are the secret ingredients.