Perils of Pauline/B,C+
Roan/1948/
With the impending release of Annie Get Your Gun, it might be a good time to take a gander at high energy star Betty Hutton in The Perils of Pauline, a comic musical effort that features the incendiary blonde's patented "out there" style.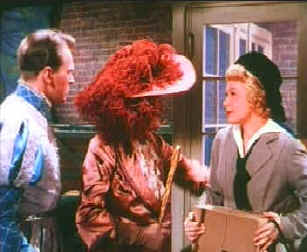 Pearl before Pauline. İRoan
The chronicle of the career of silent star Pearl White, the film takes easy liberties with fact and concentrates on fancy. The early scenes, as the innocent Pearl is swept into the film business with daring do are the most fun. Betty Hutton provides ample broad humor for her character, while John Lund is the love interest as ham actor Michael Farrington. Lund is not exactly an electric screen presence.
George Marshall's direction is entertaining, brisk and straight forward. Nothing fancy, just let Betty do her thing. The musical numbers are lots of fun with sharp lyrics by Frank Loesser and music by Robert Emmett Dolan. Betty can really belt out a tune.
Supporting roles range from the expansive performance of Billy De Wolf as Pearl's actor buddy Timmy Timmons. William Demarest lends his usual sturdy gruff support. A number of former silent film stars get some screen time recreating familiar pratfalls and the direction by
The color is far too hot and quite a few scenes look soft. Black are compressed, losing detail, and some bright scenes bloom slightly. Sharpness is at an acceptable level and edge ringing is at a minimum. Still, this is a rich three-strip Technicolor production, and the best news is there appears to be little color shifting. The mono soundtrack suffices to deliver Hutton's vocals with rough voice in tact.
The Feature Archive has articles ranging from John Ford to Blonde Bimbos, The Heistmasters, Akira Kurosawa and Frank Darabont.



Preston Sturges was Hollywood's resident comic genius for more than a decade. His movies are timeless. Click on his image to read all about it.


The Movie Poster Archive include extensive poster images from the films of stars like Susan Hayward, Kirk Douglas, Katharine Hepburn and many more. This month's featured star is Frank Sinatra.
---


They may be judgmental, but that's the point, isn't it. Lots of DVD reviews plus news and more.


Click on the link to visit the judge's chambers.
---
Imaging Science Foundation


The Imaging Science Foundation promotes proper standards in home theater viewing. ISF trained technicians offer monitor calibration services to consumers. The difference in a properly calibrated monitor can be astounding. Click on the image to find an ISF member near you.
---

Images is a non-commercial Web site created for everyone who enjoys movies and popular culture. Images is published quarterly; however, new reviews will appear each week, so check back often.
---

Sight and Sound Magazine is the venerable voice of The British Film Institute. The site includes articles and film reviews. A great resource in print and on the Internet.
---

Large variety of movie posters for sale now specializing in Polish and Japanese paper. Easy interface and a Soho gallery storefront.
---